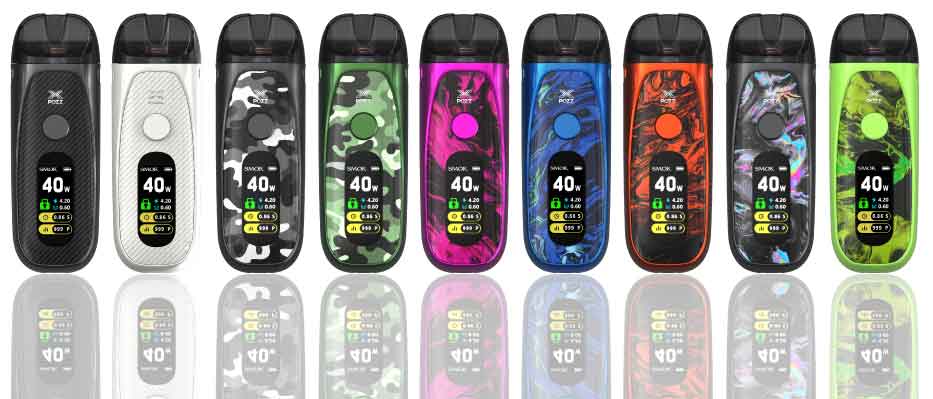 Smok Pozz X: 4.5ml/1400mAh  40W Variable Output Mesh Kit
The Smok Pozz X is the latest in the popular product line of Smok pod systems. The new starter kit features an extremely small design, exquisite finishes, a 0.96 inch color display, 40 watts of power, a 1400mAh built-in battery, 2 amp fast charging,  4.5mL refillable pods, easy refills, RPM coils for incredible vapor production, enlarge air intake for huge vapor output, and direct-to-lung style vaping.
Review
Exquisite Finishes & Tiny Design
With measurements of 97.3mm x 33.6mm x 22mm and a weight that comes in at only 97 grams, the Pozz X is one of the smallest pod systems in the vape marketplace.  The structure has been optimized to be 20% smaller than other pod systems, yet the setup still carries a massive battery and works with large capacity pods.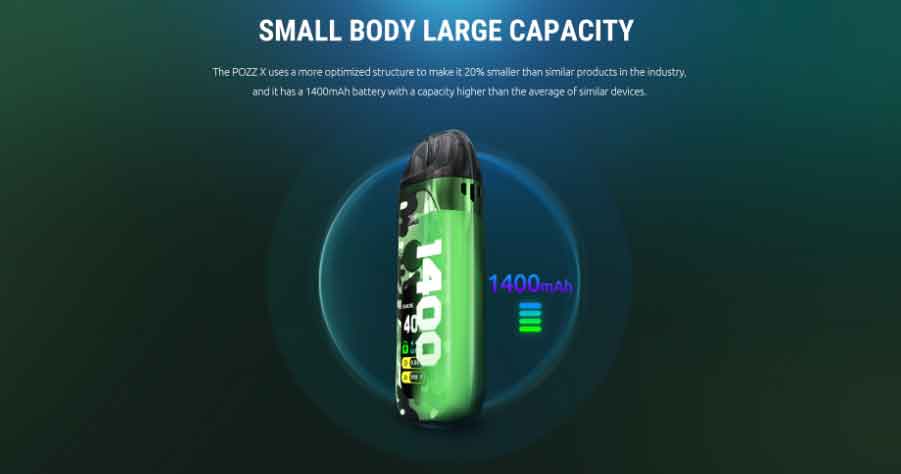 Each panel is constructed with composite materials, a premium and expensive material. At just 0.6mm of thickness, the panels are thinner, harder  and more shiny.  The finishes are mostly marble-like and are available in yellow, gray/7-color, orange, blue, purple, green camouflage, black/white camouflage, white and black.  The device is a pleasure to hold in the hand thanks to a lateral surface and smooth edges for incredible ergonomics and scratch resistance.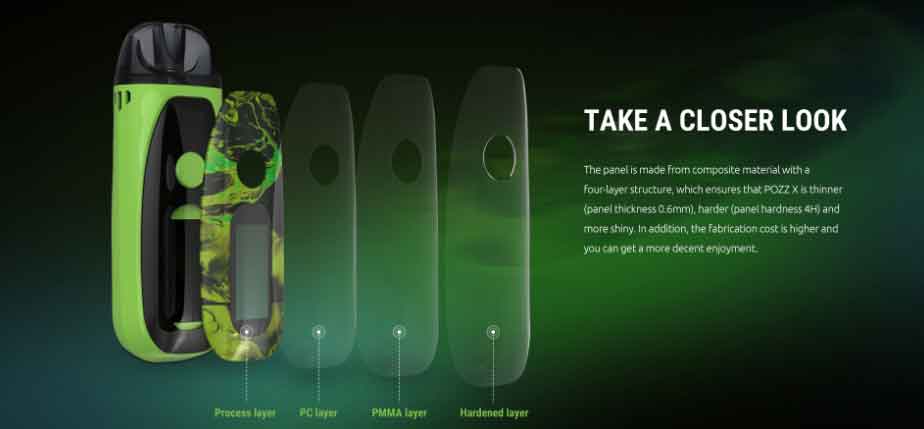 Components
This setup consists of a battery mod and replaceable cartridges that easily install and are held inside the device via powerful magnets. On the front control face, there's a premium power button which also doubles as the fire mechanism and further allows for making adjustments and navigation of the menu system. Underneath, you can see an easy-to-read 0.69 inch large display screen of which the menu features color font and has vape data such as current battery charge level, current voltage, current resistance, puff time and number of puffs.  Compared to previous kits by Smok, the font looks to be much larger, thus making it easy to read. The screen can be locked/unlocked by pressing the power button 5 times in rapid succession to prevent accidental firing. At the bottom of the Pozz X kit, you will find a USB port that works with a 2 amp current for a fast recharge process.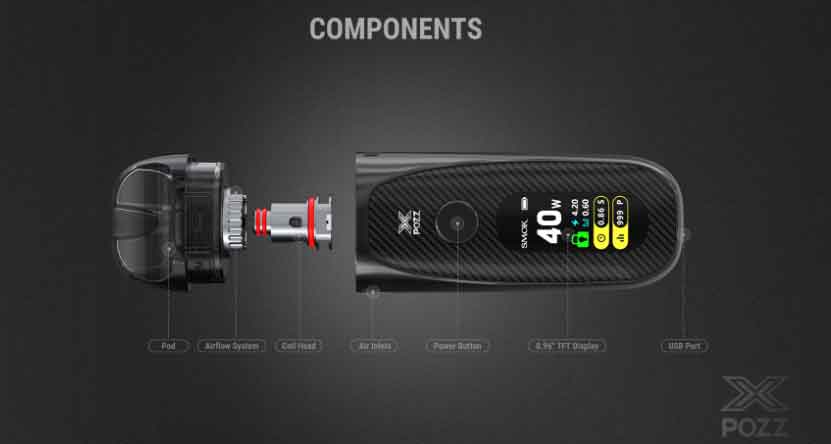 Each pod can store 4.5mL of e-liquid which is a huge capacity for such a small pod system. This ensures a long and relaxing vape experience. Refills are also quite simple as you only pull out a side rubber plug and add vape juice thru the exposed port.  You may easily monitor the chamber as the pod is made from translucent PCTG, a food-grade material that is corrosion-free, safe and reliable.  Coils are inserted into the cartridges from the bottom via an easy push/pull process and airflow is adjustable on each pod by rotating a small knob. Airflow is mostly a direct-to-lung vape experience and air tightly surrounds each oil for a short path to the coil to maximize flavor and vapor production.
40 Watts Of Adjustable Power From A Powerful Battery
The tiny Pozz X is built with a powerful 1400mAh integrated battery for long hassle-free vape times, especially when you consider the large capacity cartridges that will need few refills. Recharge the cell by plugging its bottom micro USB port into any power outlet or computer with an included cable. The chipset permits fast 2 amp charging which means the process will be finished very fast.  Power from the battery is regulated and has a 5 to 40 watt range, adjusted by way of the fire button. Changing the power level is as simple as three clicks of the mechanism.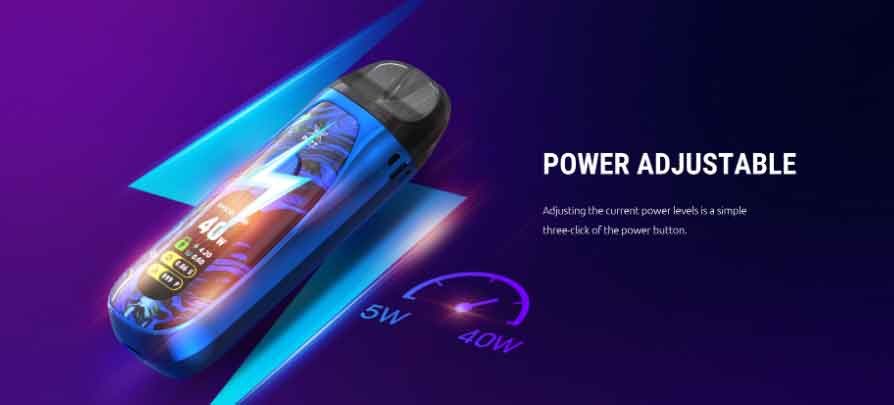 Compatible With RPM Coils
Smok Pozz X cartridges are compatible with a plethora of  RPM coils and there's even an RPM RBA head to meet the desires of veteran users.  Pre-installed is the Mesh 0.4ohm  that works at 25 watts of power for best flavor production. Mesh coils are popular throughout the vape industry because they heat fast and produce an incredible flavor experience when used.  Also included with purchase it the 0.6ohm RPM triple coil that has a fast ramp-up time and produces excellent flavor/vapor at 25 watts of power.  Optional heads are the RPM DC 0.8ohm MTL (16W), the RPM Quartz 1.2ohm (12W), the RPM SC 1.0ohm (14W), the RPM MTL Mesh 0.3ohm (10W-15W) and the previously mentioned RPM RBA coil that uses a 0.6ohm heating element.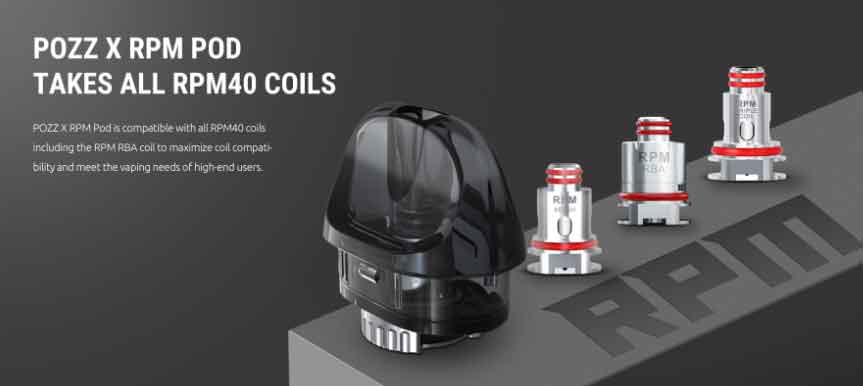 Features & Specifications
The size of the entire kit is 97.3mm x 33.6mm x 22mm and the weight is 97 grams. Output power has a range of 5 to 40 watts and the wattage setting is the only available mode. A 1400mAh integrated battery is recharge via a USB charger that operates at 5V/2A. Standby current is less than 140uA, so the unit won't discharge too much while not in use. Each pod can hold 4.5mL of e-juice and is semi-transparent to ensure you can see when it is time to refill. The Pozz X also has fundamental safety features for security and a safe experience. This smart detection system entails intelligent atomizer recognition, puff monitoring, 8 seconds cutoff, short circuit protection, overheat protection and low battery warning.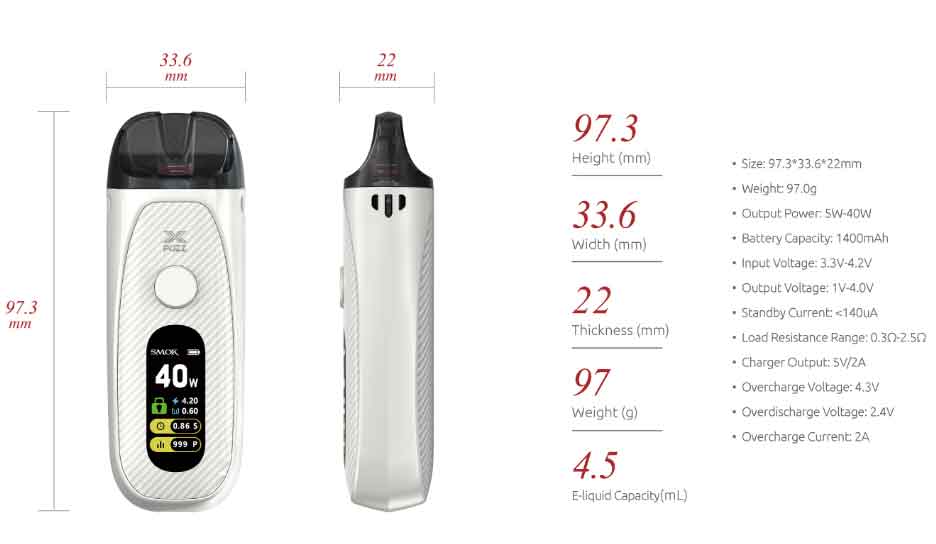 In The Box (Standard Edition)
In the package, you will find a Pozz X device (1400mAh), one Pozz X RPM Pod (0.4ohm coil pre-installed), an extra 0.6ohm RPM Triple coil, a USB cable for charging and a manual.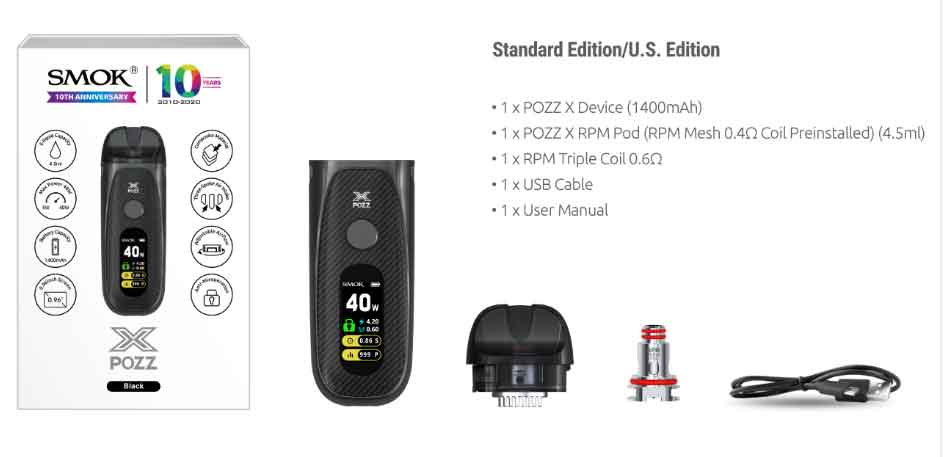 Gallery
Related
Total Views Today: 1 Total Views: 842