The Smok R-Steam Mini Box Mod features 80 watts of power and temperature control with many types of coil heads.  Unfortunately, this mod is old, so look at newer Smok Kits & Mods.

R-Steam Mini Mod Overview
The device is made from zinc alloy with a spray paint finish for maximum durability.  The unit has a shiny look, feels amazing in the hand, and comes in various colors.   The Mini's dimensions are 82mm x 38mm x22mm,  so it is portable and ergonomic, making it a perfect box mod to take with you when you leave the house.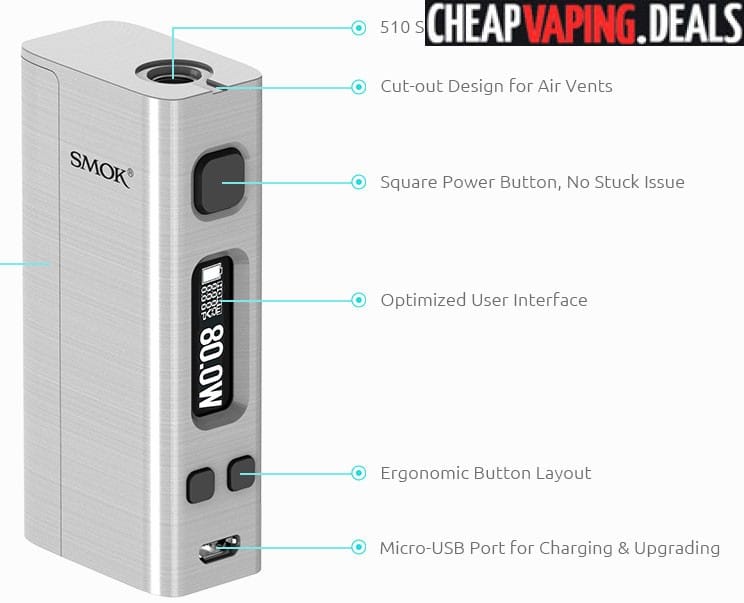 The Mini mod has a maximum output power of 80W and features temperature control functionality.  Temperature control is compatible with various coil heads, including stainless steel, titanium, and nickel.  And, if you like to personalize your temperature settings, the device includes TCR mode so you can get your preferred vape.  Best of all, the mod can fire atomizers with very low resistance.  At 0.06Ω, it is compatible with virtually every tank, build, or atty available today.
The box mod also features an amazing display.  At 0.91″, it's one of the biggest and brightest screens compared to similar devices.  You will have no problem reading the display if your environment is bright.
Above and below the user interface, you will find square firing & adjustment buttons designed never to get stuck. The top of the R-Steam Mini features a 510 connection with a square center pin to prevent the atomizer from spinning.  There's also a cutout groove that protrudes from the connector for ventilation.
The R-Steam Mini is powered by a single 18650 battery, easily swapped by removing the magnetic battery door.  But if you don't have an external charger, you may also charge the mod via the USB port with the included cable.  The USB port also doubles as a firmware upgrade interface to keep up with future technology.
This resembles a portable box mod with accurate temperature control and reasonable power.  And, with TCR functionality, you are bound to achieve your favorite vape experience.
Features & Specifications
Dimensions: 82mm x 38mm x 22.3mm
Weight: 120g
510 threaded connection
Constructed from zinc alloy with a paint finish
Available in black, red, silver & white
Power output range: 1W to 80W
Resistance range: 0.06Ω to 2.0Ω
Voltage range: 0.8V to 9V
Large & crystal clear 0.91″ OLED screen
Power & Tc mode
Set custom TCR value
Powered by one external 18650 battery
USB charging
Firmware upgrades
Total Views Today: 1 Total Views: 154