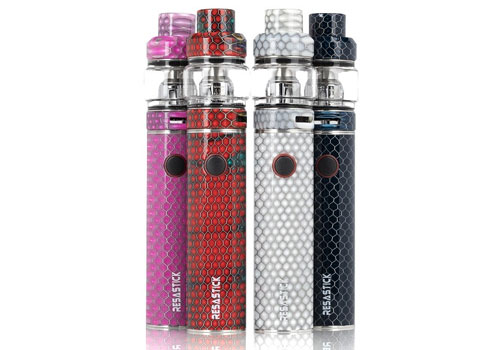 Check out these cheap deals for the Smok Resa Stick Starter Kit w/ Resa Baby Tank. This is not your ordinary pen-style kit and it actually retails for $80. The Resa features an exquisite cobra resin finish with a myriad of color options, a powerful 2000mAh battery for long vaping times, mesh coils, and a 7.5 juice reservoir that puts out massive vapor with flavor. This item has a $79.99 listing price so check out the blowouts below.
Overview
The Smok Resa Stick Kit is a pen-style vaping kit that includes a Resa Baby Tank. This all-in-one setup features a decent 2000mAh internal battery, an amazing cobra resin finish, V8 baby coils, a 7.5ml tank reservoir, huge airflow, and massive vapor production.
This portable vape system is made with resin finish on both the mod section and tank. The resin finish features a cobra pattern to make you feel like you are vaping a piece of art. It is also ergonomic, so it is pleasurable to hold in the hand.
The pen style mod has dimensions of 25mm x 83mm, making it very thin and easily stored in the back pocket or purse. Colors look to be bright as well and include 7-color, black, yellow, purple, green, blue, red, pink, or white options.  Inside the mod, there is a built-in 2000mAh battery that will last quite some time in conjunction with the mid-wattage Resa Baby atomizer. Surrounding the ergonomic fire button, there's an LED indicator that will flash according to the battery's charge level. For example, when the cell's charge is fine, it will flash four times during firing, but if levels have dropped below 3.3V, the light will flash 15 times.  With the included cable, you can recharge the Resa mod via the micro USB port. To avoid potential risks, there are also multiple protections built into this setup. These include low voltage protection, short circuit protection, low resistance protection, and an 8-second cutoff.
Also included in this kit is the Smok Resa Baby Tank. It also incorporates a cobra resin design on a stainless steel chassis and has a pyrex glass tank.  For a better juice capacity, this atomizer uses the latest convex or bulb-shaped tank section which increases the capacity to 7.5ml.  Refilling is quite easy thanks to a top fill system that entails simply unscrewing the top cap to add e-liquid in either of two fill ports. Airflow looks to be similar to most of the vape tanks by Smok and takes place via two wide external air intakes that are said to enhance vapor production.
In the package, you will get three coils that all have their own characteristics for a more customized vape. Pre-installed is the V8 Baby Mesh coil that heats up fast and produces massive vapor. It has a 0.15ohm resistance, fires in the range of 40 to 80 watts, but is best at 60 to 70 watts. A second included coil is the 0.25ohm V8 Baby M2 that brings cool and smooth vapor. Finally, you'll get a V8 Baby Mesh EU coil that heats up fast as well, has a 0.15ohm resistance, fires in the range of 40 to 80 watts, and should be used from 60 to 70 watts for best results.
Features & Specifications
Smok Resa Mod
Dimensions: 25mm x 83mm
Weight: 92.7g
Resin finish
Colors:  white, pink, red, blue, green, purple, yellow, black, 7-color
Internal 2000mAh battery

LED on fire button to track voltage level

Flashes 15 times when low

Micro USB charging

Safety features

8 seconds overpuff protection
Low resistance protection
Short circuit protection
Low voltage protection
Resa Baby Tank
Measurements: 28mm x 56mm
Weight: 50g
Materials: stainless steel chassis with Cobra resin finish
Cobra resin drip tip for huge airflow
Colors: matches the Resa Mod
Convex glass tank tube

Bulb style for 7.5ml capacity
Top fill system

510 threaded connection pin
Dual bottom air slots
Coils

Pre-installed: 0.15Ω Baby Mesh Core

Range: 40W to 80W
Best: 60W to 70W
Fast heating
Massive vapor production

Included: 0.25Ω V8 Baby M2

Dual coils
Cool and smooth vapor

Included: 0.15Ω Baby Mesh EU Core

Range: 40W to 80W
Best: 60W to 70W
Fast heating process
Massive vapor production
Gallery
Total Views Today: 1 Total Views: 588