Here are cheap deals to buy the Smok RPM 4 Kit at a low price. This pod mod kit features the latest leakproof tech, new LP2 Mesh DL coils, an effortless airflow control slider, a 1650mAh integrated battery, 60 watts of power, fast refills, instant firing, and both regular & leather finish options.  Also, check out the Smok RPM 5 or RPM 5 Pro Pod Kits and the newest RPM-C.
Deals
USA Deal:

$22.37

  Use coupon code 30CVD at checkout (exclusive 30% off sitewide – one use per account – $250 limit – fast shipping)
Overview
With both leather and regular finish options, the latest RPM 4 Pod Kit provides comfort, while the leather is elegant and stylish.  Moreover, there are plenty of colors to choose from: black, pale champagne, rose gold, silver/red, silver/blue, cyan/pink, black leather, red leather, blue leather, and brown leather.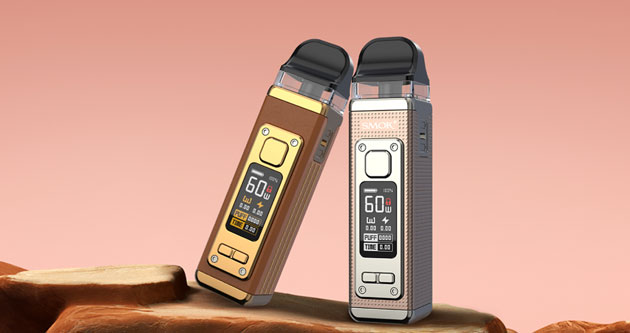 With a wattage adjustment capability starting at only 5 watts, the pod system can reach 60 watts of output for dense flavor and vapor.  It should be noted that the higher you set the power level, the denser the vapor output becomes.  If interested in a higher-powered version of this kit, look at the more powerful RPM 100 and RPM 85 devices.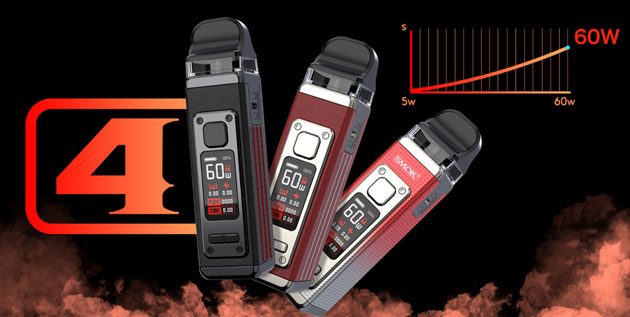 Power comes from a 1650mAh integrated battery that should last a long time on a single charge.  And, there's a bottom fast-charging Type-C USB port with a max 1.5 amp current to make recharges a breeze.  A charging cable is included in the package.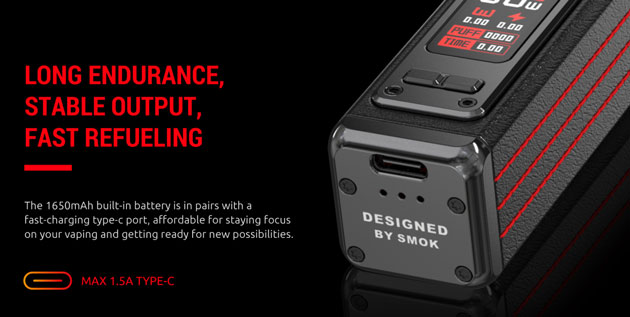 For safety, the stable chipset also has tons of safety features, such as high-temperature protection, 8-second cutoff, pod detection, short circuit protection, and low voltage protection.

Perhaps the best aspect of the new RPM 4 is its virtually instant firing speed.  This eliminates the agony of waiting for the mod to respond when you press the fire button.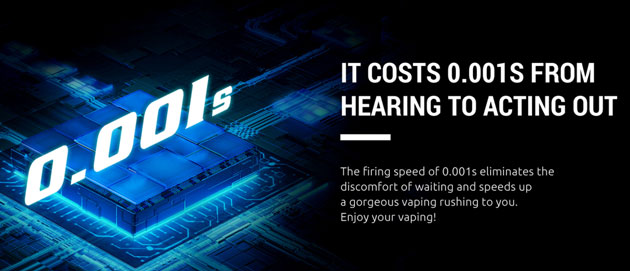 Compared to devices such as the RPM 2, 2S, and RPM 160, changing airflow is much easier with this new pod mod kit.  A slider near the top of the mod allows you to switch from a direct-to-lung vape experience to a restricted direct-to-lung style puff.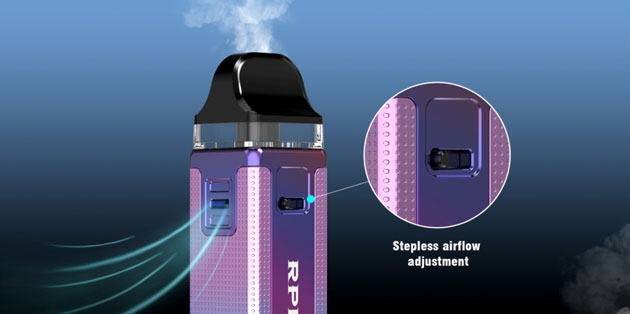 The characteristic of this pod kit that stands out the most is its large 0.96-inch screen with a user interface that shows vape data in full color.  And you can change the theme color to your liking: blue, white, purple, red, and more.  On the screen, you will also see tons of neatly organized indicators, such as the charge level of the integrated cell, the current output wattage, atomizer resistance, a puff counter, and the length of the last puff in seconds.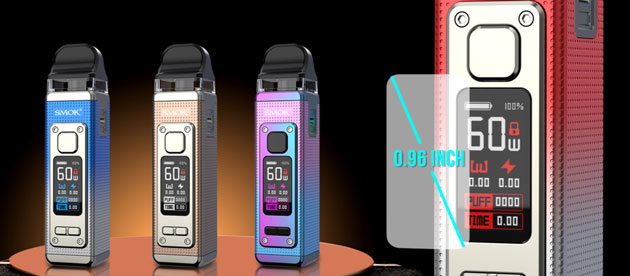 At the top of the battery mod is where a cartridge resides.  Thanks to a powerful magnetic connection, it stays in place and has a transparent window to ensure you can see the consumption and remaining e-juice inside the reservoir.  Moreover, the duck-billed mouthpiece on the pod looks great and ensures comfort while puffing.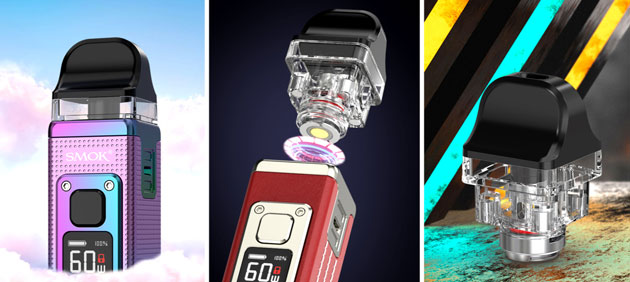 The package includes two compatible pods: the LP2 Pod (compatible with two LP2 coils) and the Pod that works with all RPM coils.  Inside the LPT pod features the LP2 meshed 0.23ohm DL coil that is leakproof and has a massive surface for huge vapor.  It produces a direct-to-lung puff and operates from 20 to 45 watts.  Meanwhile, the RPM pod has an RPM Mesh 0.4ohm coil, ideal for a flavorful vape as it heats up fast.  It should be fired at 25 watts of power.  Click here to see all compatible coils.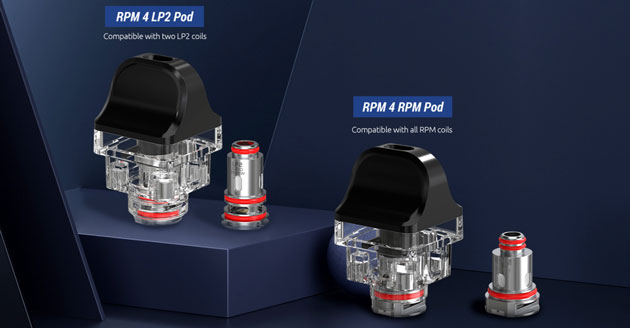 When installing the coil, there's no leakage because of an additional silicone ring at the bottom that fills the gap found in other RPM devices.  This efficiently stops e-liquid leakage—no more dirty hands.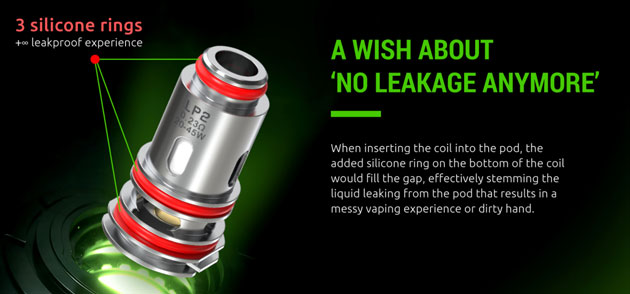 Also important is that each pod can store 5mL of vape juice and is effortlessly refilled using a side-filling slot.  To add juice, open the slot on the pod by pulling on the rubber stopper and inject up to 5mL of e-liquid.  Push the rubber plug back into the filling hole to prevent leakage and wait for 2 to 3 minutes before vaping to saturate the cotton.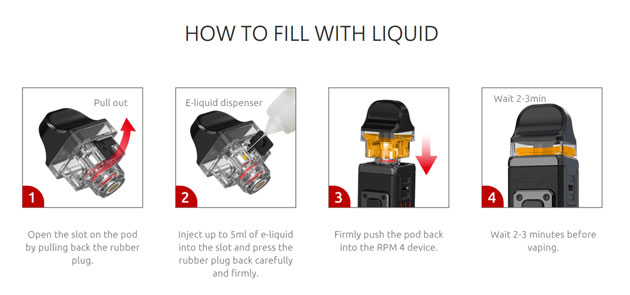 Features & Specifications
Dimensions: 103mm x 25mm x 27.9mm
Weight: 107g (leather) | 102g (regular)
Colors: black, pale champagne, rose gold, silver/red, silver/blue, cyan/pink, black leather, red leather, blue leather, brown leather.
1650mAh internal battery
Type-C USB charging port: 1.5A
0.96″ screen
Change the theme color of the UI
Power range: 5W to 60W
Standby Current: <100uA
Input Voltage: 3.3V to 4.2V
Output Voltage: 0.8V to 4.0V
Resistance Range: 0.2Ω to 2.5Ω
Charging Voltage: 5V±0.2V
Charging Current: Max 1.5A
Overcharge Voltage: 4.3V±0.05V
Overcharge Current: 2A±0.6A
Over-discharge Voltage: 2.4V±0.05A
0.001s firing response time
Effortlessly adjust airflow
Stable output
5mL capacity pods
Easy side- refill slot
LP2 Pod – Compatible with two LP2 coils – LP2 Meshed 0.23ohm DL Coil Preinstalled
In The Package
With a Smok RPM 4 Kit, you will get the mod, two pods with one pre-installed coil inside each, a USB-C cable, and a manual.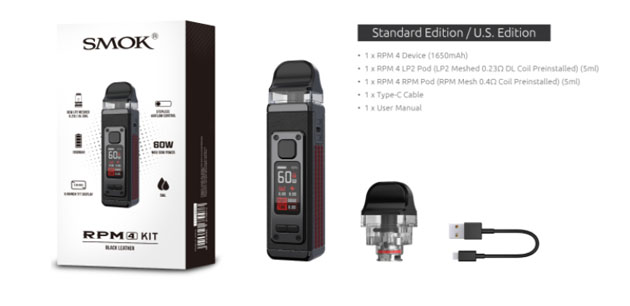 Gallery
Total Views Today: 1 Total Views: 4,364