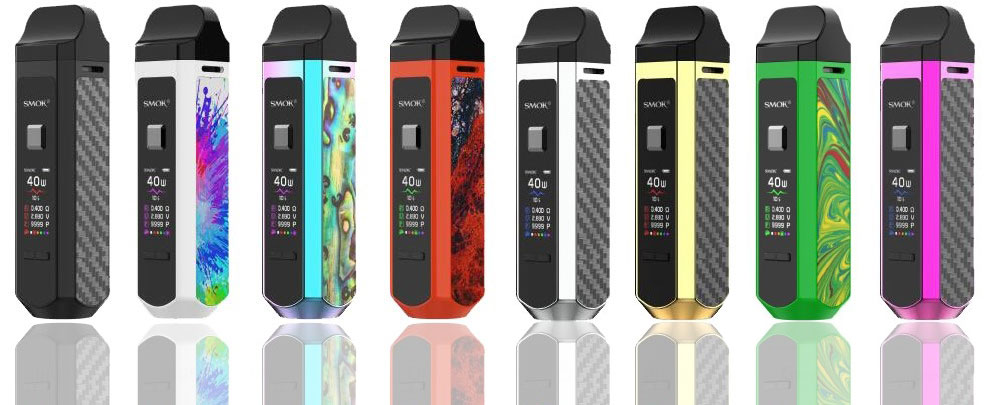 Smok RPM40: 4.3ml/1500mAh VW Pod System Kit With Mesh Coil & Color Screen
Check out these cheap deals for the Smok RPM40 is the next-generation device by Smok that improves and adds on to the popular Smok Novo, Novo 2 and Nord. The new device takes the best aspects of box mods and integrates them into a pod system. The RPM40 features a powerful 1500mAh integrated battery, micro USB charging,  40 watts of adjustable power, a color TFT screen, mesh coils, 4.3mL pods, and excellent vapor/flavor production. It is for sale in a myriad of color options.
Update: have a look at the new RPM 100 Kit or the Smok RPM 5 & RPM 5 Pro Kits.
Deals
USA Deal:

$18.74

  Use coupon code 25C at checkout (exclusive 25% off sitewide – blowout prices & fast USA shipping – one use per account – $300 limit)

Worldwide Shipping Deal:

$22.95

Use coupon code CVD2019 

at checkout (exclusive 10% off sitewide except clearance)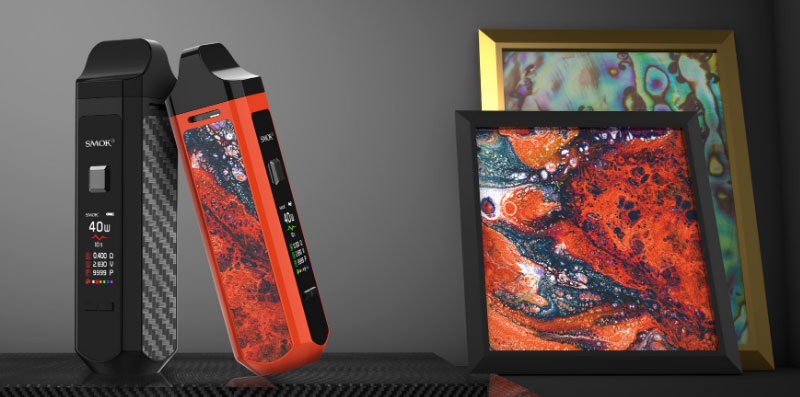 Similar Products
Review
Design
The RPM40 measures 35mm x 25mm x 99mm, making it larger than a traditional pod system because it is built with a display screen and features the ability to adjust power. Available colors include bright black, prism rainbow, white, orange, prism chrome, prism gold, green and purple-red. The prism color options have a carbon fiber finish, while the rest have a resin-like appearance.
On the control face, you will see a 0.96-inch OLED display that shows vape data in a vertical orientation with color font. On the newly designed user interface, you will see current power level, a battery bar for the integrated cell, current resistance, current voltage, a puff counter and the current color scheme of the UI.  Navigation of the menu and settings adjustments occur via +/-buttons at the bottom and the font color can be set to red, blue, green, white, purple, yellow and more. The power button resides at the top.

TFT Color Display
Distinctive from similar devices in the vape marketplace, the RPM40 is manufactured with a 0.96-inch display screen that presents vape data in a clear manner. On the screen, you can see current wattage, atomizer resistance, voltage, screen color options, puff stats, and the integrated battery's charge level.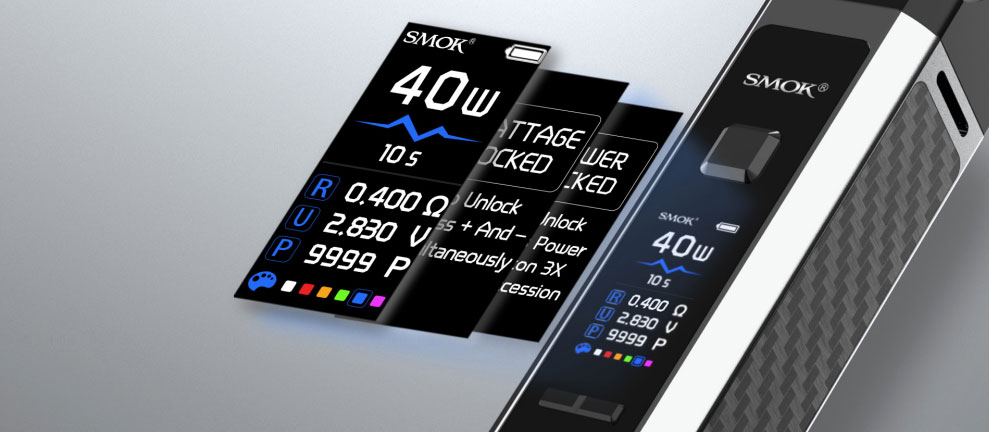 4.3mL Refillable Mesh Pods
This new Smoktech device has its own refillable cartridges that feature a 4.3mL capacity. With purchase, you will get this RPM standard pod in which resides a 0.4ohm coil that has a mesh heating element for maximum vapor and flavor. Mesh coils are known throughout the vape industry for their fast and even heating properties which result in amazing flavor production and massive vape clouds.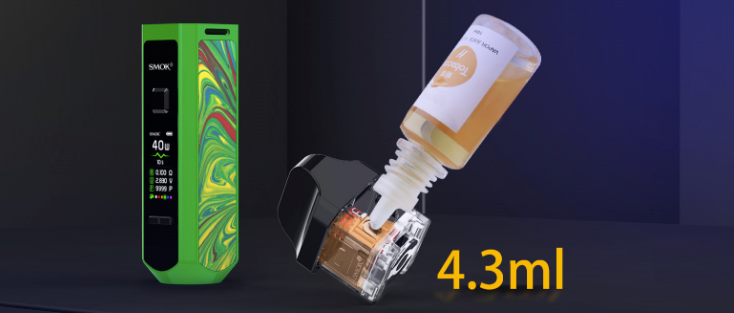 Smok Nord Coil Compatibility
In addition to the previously mentioned coils, this new pod kit also works with Smok Nord coils. In fact, you will receive a Smok RPM Nord Pod with purchase which can store up to 4.5mL of e-liquid and comes with a Nord DC 0.6ohm head pre-installed.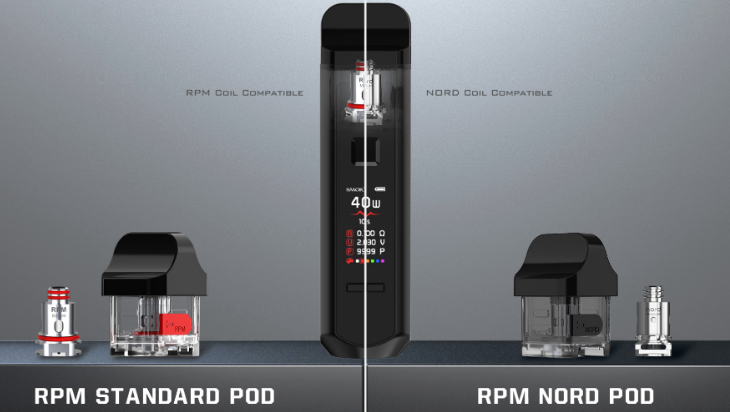 Replaceable Coils
Coils inside the previously mentioned pods are replaceable. In addition to the RPM 0.4ohmand Nord DC 0.6ohm coils, there is one additional sub-ohm head: the RPM triple coil with a 0.6ohm resistance. And, for nicotine salt fanatics, there's the optional RPM Quartz 1.2ohm coil or the RPM SC 1.0ohm one.

Effortless Refills
Adding e-juice to your pod is easier than ever. To do so, simply remove the mouthpiece, pull out a side-located rubber stopper and add your favorite liquid thru the revealed filling slot. Be sure to firmly press the plug back in and let the pod sit upright to fully saturate the coil prior to use.

Wider Mouthpiece
Puffing on the RPM40 is very similar to hitting a traditional drip tip on a classic box mod style vape kit.  Each cartridge is built with a wider mouthpiece to allow for enhanced airflow and to ensure it is comfortable on the mouth.

Massive 1500mAh Internal Battery
With a 1500mAh integrated battery, the device has a much larger capacity than what you would find in competing vape setups. As a result of this cell's capacity, combined with the large capacity cartridges, the RPM40 promises the longest possible vaping times, even at 40 watts of maximum power.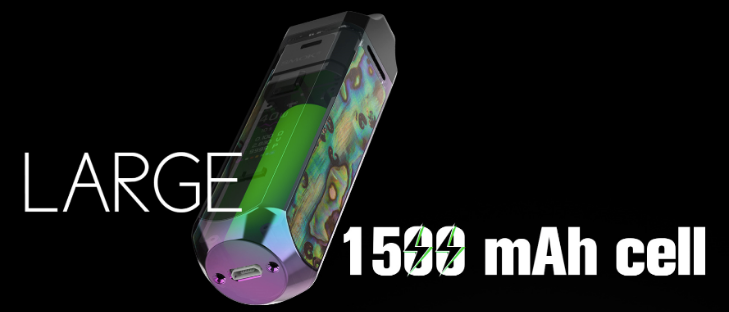 Fully Charged In Less Than 2 Hours
For effortless charging, there's a USB port at the bottom of each RPM40. Topping off the cell with the included cable takes only about 2 hours which is quite a bit less than comparable vape kits. When plugged in, the display will show a battery icon with the current charging percentage.

40 Watts Of Adjustable Output & Fast Firing
Most pod systems feature non-adjustable power or have a maximum 3 power settings. But with the RPM40, you can adjust power in the range of 1 watt to 40 watts for a truly personalized vape experience. To change the output, simply press the adjustment buttons located underneath the display screen.  And, the internal IQ-R chip permits in an almost instant firing response of just 0.001 second and compatibility with atomizer coils from 0.2ohm to 2.5ohm.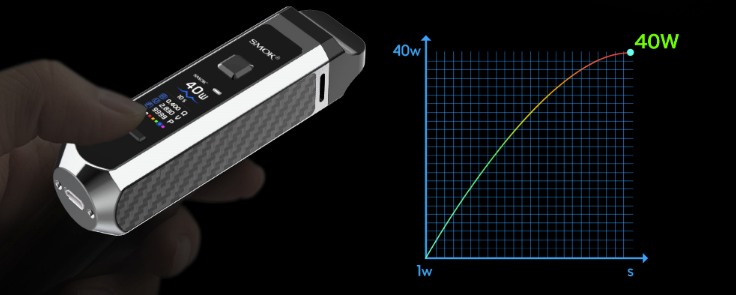 A Safer Vape Experience
To avoid potential risks, the RPM40 provides multiple safety features. These include high-temperature protection, short circuit protection, 8 seconds cutoff, and low voltage protection.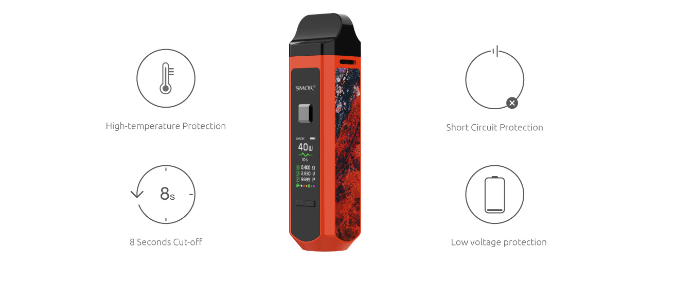 Optional RPM RBA Deck
There's also an optional RPM RBA coil about to be released. It was designed by the Smok engineers to aid in finding your personal vape style. With this build deck, you will also receive a screwdriver.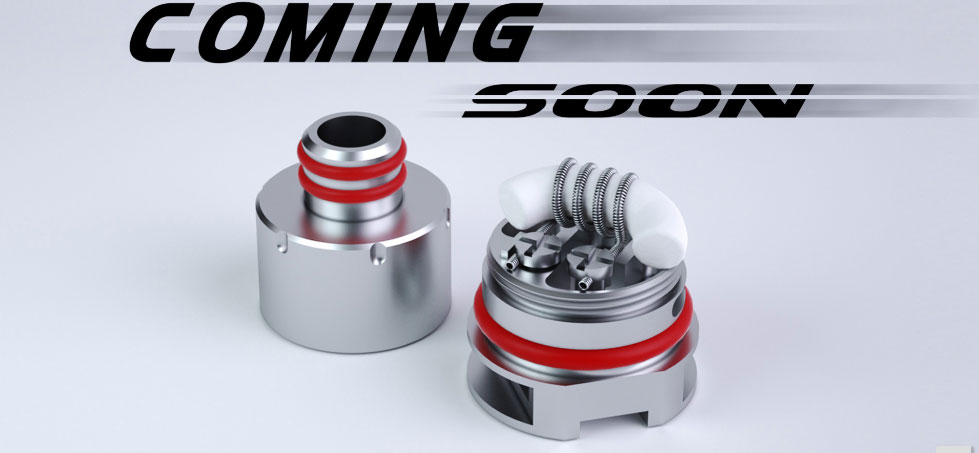 Components
The RPM40 kit consists of the battery section with a USB port on the bottom, up and down button, the display screen, and a power button. Each pod is made up with a mouthpiece with juice reservoir and a coil that is replaceable.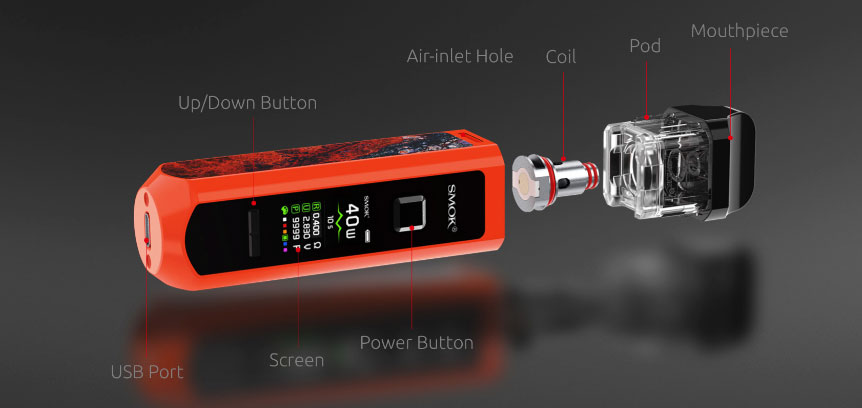 RPM40 Kit Features & Specifications
Box mod style pod system
Measurements: 25mm x 25mm x 99mm
Color options

Resin: white, prism rainbow, orange, green
Carbon fiber: purple red, prism gold, prism chrome, bright black

Wider mouthpiece

Similar to drip tip on box mod starter kit
More airflow for huge vapor production

0.96″ OLED display screen

Set color font
Vertical menu

Internal IQ-R chipset
1500mAh integrated battery

Bottom USB charging port
2-Hour charging time
Charging system: 5V/0.88A
Overcharge voltage: 4.3V
Over-discharge voltage: 2.4V

Refillable pods

Standard RPM Pod:  0.4ohm mesh coil | 4.3mL
Nord Pod: 0.6ohm coil | 4.5mL
Easy side-fills

0.001s firing response time
Adjustable power output: 1W to 40W
Output voltage: 0.5V to 4.1V
Input voltage: 3.3V to 4.2V
Standby current: <140uA
Resistance range: 0.2Ω-2.50Ω
Safety protections

Low voltage'
Short circuit
8s overpuff
High temperature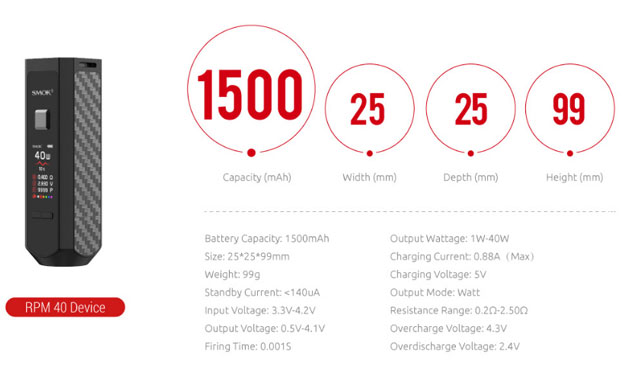 In The Box
RPM40 Device
4.3 mL RPM Standard Mesh Pod
4.5mL RPM Nord Pod
USB Charging Cable
Manual

Gallery
Total Views Today: 1 Total Views: 2,941