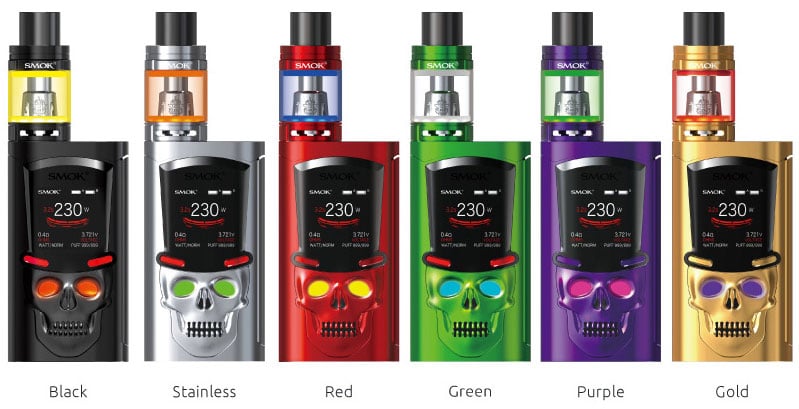 Update: This mod is discontinued, so check out the latest Smok mods and kits below or deals for new G-Priv 4.
Check out these cheap deals for the Smok S-Priv Mod or Tank Kit with TFV8 Big Baby Light Edition.  The S-Priv Mod features massive power, and the customizable LED lights inside the eyes of the skull can be customized to your preferred color or pattern. If you get the kit, the tank also lights up to any color you like!
Mod Overview
The S-Priv Box Mod is yet another amazing release from Smoktech.  The device features 230 watts of power, a skull design with a hat, a color customizable built-in LED in the skull's eyes, a full-color display with changeable fonts, adjustment buttons integrated into the hat, an ergonomic firing key, versatile temperature control.
What catches the eyes as soon as you see the S-Priv Mod is the skull on the face plate. It wears a hat that integrates the full-color display and adjustment buttons.  The skull's evil-looking eyes light up thanks to an LED that can be set to 3 patterns and changed to 12 different colors: three rainbow colors, green, blue, yellow, red, orange, white, pink, purple, and white.  Inside the hat, you will see a full-color screen on which the fonts can be set to blue, purple, brown, red, silver, or green.  On the menu, you will find vape data that is neatly organized with a wide range of info, such as current power, current mode, current resistance, current temperature, number of puffs taken, total puffs, two battery bars, and more. The firing key was designed to be ergonomic and span one entire mod side. The unit is also compact thanks to dimensions of 86mm x 47mm x 30mmand light with a weight of just 155 grams.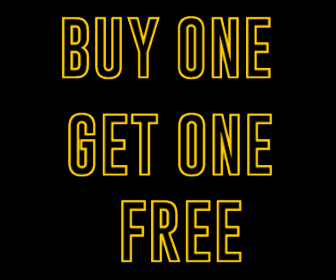 Dual 18650 batteries power the Smok S-Priv Box Mod. These can be accessed by sliding a knurled panel on the bottom to expose two battery slots with clearly marked polarities and gold-plated contacts. The cells may be recharged while inside the device via the micro USB port on the back. Multiple hardware protections safeguard the batteries and prevent puffs that are too long, overheating, and short circuits.  And you'll get an alert when the batteries' charge levels are low, while an intelligent atomizer recognition system will inform you of your atomizer's coil resistance.
Technically speaking, the box mod is as versatile as any Smoktech product. The maximum power is 230 watts, and temperatures can be set from 200 to 600 degrees Fahrenheit. In the compatibility arena, this unit also does not disappoint.  Variable temperature operation works well with all heating elements like stainless steel, titanium, and nickel down to 0.05ohm resistance.
If you decide to get the full kit, you will get the mid-wattage TFV8 Big Baby Light Edition.
Features & Specifications
Dimensions: 86mm x 47mm x 30mm
Weight: 155.4
Colors:  gold, purple, green, red, silver or black
Large ergonomic/hidden firing key
Skull design

Skull face with LED

3 flashing modes
Customize color: purple, 3 x rainbow colors, white, green, blue, yellow, pink, red, orange, white
Hat integrates display & adjustment buttons

Full-color screen

Customize fonts to blue, green, purple, brown, red, silver
Two battery bars for each cell

Utilizes dual 18650 batteries

Micro-USB charging system
Sliding bottom battery door

Safety features

Intelligent atomizer recognition
Puff monitoring
12-second over puff timeout
Short circuit protection
Overheat protection
Over-discharge protection

Power mode range: 1W to 230W
Input voltage range: 6.4V to 9.0V
Output voltage range: 0.5V to 9V
Temperature range:200℉ to 570℉ or 100℃ to 315℃
Resistance range

Power mode: 0.1Ω to 3.0Ω
Variable temperature modes: 0.05Ω to 3.0Ω

Standby current: <500uA
Firmware upgrades via micro USB port
Gallery
Total Views Today: 1 Total Views: 1,657