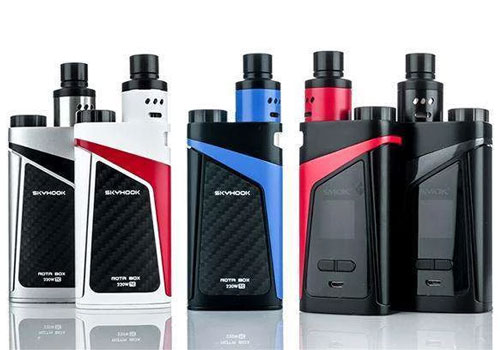 The Smok Skyhook is an all-in-one box mod kit that features a 9ml internal e-liquid reservoir, a mod capable of 220 watts of output, temperature control and a large Velocity deck that supports single or dual coil builds.
Deal
Similar Products
Exquisite Design With Large Display
The kit is made from metal alloys/stainless steel, measures 129mm in width and 50mm in height.  The design looks similar to the Alien Kit with amazing lines on the front and the identical large 0.96 inch screen.  The display has the same intuitive menu that is crystal clear and easy to read.  The fire bar has also been duplicated from the Alien mod and so are the colors: black/blue lines, black/grey lines, silver/black lines, black/gold lines, black/red lines and white/red lines.  And, the unit was designed to be ergonomic and have a natural feel in the hand.
Massive 9ml Juice Bottle
What really sets the Skyhook RDTA kit apart is the internal tank that can hold up to 9ml of e-juice for long vaping times, without refills.  It's easy to add e-juice through a 16mm refill port and e-liquid levels are conveniently  monitored  through the lateral glass window on the side of the mod.  For refills, simply unscrew the top cap and squirt juice through the large opening.
220 Watts Of Power & Dual 18650 Battery Support
The mod is capable of 220 watts of output power, temperature control in the range of 200 to 600 Fahrenheit and low resistance down to 0.06ohm.  To operate, the Skyhook Box utilizes dual 18650 batteries that are accessed via a snap-on carbon fiber battery door at the bottom. Inside the bay, you will find gold plated contacts to ensure efficient electrical conductivity. A USB port allows for on-board charging of the cells.  The interface is also used to upgrade the device in case a new operating system becomes available with new features.
RDA With Velocity Style Build Deck
The RDA in this kit attaches to the top of the mod, next to the tank's refill cap.  The atomizer section consists of a drip tip, top cap, atomizer tube and the coil deck.  The Velocity Style build deck measures 24mm (W) x 10mm (H) and features patented floating posts to allow for huge wicking slots and create huge vapor clouds with amazing flavors.  The deck is compatible with single or dual coil builds.  For single coil builds, simply install the included silicone pad on one side of the deck.
Airflow on the Skyhook's atomizer is also adjustable and can be set to either bottom and middle airflow or middle airflow only, according to your preference.
Review
Features & Specifications
Dimensions: 129mm x 30.5mm x 50mm
Weight: 409g
Constructed from metal alloys and stainless steel
All in one setup
Get dripper flavors with huge vapor
Ergonomic design
Built-in 9ml tank
Easy top fill system
E-liquid level viewing window
Removable drip tip
Patented velocity style build deck with floating posts
Large wicking holes
Single or dual coil builds
Adjustable airflow: middle/bottom or middle only
Large fire bar
0.96″ crystal clear OLED with easy menu
220 watts of output power
Soft/Hard/Normal firing modes
Temperature range: 100°C to 315°C or 200°F to 600°F
Voltage range: 0.35V to 8V
Power mode resistance range: 0.1Ω to 3Ω
Temperature control resistance range: 0.06Ω-3Ω
Utilizes two removable 18650 batteries
Easy carbon fiber battery cap
USB charging & upgrades
Gallery
Total Views Today: 1 Total Views: 890