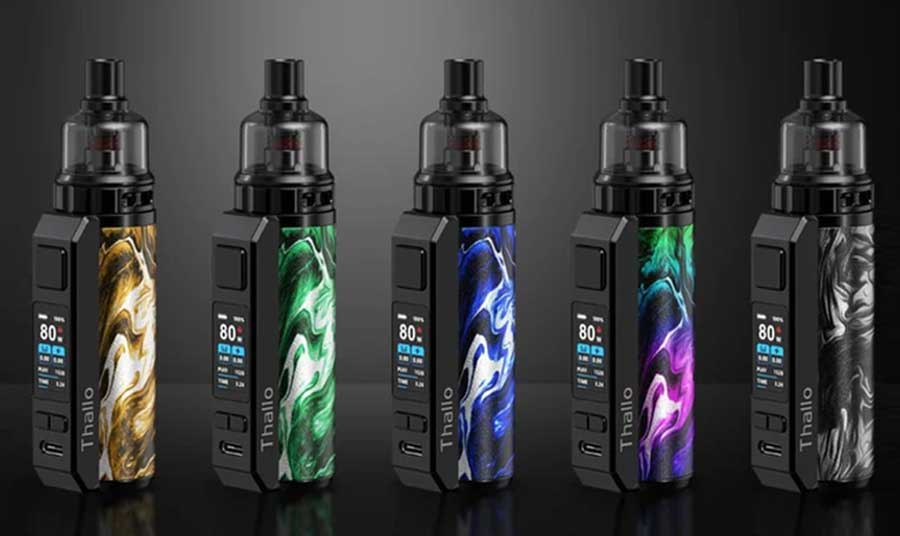 Smok Thallo-S: Single 18650/21700 VW 100W Pod Mod System Kit
Here are cheap deals to buy the Smok Thallo-S Pod Kit.  This mod-style vape system looks to be identical to the 80 Watt Thallo Kit, but the new device uses an external 21700 or 18650 battery for longer vape times and 20 watts of additional power as well.  And, the Thallo-S features a proprietary IQ-XS chipboard, a full-color display, multiple protections, 5mL refillable pods, an MTL coil, a DTL mesh coil, a leather grip, psychedelic patterns, a Type-C USB charging interface, instant firing, power mode, and many color options.
Review
Leather Grip & Fluid Patterns
Available only in black, the Thallo-S has a grip that is made from high-quality leather for ergonomics and features beautiful patterns that we would call psychedelic and pleasing to the eye.  Color options for the grip include fluid green, fluid gold, fluid black red, fluid black grey, and fluid seven color. Even though the Smok Thallo-S is slightly larger than the integrated battery version, the new setup is still portable with dimensions that come in at only 129.1mm by 37.5mm by 31.4mm.  The control face looks to have the same identical screen and battery level, current power output, atomizer resistance, and much more are shown in full-color for crystal clear viewing.  Dual adjustment buttons directly underneath the display make changing settings a breeze.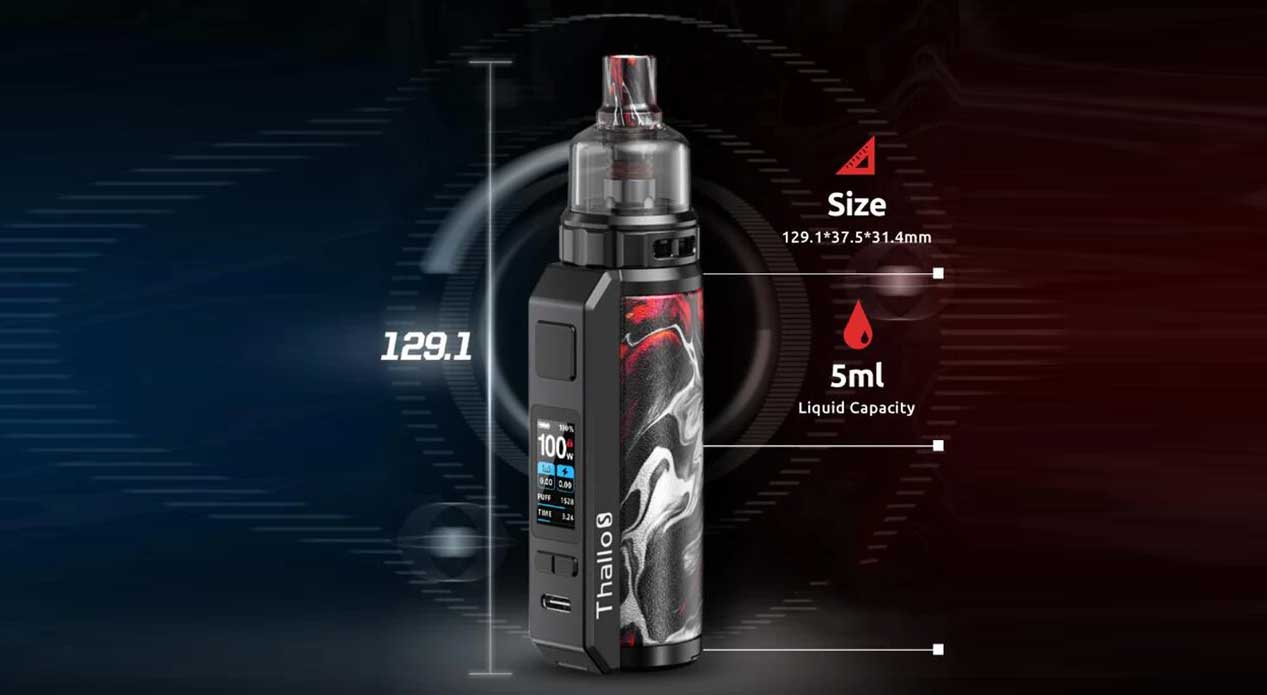 100 Watts Of Power From 21700 Battery
The Thallo-S works with the same IQ-XS chipboard as the integrated battery version but features 100 watts of power for a more satisfying vape experience.  This is because it uses a single external 21700 battery that has a whopping 5000mAh capacity for fewer recharges and longer vaping times.  The cell is inserted into the mod  by way of a bottom flip cover and, with a Type-C USB port, recharges are fast and safe.  You can also use an 18650 type battery, but you'll need to insert an adapter sleeve into the bay that should be included with purchase.  Unfortunately, vape times will be drastically reduced with an 18650 battery as they have a max 3500mAh capacity.  Another cool aspect of the Thallo-S chipset is that the it has a power mode, so you may set the output anywhere between 1 and 100 watts and the firing response is also less than 0.001s, so vapor production is instant.  A multitude of safety features ensure you stay safe while using this new pod kit.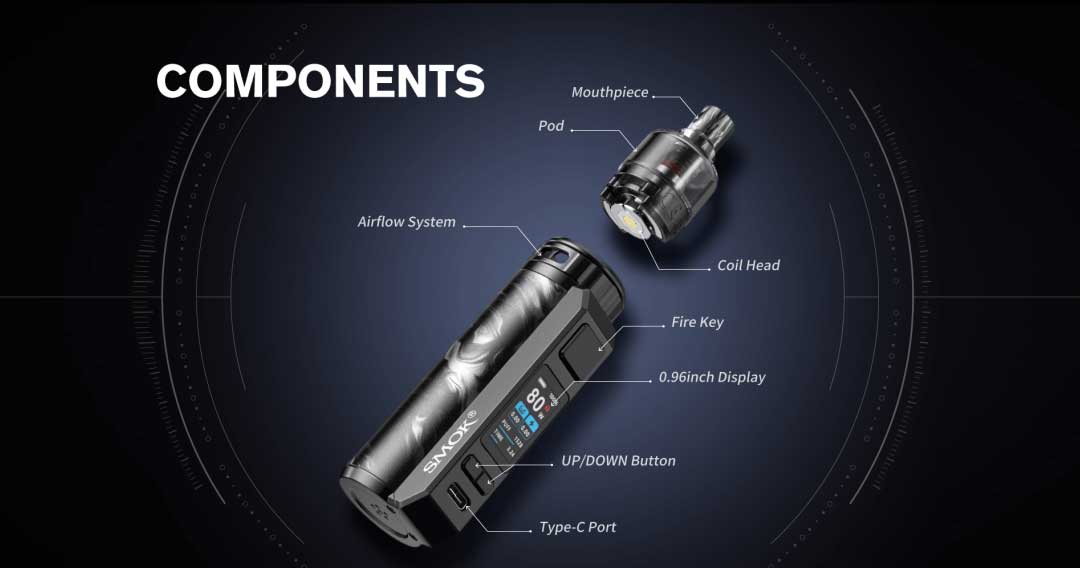 5mL Pods
The Smok Thallo-S uses Thallo RPM 2 Pods, but is also compatible with Thallo RPM Pods, the details of the latter are yet to be published.  Each Thallo RPM 2 Pod can hold 5mL of vape juice and features effortless refills. You can choose whether you want to use the setup as a mouth-to-lung or direct-to-lung device by choosing which one of two coil options.  Pre-installed is the 0.16ohm RPM 2 coil that works with standard e-liquids that have a nicotine strength below 6mg.  This head fires in the range of 25 to 50 watts, but is best at 40 watts of power. Or, if you enjoy mouth-to-lung vaping with a nicotine salt based e-liquid, you can easily swap out the coil with the included DC 0.6ohm coil that works between 12 and 25 watts and has a stricter airflow.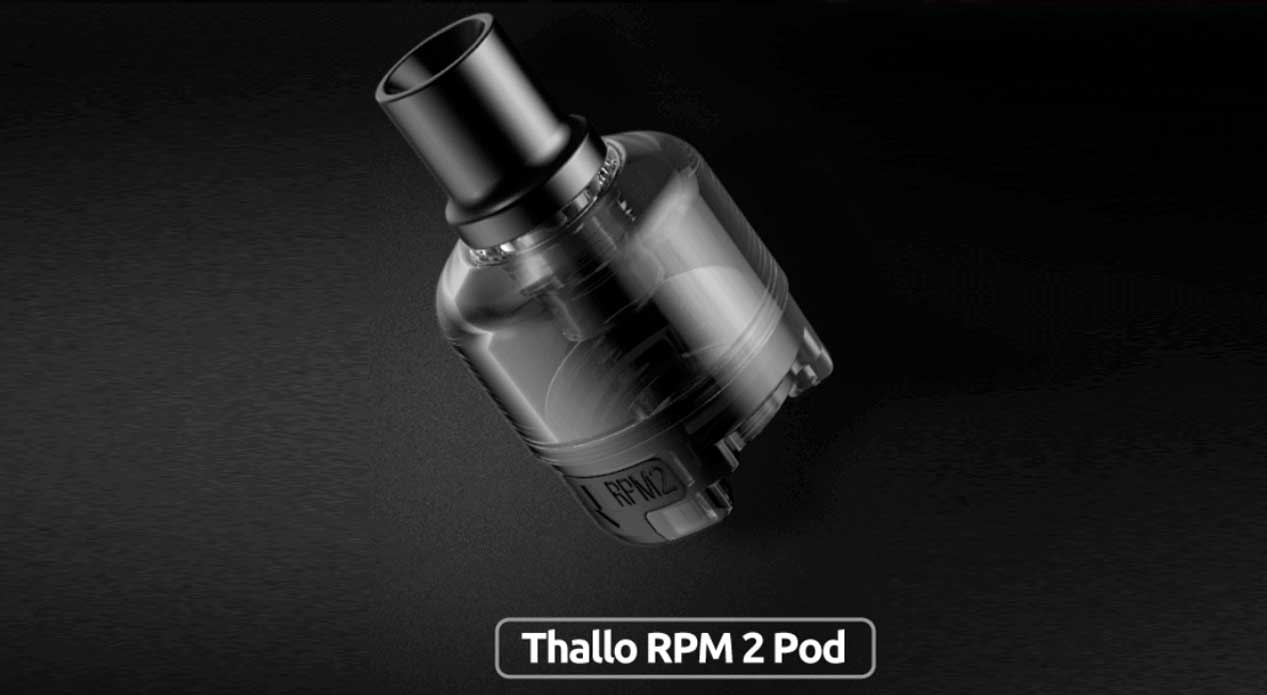 Features & Specifications
size: 129.1mm × 37.5mm × 31.4mm
Small and portable
Zinc alloy chassis
Leather grip with fluid patterns: fluid black red, fluid, gold, fluid black grey, fluid 7-color, fluid blue, fluid green
Works with a single 21700 or 18650 battery
Effortless bottom battery bay flip door
US-C charging system (cable included)
0.96-inch display screen
Full-color user interface
Two adjustment buttons
Proprietary IQ-XS chipboard
Power mode: 1W-100W
Safety features:  short circuit protection, low voltage protection, over-puff protection, over-temperature protections
Almost instant firing
5ml refillable cartridges
Push/pull coil installs
Magnetic mod to pod connection
Thallo RPM 2 Pod

Pre-installed: 0.16ohm RPM2 Mesh Coil: 20W to 25W
Included: 0.6ohm MTL Mesh Coil: 12W to 25W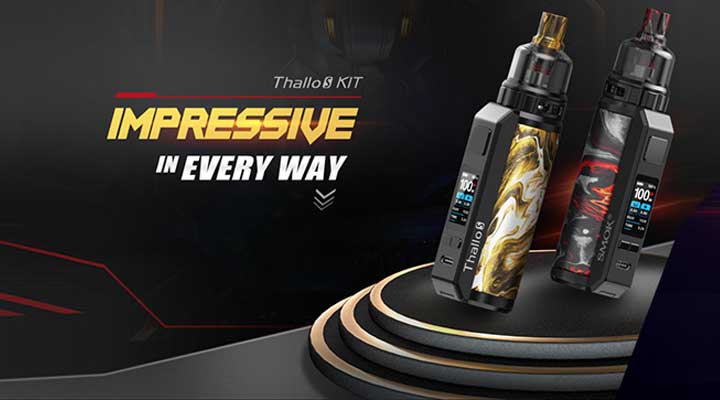 What's Included
Smok Thallo-S Mod
Thallo RPM2 Pod
0.16ohm RPM2 Mesh Coil (pre-installed)
0.6ohm MTL Mesh Coil
18650 battery adapter
Charging cable
User's manual
Comparable Products
Total Views Today: 6 Total Views: 2,784