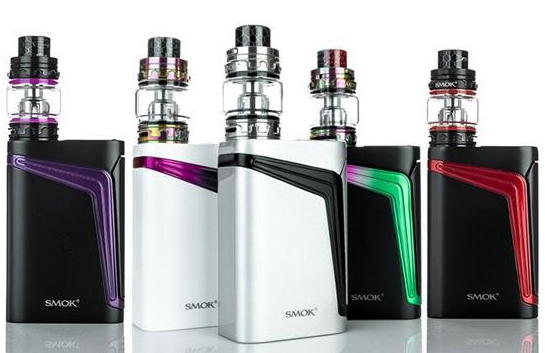 Check out these cheap deals for the Smok V-Fin Kit. This mod with tank features a massive 8000mAh integrated battery for the longest possible vape times, 160 watts of power, an ergonomic design, versatile temperature control, a 6ml juice capacity, dual adjustable air intakes and a top fill system
Update: This Item Has Been Discontinued So Check Out Similar Smok Mod Kit Deals Below
Overview
The Smok V-Fin Starter Kit combines the TFV12 Baby Prince Tank with the V-Fin Box Mod. This combo features a massive 8000mAh integrated battery for the longest possible vape times, 160 watts of power, an ergonomic design, versatile temperature control, a 6ml juice capacity, dual adjustable air intakes and a top fill system.
With a similar design to the Priv line of box mods, the portable V-Fin Mod has measurements of only 85mm x 56mm x 31.5mm, weighs 294g, is made from zinc alloy and is available in black/red, silver/black, black/7-color, white/7-color and black/purple. The appearance is simple, yet modern and elegant and the colorful pattern has a unique texture. The side of the V-Fin is built with a large fire key that spans the entire length for easy ergonomic firing. For easy viewing, the OLED is located on the top and displays vape data  such as wattage/temperature, mode, battery life, current voltage, puff number, current, resistance and more. Indicators are shown in white font on a black background.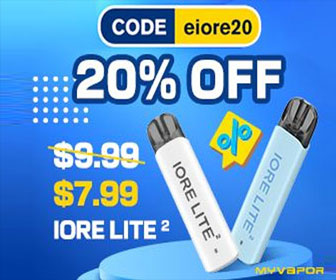 On the screen, there's also a battery bar which tracks the charge level of the V-Fin's massive 8000mAh internal battery which may have you vaping for days without a recharge at max output.  The mod supports micro USB charging as well as firmware upgrades.
The technical specifications of the Smok V-Fin are very similar to other mods by Smoktech. Wattage output tops out at 160 watts, temperature at 600 Fahrenheit, resistance ability is a low 0.06ohm in temp modes and 0.10ohm in power mode.  And, many safety features ensure safe vaping. These include low battery warning, overheat protection, short circuit protection, overpuff protection, intelligent atomizer detection and a puff monitoring system.
Also included with purchase is the TFV12 Baby Prince of which the color is a perfect match with the V-Fin Box Mod. The tank has dimensions of  26mm x 53.7mm, weighs 55g and is made of stainless steel with food grade glass.  The tank reservoir can store decent 4.5ml of ejuice thanks to its convex glass. The top cap rotates open to reveal a fill port which makes refills quite easy. At the top of the Baby Prince, you will see an exquisite Cobra drip tip that has a wide bore to work in perfect combination with the massive dual adjustable air intakes at the bottom. This results in massive vapor with tons of flavor.
A wide range of coils are compatible with The Smok TFV12 Baby Prince in the V-Fin Kit.  With purchase, you'll get one 0.4ohm V8 Baby Q4 Coil  that produces dense vapor with tons of flavor. The head fires from 30 to 65 watts, but should be used from 50 to 60 watts for best results. Another coil included with purchase is the V8 Baby-T8 that provides deep and rich vapor, has a resistance of 0.15ohm and fires in the range of 50 watts to 110 watts. The recommended setting is between 60 and 80 watts.
Smok V-Fin Kit Features & Specs
V-Fin Box Mod
Dimensions: 85mm x 56mm x 31.5mm
Weight: 294g
Portable
Made from zinc alloy
Colors:  black/red, black/purple, silver/black, black/7-color, white/7-color
Large fire key
Top OLED display
Massive 8000mAh integrated battery
Firmware upgrades
Power mode range: 6W to 160W
Temperature range:200℉ to 600℉ or 100℃ to 315℃
Output voltage range: 0.5V to 9V
Resistance range power/variable temp:0.1Ω to 3.0Ω/0.05Ω to 3.0Ω
Standby current: <500uA
Safety features:

12 second cutoff
Puff monitoring
Intelligent atomizer detection
Low battery warning
Overheat protection
Short circuit protection
TFV12 Baby Prince
Dimensions: 26mm x 53.7mm
Weight: 55g
Convex tank section
Tank capacity: 4.5ml

Top fill system
Lock mechanism

Colors: match the mod
Stainless steel & pyrex glass construction

Longevity
No toxins
Strong
Anti-corrosive

510 threaded connector
Cobra drip tip

Snake pattern in many colors
Massive airflow

Included coils

Pre-installed: 0.4Ω V8 Baby Q4

Range: 30W to 65W
Best: 50W to 60W
Dense vapor
Pure flavor

0.15Ω V8 Baby T8

Range: 50W to 110W
Best: 60W to 80W
Deep and rich vapor
Pictures
Total Views Today: 1 Total Views: 542