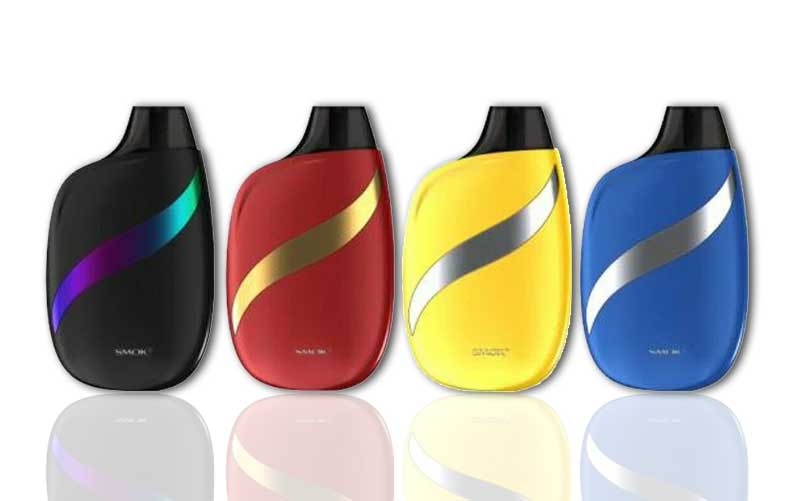 Smok Wave Pod System Kit
Check out these cheap deals for the Smok Wave. This pod system kit is extremely thin, has a draw-activated system, an internal battery, a micro USB charging port, and portability.  No other information is available in regards to this kit, so we will be adding specifications and features as they come in.  But, since this is a Smok Kit and the price is extremely low, how can you go wrong by ordering this setup that is designed by the most popular vape company around.
Overview
In the design department, the Smok Wave pod kit has a sleek appearance and its design looks very similar to devices such as the Atopack Penguin SE.  Available in yellow, red, white, or black, the Wave features a rubber finish to feel ergonomic and to prevent slippage from the hand.  Moreover, a beautiful ribbon, which is either gold, rainbow or silver depending on the finish color, makes the look very stylish.  And, the setup is extremely portable thanks to dimensions of 70mm by 45mm and a thickness of just 5mm.  Put it in your pocket or purse without any worries!
There are no fire buttons, settings to change, or screens to observe, so firing up the Smok Wave is a simple as adding e-liquid to the cartridge and drawing on the ergonomic mouthpiece. Power comes from an internal battery that is rechargeable via a micro USB port at the bottom. Unfortunately, the cell's capacity is not listed, but we imagine you can vape for quite some time before the Wave pod kit needs a recharge.  Another aspect that is unknown is how much vape juice you may insert into each cartridge, but we can deduce that it is probably around 2 or 3mL.
Overall, we can say that the device is easy to use, will perform adequately because  it is by Smok and that it has an excellent appearance as well as ergonomics.  And, the price simply can't be beaten.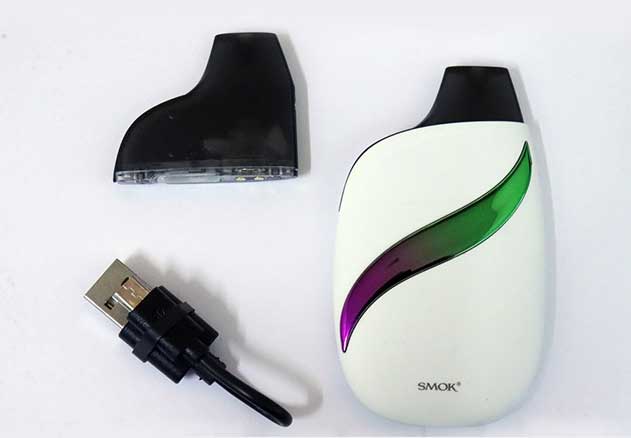 Smok Wave Features & Specifications
Dimensions: 70mm x 45mm x 5mm
Easily carried in pocket or purse
Weight: unknown
Colors: yellow, red, white, black
Stylish ribbon
Ergonomic rubber finish
Works with juice pods
Juice capacity unknown
Built-in  battery
Micro USB charging system
Easy to use: no button or screen
Draw-activated firing
Many safety features
In The Box
With purchase, you will get the Smok Wave battery, 2 pods, and a USB charging cable.
Related
Total Views Today: 1 Total Views: 569