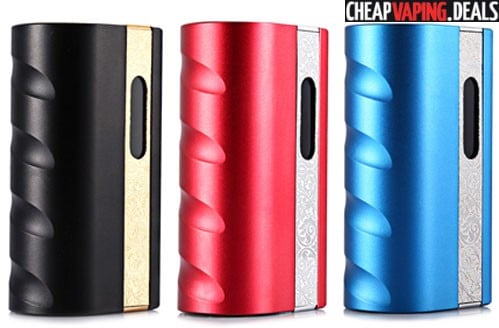 Here's a fantastic discount for the Smokjoy Air 77 Box Mod.  
Overview
The Air 77 is the latest portable box mod from Airjoy.  It features high quality materials, 77 watts of output, variable temperature operation and can be powered by either an 18650 or  26650 battery.
This mod has all the technical capabilities you may need.  The unit features a bypass mode, the maximum power output is 77 watts, temperature control mode is possible up to 600 degrees Fahrenheit and works with nickel, titanium and stainless steel. The unit's minimum resistance comes in at 0.10ohm in all modes.
What's cool about the Air 77W you can choose to install either an 18650 battery or a more powerful 26650 cell for longer vaping times.  The battery is accessed on the bottom via a screw cap with an ergonomic handle that easily pops out.  To use an 18650 cell, you must use the included sleeve adapter to insert it into the battery bay.  While a cell is onboard the mod, it can alternatively be charged via the micro USB port on the control face with the included cable.
With an ergonomic design thanks in part to finger grip indentations on the back, the Smokjoy Air 77 is said to feel comfortable and cozy in the hand.  The mod is also small with dimensions of 85mm x 44mm x 32.5mm.  The chassis is made from high-end aluminum alloy, while the top plate is constructed from zinc alloy.  A stripe of high quality stainless steel features etched engravings that really make this device stand out from the crowd.  Available colors are black/gold stripe, red/silver stripe and blue/silver stripe.
The OLED can be found inside the metal stripe and measures 0.91″ in diamter with a horizontal menu.  For fast and easy atomizer installation, there's a 510 compatible connector located on the top that is built with a gold plated pin for conductivity and is also spring-loaded for flush installs.
Features & Specs.
85mm x 44mm x 32.5mm
Portable mod
Body made from aluminum alloy
Top plate made from zinc alloy
Etched stainless steel stripe
Colors: black/gold, blue/silver, red/silver
0.91″ OLED
Large fire button
510 connector
Spring-loaded/gold-plated pin
Utilizes 26650 or 18650 batteries (use included battery sleeve)
Micro USB charging port
Modes: Bypass/VW/TC SS316/TC Ni200/TC Ti
Power output range: 7W to 77W
Resistance range in all modes: 0.10Ω to 3.0Ω
Temperature output range: 200°F to 600°F or 100°C to 315°C
Micro USB cable
Manual
Pictures
Video
Total Views Today: 1 Total Views: 124