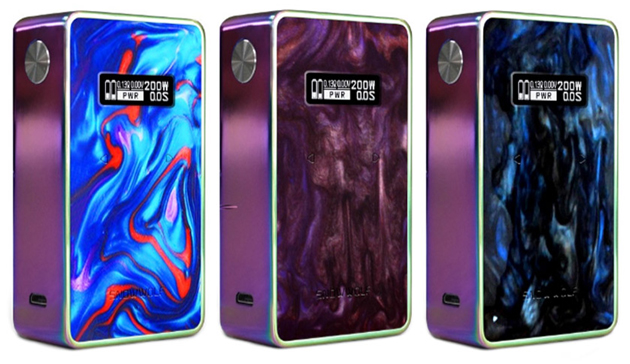 Check out these cheap deals for the Snowwolf 200W-R Box Mod. This powerful 200W temperature control box  mod with resin panels retails for $60.
Update: This Item Is Out Of Stock Everywhere – Check  Similar 230W Box Mod  Deals Below
Overview
The SnowWolf R 200W TC Box Mod features 235 watts of output, a full temperature control suite,  dual 18650 battery compatibility,  a 0.91 inch display and resin faceplates.
With dimensions of 85mm x 46.5mm x  24.5mm, this device is made from zinc alloy/glass chassis (matte finish) and beautiful resin panels. It comes it different colors including black blossom, black phantom, black watercolor, rainbow amethyst, rainbow azure, rainbow moonlight. The Snowwolf 200W-R has a three button control face featuring an oversized firing button and two adjustment controls. At the top, there's a stainless steel 510 threaded connection that is built with a spring loaded gold plated contact. The OLED display is located on the front and includes a menu with vape data organized in three columns. On the screen, you will see indicators for output temperature, output wattage, output voltage, material and mode selection, atomizer resistance, puff timer and a battery life indicator for each cell.
The SnowWolf 200W-R is made with a micro USB port which allows for easy charging at any time by simply plugging the device into any wall outlet. The battery bay is accessed by touching the panel at the bottom that uses strong magnets to stay in place. Technically, the mod  features a temperature control suite that supports nickel, titanium and stainless steel atomizer coil elements, down to a very low 0.05ohm of reisstance. There's also a TCR mode of which you settings can be stored into two memory slots. The device has a maximum power of  235 watts and a highest temperature of 662 degrees Fahrenheit.
With purchase, the SnowWolf 200W-R comes with a micro USB charging cable, a manual and warranty information.
Snowwolf 200W-R Features & Specifications
Measurements: 39.3mm x 48.8mm x 113.7mm or 1.55″ x 1.92″ x 1.55″
Colors: rainbow moonlight, rainbow azure, rainbow amethysts, black watercolor, black phantom, black blossom
Materials: zinc alloy with glass and resin

Fire/adjustment buttons blend in with resin panels

510 threaded connection

Stainless steel bezel
Gold plated for conductivity
Springloaded center pin

Utilizes dual 18650 batteries

Micro USB charging
Micro USB firmware upgrades
Bottom magnetic battery door

0.96 inch OLED display
Operating modes: power, TC Ni, TC Ni, TC Ti, TCR
Power mode output range: 0W to 235W
Resistance: 0.05Ω to 2.5Ω
Temperature output range: 200°F-6662°F
Voltage output range: 0.5V to 7.5V
Related Resin Box Mods
Total Views Today: 1 Total Views: 699