Here are cheap deals to buy the Snowwolf Kaos Disposable.  It features a 15mL cartridge with 50mg nicotine salt vape juice, a Type-C charging port, adjustable airflow, up to 6000 puffs,  12 flavors, and a 500mAh rechargeable battery.  Check out our other disposable vape deals as well
Lost Vape Ursa Pocket Overview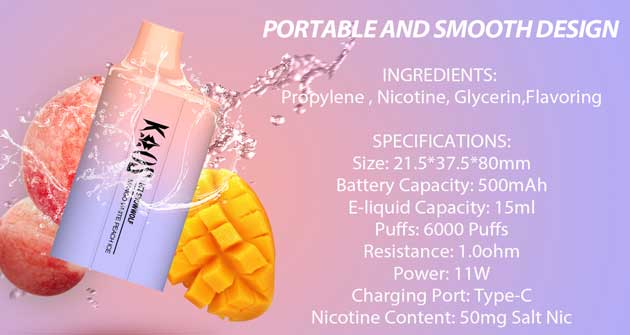 Description
What separates the Snowwolf Kaos Disposable from the rest of the crowded field of throw-away vape kits is that it produces 6000 puffs thanks to a 500mAh rechargeable battery and a 15mL internal tank filled to the brim with nic salt vape juice.  The battery may be recharged via a bottom USB-C port with an LED light that will extinguish when a full charge is achieved.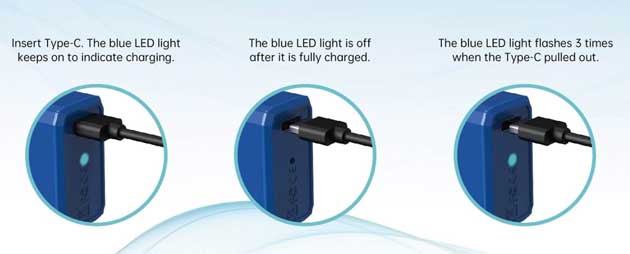 According to Snowwolf, the atomizer adopts a 1ohm mesh coil that produces tons of flavor and smooth puffs.  Mesh coils are known throughout the vape industry for producing incredible taste and fast heating.  And the airflow is also adjustable for a customized vape experience.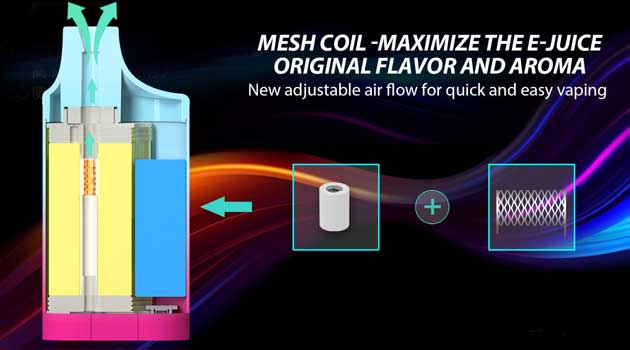 To ensure a safe vape experience, the Kaos Disposable is built with food-grade PCTG material and several built-in protections.  These include over-puff protection, battery protection, short-circuit protection, and more.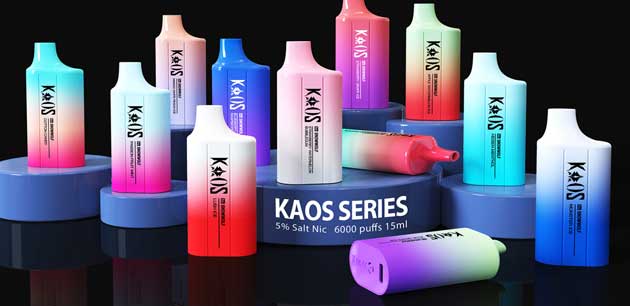 Features & Specifications
Appearance

Made from PCTG & 304 SS
Smooth, portable design
Dimensions: 21.5mm x 37.5mm x 80mm
Exquisite animal print design

Battery

Type-C charging port
500mAh
Power output: 11W

6000 puffs

Puff-activated firing
MTL-style puff
Adjustable airflow control

Cartridge

15mL/5% nic salt  e-liquid
Ingredients: flavoring, glycerin, nicotine, propylene
Mesh coil: 1.0Ω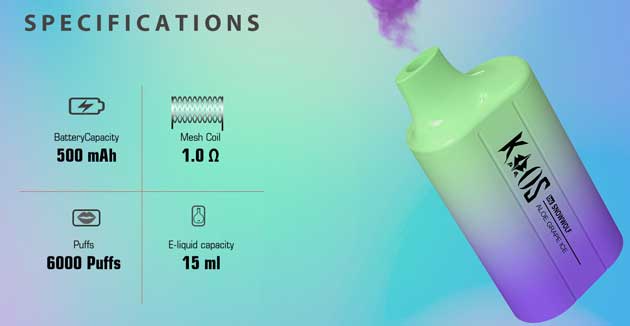 12 Flavor Options
Each flavor has its color finish.  The colors are rich, and the appearance is unique, although the Snowwolf Kaos Disposable looks very similar to the Snowwolf 6000.    Check out the 12 flavors below.
Apple Watermelon Ice – Apple | Watermelon | Menthol
Blueberry Strawberry Raspberry – Blueberry | Strawberry | Raspberry
Strawberry Watermelon Bubblegum (NEW)
Monster Ice – Energy Drink | Menthol
Watermelon Apple Strawberry – Watermelon | Apple | Strawberry
Aloe Grape Ice – Aloe | Grape | Menthol
Lush Ice – Watermelon | Menthol
Strawberry Grape Ice – Strawberry | Grape | Menthol
Cotton Candy
Passionfruit Mint – Passionfruit | Menthol
Mango White Peach – Mango | White Peach
Heisen Menthol – Blue Raspberry | Menthol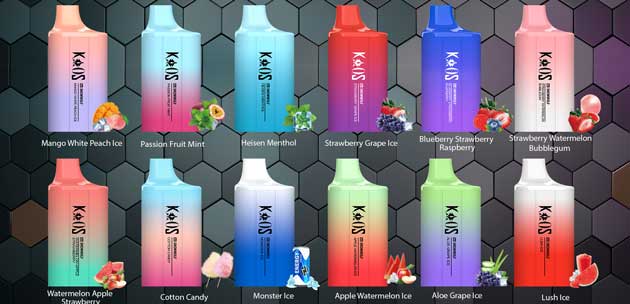 Total Views Today: 1 Total Views: 5,776