Snowwolf Taze: 1600mAh/40W VW Mesh Pod Kit w/ Fast 4A Charging
Here are cheap deals for th Snowwolf Taze, one of the newer variable wattage pod system to hit the vape marketplace. This new kit features a portable size, a 1600mAh internal battery, lightning fast 4 amp/30 minute USB-C charging, auto mode, RBA mode, an IFV960 chipset, 40 watts of power, two modes, a display screen, three mesh coils, one RBA head, and a 4.5mL juice capacity with easy top refills.
Review
Design
With measurements of only 25mm x 44mm x 91mm, the Taze truly is a portable pod system that can easily be carried in the pocket or purse. The material used are zinc alloy and PCTG, making it a setup that should last the test of time. Each panel has a one-of-a-kind texture for comfortable hand feeling during operation. And, the available colors are quite unique: coffee, midnight green, rose red, indigo blue, space gray and black.

The box mod's control face features an exquisite Snowwolf logo and a 0.42 inch OLED display with white font. Navigating the vape data and settings is done by +/- buttons underneath. On the opposite side of the control face, there's a fire button at the top and a type-C charging port at the bottom. Air intake holes are found at the top of both large sides of the unit. Each 4.5mL pod easily inserts into the mod section and is tightly held in place. The cartridge consists of the juice reservoir, a stainless steel cap for refills and a drip tip.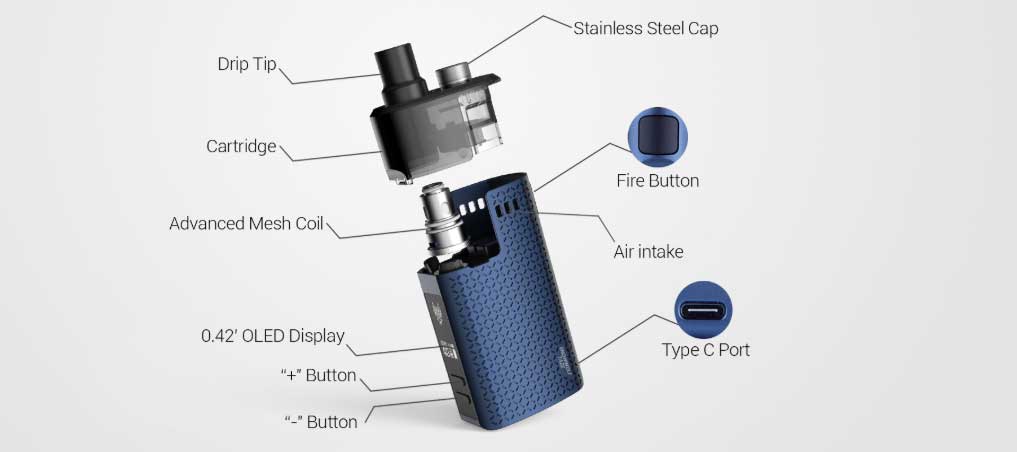 Mesh Coils With Adjustable Airflow Control
Four different coils are compatible with the Snowwolf Taze. Included with purchase, you will get the  0.3ohm Taze-γ Mesh Coil that fires in the range of 25 to 35W and the 0.6ohm Taze-β Mesh Coil that should be used between 15 and 25 watts. An optional coil  is the Taze-α with a 1.2ohm resistance and a 1.2ohm resitsance for MTL style vaping with nic salts. Veteran vapers can choose the Taze-ε rebuildable head and use it in the preset RBA mode. Each coil is inserted into the cartridge from the bottom and is replaceable to save you money on pod replacements. And,  the base of the head can be rotated to set air intake to your liking.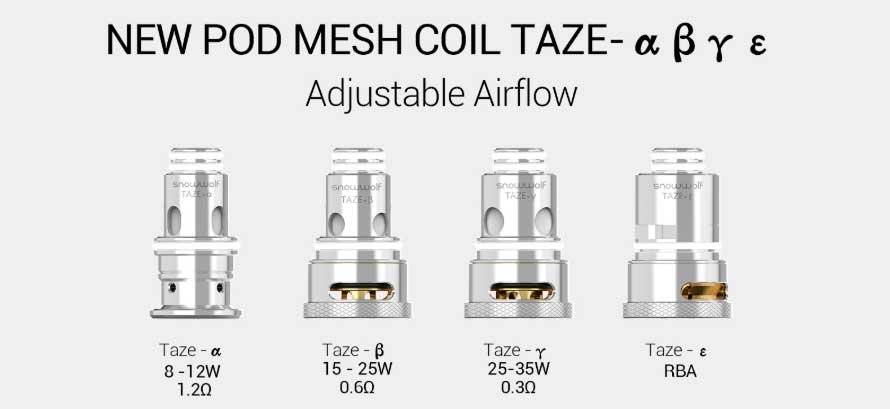 40 Watts Of Adjustable Power & Two Modes
With a smart IFV960 Smart Chipset, the Taze mod can fire in the range of 5 to 40 watts and can intelligently recognize the coil used. In Auto Mode, the Taze will automatically adjust the power output according to the coil, while the RBA mode is specifically designed for use with the rebuildable coil.  The chipboard operates with intelligent constant power output for stable and efficient operation, but adjustments can be made if needed.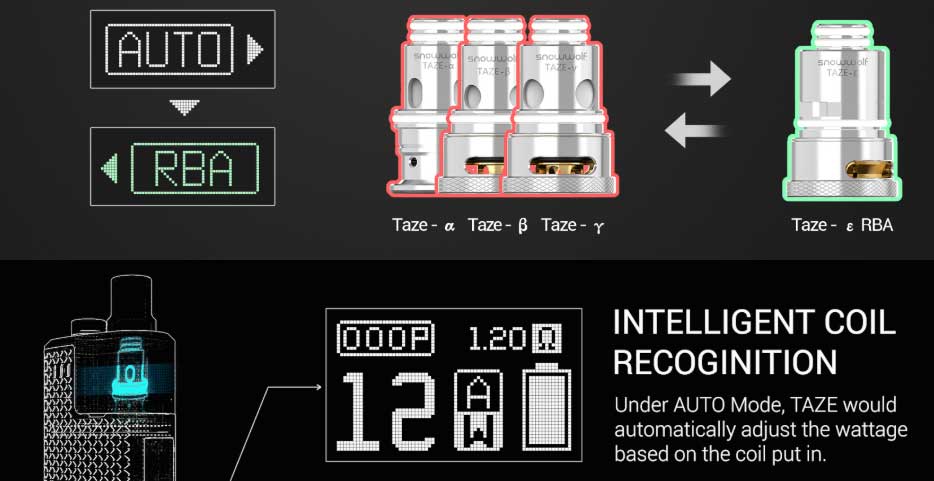 Type-C Lightning Fast Charging
With an integrated 1600mAh battery, the Taze should be able to operate for extended periods without the need to plug it in for a recharge. The battery is recharged thru a reversible type-C charging port which operates with a whopping 4 amp current to finish the charging process in less than 30 minutes.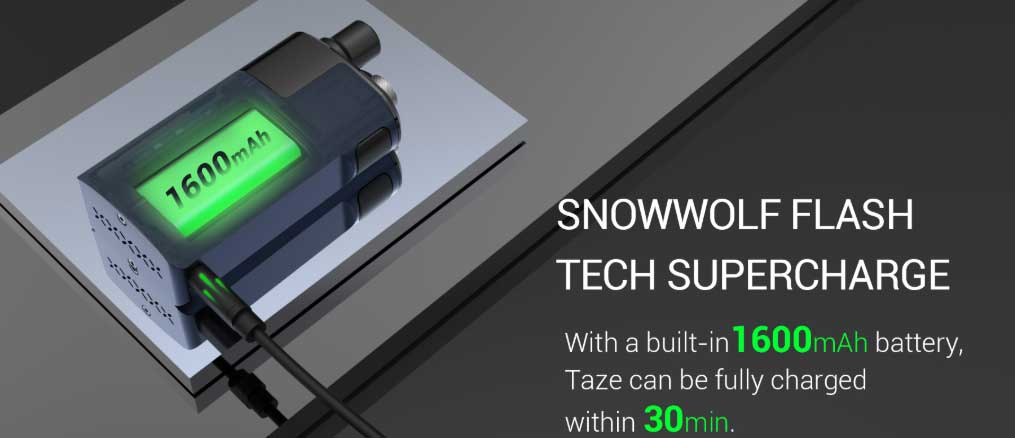 Features & Specifications
Size: 25mm x 44mm x 91mm
Zinc Alloy & PCTG material
Colors: coffee, midnight green, rose red, indigo blue, space grey, black
Integrated 1600mAh cell
4.5mL juice capacity
0.42″ display screen
Two adjustment buttons
Easy top cap for refills
1600mAh built-in battery
4A fast charging
30 minute charge time
Smart IFV960 chipset
Modes: Auto | RBA
Smart constant power output for stable operationg
Power range: 5W to 40W
Output voltage range: 3.2V to 4.2V
Gradient power output
Included coils

0.3ohm Taze-γ Mesh Coil | 25W-35W
0.6ohm Taze-β Mesh Coil | 15W-25W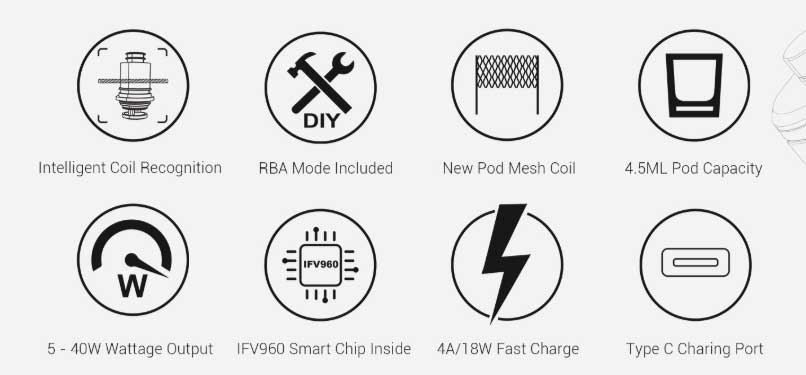 In The Box 
With purchase, you will receive the Taze Mod, one Taze Pod, 2 coils, a 510 drip tip, a type-C USB cable, a manual, a warranty card and some spare parts.

Related
Total Views Today: 1 Total Views: 589