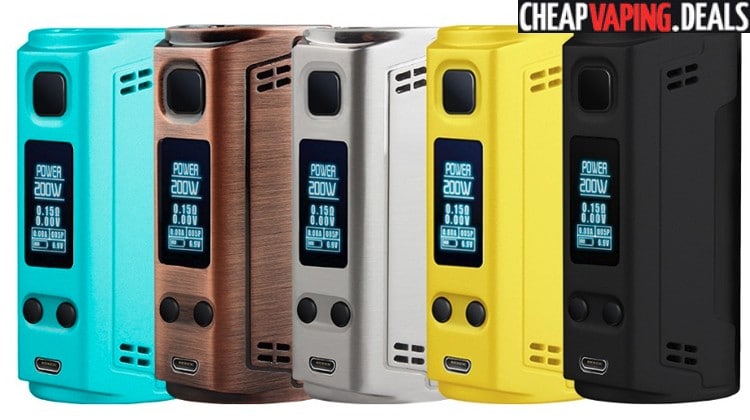 Update: The
Soomook FF91 200W Box Mod
Has Been Discontinued – Check  Newer 200W Box Mod  Deals Below
Or
All Mod/Kit Deals
Overview
The Soomook FF91 is an affordable high-power box mod that features 200 watts of output, versatile operating modes, a 0.96″ screen and a wide range of safety protections.
With a whopping 200 watts of output in variable wattage mode, this mod is quite powerful.  Additional operating modes such as bypass mode, temperature control with nickel, titanium and stainless steel and TCR, making the device very versatile. The lowest atomizer resistance comes in at 0.05ohm and the temperature range is not listed, but we would imagine the maximum output is 600 degrees Fahrenheit.   Many self-protections ensure safety while vaping including reverse polarity protection, overheat protection, low voltage protection, overload protection, short-circuit protection and 10 seconds overtime protection.
Two 18650 batteries power the FF91 and look to be bottom loaded. A micro USB port on the bottom of the control face allows for on-board charging.  Above the USB interface, you will see a 0.96 inch OLED display with a vertical menu that includes current mode, power/temperature, resistance, voltage, amperage, puff counter, voltage and a battery bar.
The FF91 box mod  has dimensions of 34mm x 85mm x 40mm, allowing for easy transportation and placement in the pocket or purse.  It is made from zinc alloy with a brushed metal shell that is durable and scratch resistant.  At the top, you will see a standard 510 connector for easy atty installation, while heat dissipation slots on each side prevent high mod temperature.    Available colors are black, silver, red copper, camouflage and white. Purple camouflage, pink and wood colors are also set to be released very soon.
Features & Specs
Measurements: 34mm x 85mm x 40mm
Zinc alloy construction

Brushed metal finish
Longevity
Anti-scratch

Colors:  black, silver, camo, white, red copper
Big 0.96″ OLED
Standard 510 connection

22mm to 24mm diameter compatibility

Large square fire button
Ventilation holes
Powered by two 18650 batteries

Micro USB onboard charging system

Reverse battery protection
Overheating protection
Overload protection
Low voltage protection
Short-circuit protection
10s overpuff protection.
Power mode range:15W to 200W
Temperature range:unknown
Lowest resistance capability: 0.05Ω
Ouput modes: VW / TC SS / TC ti / TC Ni / TCR/ bypass
Total Views Today: 1 Total Views: 97