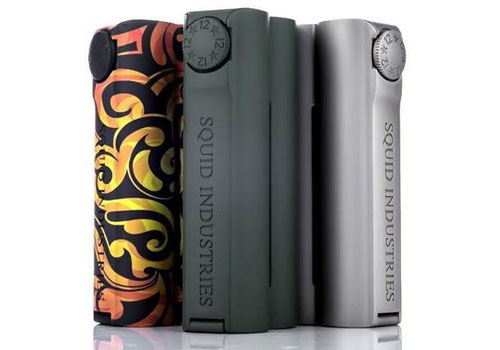 Here's a discount for the Squid Industries Double Barrel 3.0 Box Mod.  This mod features 150 watts of power, a dial for quick wattage adjustments,  a 0.47 inch top-mounted display screen, dual 18650 batteries (not included), an updated battery connector, a new hinged battery door, a 25mm diameter, and an e-liquid proof 510 threaded connection.
Double Barrel 3.0 Review
Overview
The Double Barrel 3 hasn't changed much from the Double Barrel V2. There are only small changes: they changed the contacts and the door to which they are hinged.
All Double Barrel devices are designed by a US Navy veteran who loves to vape.  The V3 features up to 150 watts of power, a multi-function fire switch, a top LCD display and is the smallest dual battery mod in the marketplace.
Beautifully crafted with amazing accents, this mod gets its name from its double barrel design.  The size is said to be the smallest box mod in the world that is powered by dual 18650 cells.  It can be purchased in either grey or black.
At the top of the Double Barrel 3.0, you will find a 24mm spring loaded 510 connection bezel. Included, you will also get an atomizer spacer for convenient installation of any atty with a longer connection pin.  Adjacent the 510, there's a 0.47 inch LCD display that shows vape data including power level, current resistance, voltage and battery life.  The screen can be flipped for left-handed users.  The control face is built with a ridged power/fire button.  When pressed, the mod will fire while turning it will adjust wattage.
Dual 18650 cells power the Double Barrel V3.   The two cells allow the mod to put out up to 150 watts of power with atomizers with a resistance of as little as 0.1ohm.  However, the is no temperature control functionality so purchase this mod only if you engage in power mode vaping. And, this mod's safety features protect against overheating, short circuits and in case batteries are inserted the wrong way.
Features & Specs.
Power/voltage output only
Beautifully crafted double barrel design
Colors: champagne grey or black
Smallest dual powered mod in marketplace
24mm springloaded connection bezel
Atomizer spacer for maximum atty compatibility
Multi-function fire switch: change wattage, locks wattage, power on/off, flip display
0.47″ LCD display moved to top
Utilizes dual 18650 batteries
Sliding battery door for convenience
Power output range: 5W to 150W
Resistance Range: 0.1Ω to 3.0Ω
Reverse battery protection
Overheat protection
Short circuit protection
Pictures
Total Views Today: 1 Total Views: 690