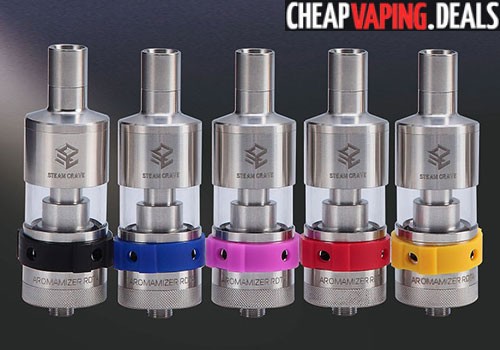 Update: The
Steam Crave Aromamizer RDTA
Has Been Discontinued – Check  Newer RBA Deals Below
There's a lot of talk in the vaping community about the brand new Steam Crave Aromamizer Rebuildable Tank.   This innovative RDTA device is said to produce flavorful puffs and huge vapor clouds.  The device is made of  stainless steel and superior glass  for durability which also results in an amazing looking tank.  And it's compact: the length of the larger 6ml version is only 56mm.
The Aromamizer features an RDA which is built into the device, so you can get all the benefit of dripping, with a tank.   Its airflow system is very innovative in that it originates at the top of the base & coils, not at the bottom.  This results in a cooler and more balanced vape temperature.  The unit also features four big airflow holes which are adjustable with the included Silicone vape band.    With airflow fully opened, the tank will produce massive vape clouds that are refreshing and rich in flavor.
Another highlight of the Aromamizer is separate e-liquid and heating chambers.  This allows for e-juice to remain fresh, reduces vapor temperature and allows the tank to work well with both high VG and high PG e-juice.  The separate chamber also makes filling a breeze and prevents leakage.   Plus, a more direct-to-deck e-liquid structure lessens the distance e-liquid has to travel to hit the coils and improves wicking.
The Aromamizer  features a Velocity style two post design which allows for quick building and installation of intricate coils.  To further accelerate the install procedure,  the posts feature dual stacked 2mm holes, making it possible to use virtually any size wire.
Included with this RDTA, you will find a short mouth tip with spit back protection.  If you feel that there's flavor loss with the included tip, you're in luck as the device will fit any 510 drip tip.
Overall, the build quality on the Aromamizer is state-of-the-art.  And, the vape production and flavor is said to be out of this world.
For more info on the Aromamizer RDTA tank, check it out on the Steam Crave website.
Features
Diameter: 23mm
3ml or 6ml tank capacity available
Made of stainless steel and glass tube tank
Knurled bottom
Silver-plated 510 connector
Separate tank and deck
Keep e-liquid fresh
2 post design
Compatible with vertical coil setups
Innovative airflow
4 adjustable airflow holes
Stable & cool vapor production
Unique direct to deck e-liquid design
Improved wicking
Dual stacked 2mm coil post holes
Leakproof bottom fill system
Easy disassemble
Peek insulation
Video Review
https://www.youtube.com/watch?v=Hpvb6NwWdcc
Total Views Today: 1 Total Views: 57