The Steam Crave Aromamizer Plus V3 RDTA can be used as an RDA or RTA and features a whopping 12mL e-liquid reservoir, four compatible deck options, the latest pre-installed postless deck, a top-filling method, smooth honeycomb side/bottom airflow for any puff style, and a 30mm diameter.

Aromamizer Plus V3 RDTA Description
The Steam Crave Aromamizer Plus V3 RDTA is yet another release in the long line of atomizers by the same name.  This device can be used as an RDA in dripper mode (remove tank section), resulting in a massive 3mL deep juice well that reduces frequent dripping.  Or, utilize it as an RTA with a 12mL juice capacity and two large juice ports underneath the top cap.  Please note that the diameter of the Aromamizer Plus V3 RDTA comes in at an astounding 30mm, so there may be an overhang on most small mods.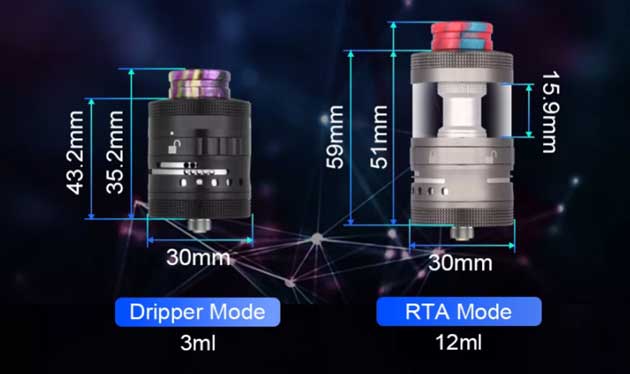 With the release of this new atomizer, Steamcrave also designed a new postless deck that works with single or dual coils and has 12 honeycomb holes underneath the coil for massive vapor and flavor.  The Steam Crave Aromamizer Plus V3 RDTA is also compatible with any previous V2 decks: single coil, mesh, velocity, and series decks.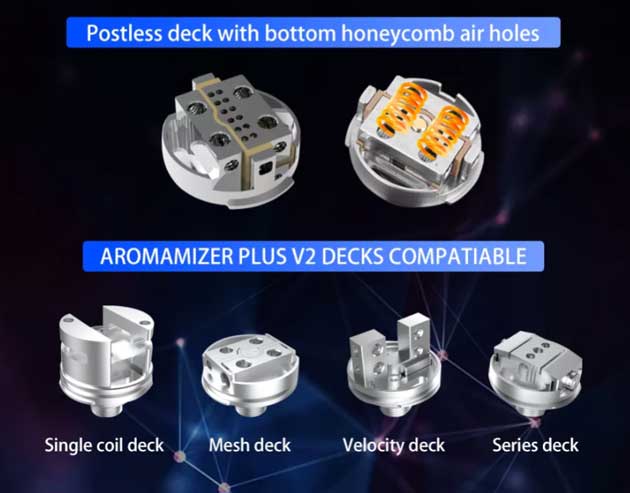 External airflow is said to be relatively smooth and consists of 80% side airflow and 20% bottom airflow.  Adjust it by rotating the bottom AFC ring that opens or closes many honeycomb holes.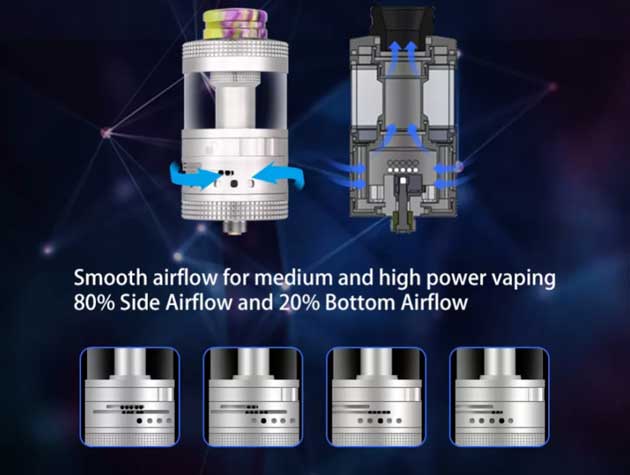 Finally, this atomizer hasn't changed much in appearance compared to previous versions, such as the Aromamizer Plus V2, Aromamizer Titan V2, and Aromamizer Ragnar RDTA.  The new RDTA is for sale in 3 colors: gunmetal, stainless steel, and black.
Features & Specifications
Design

RDTA: used to drip or as RTA

RDA mode dimensions: 30mm x 43.2mm
RTA mode dimensions:  30mm x 59mm

Color options: black, gunmetal, stainless steel
810 wide bore drip tip
Body material: SS
Tank material: Pyrex glass

Reservoir

RDA mode: 3mL juice well
RTA mode: 12mL

Easy top-fill system
Dual large juice ports

Optional 14mL glass (needs extension)
Optional 18mL bubble glass (needs extension)

Build deck

Included: latest postless build deck w/ honeycomb airflow
Compatible with optional Aromamizer Plus V2 decks

Single coil deck
Series deck
Velocity deck
Mesh deck

Single coil builds
Dual coil builds

Airflow design

Smooth honeycomb adjustable airflow
80% side airflow
20% bottom airflow
Medium power vaping
High power vaping
Package
Aromamizer Plus V3 RDTA
New Postless Deck (Pre-Installed)
Spare O-Rings
Spare Grub Screws
Spare Slotted Screws
Allen Key
Rubber Band
Steam Crave Sticker
Manual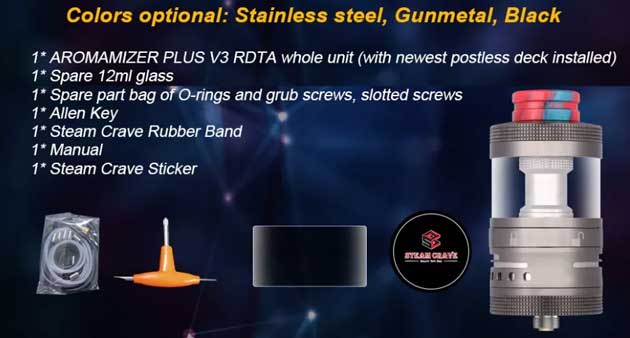 Total Views Today: 1 Total Views: 1,877