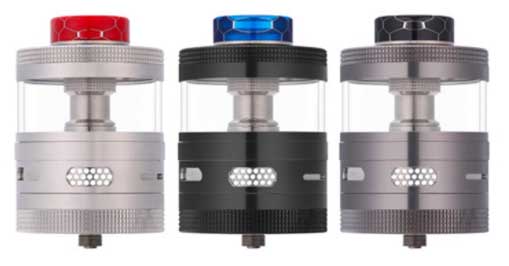 Aromamizer Titan V2 RDTA: 32mL/41mm Rebuildable Dripping Tank Atomizer
Here are cheap deals to buy the Steam Crave Aromamizer Titan V2 RDTA, another release in the long line of Aromamizer RDTAs such as the Aromamizer Line Of Atomizers by Steam Crave. This RDTA features a whopping 32mL juice capacity, a massive 41mm diameter, unique juice flow control, enhanced airflow, an innovative postless build deck, and both parallel & series-style coil compatibility.
Build Tutorial
Overview
The  Aromamizer Titan V2 is the latest RDTA to hit the marketplace, and it is stunning.  With a massive width of 41mm, this rebuildable dripping tank atomizer will produce massive clouds whether you use it as an RDA or an RTA.   Yes, you can convert it between the two in just a couple of steps as it effortlessly disassembles, making it effortless to maintain and clean.  Moreover, the juice storage capability is humongous as it comes in at 20mL with the standard reservoir. Still, you can expand this capacity to 32mL with the included long glass section.  And by removing the top cap, you will expose a massive 360-degree juice port that can be refilled from any angle.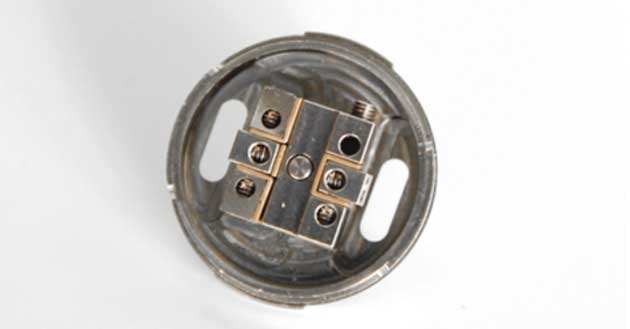 Most importantly, airflow features a new combination of bottom and side honeycomb airflow for huge vapor that is to your liking.  The build deck also looks great because it has almost no build restriction, making the Steam Crave Aromamizer Titan V2 ideal for veteran or expert vapers.  The postless deck works with parallel and series dual coil builds, and side-secured hex screws make it more effortless than ever to tighten the coils.
Gallery
Specifications
Adjustable Airflow
20mL Optional Glass
Pyrex Glass Tube
Made From SS
Colors: Black, Stainless Steel, Gunmetal
Widebore 810 Drip Tip: Random Color
Juice Flow Ring
PEEK Insulation
510 Connection
Postless Build Deck – 6 Wire Holes
Top Fill System
Flathead Screws On The Build Deck
Diameter" 41mm
Tank Capacity: 32mL
Dual Coil Compatible
Parallel Coil Or Serial Coil Builds
Related
Total Views Today: 1 Total Views: 968