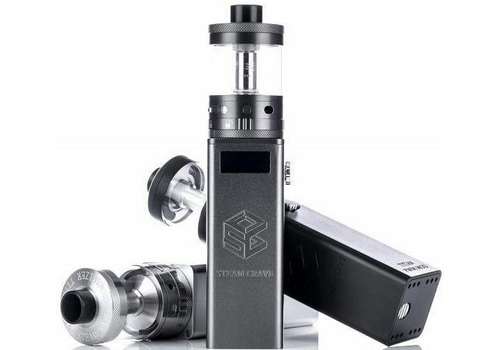 Here's a cheap deal for the Steam Crave Titan PWM w/ Aromamizer Titan RDTA Kit. The mod features a zinc alloy body, up to 300W of output, an LCD display, and four 18650 batteries for extreme vape times. The RDTA features three tank section options up to a whopping 28mL (included), a modular build deck with three configurations, and user-adjustable bottom airflow. 
Update: The Steam Crave Titan PWM 300W Has Been Discontinued.  See deals below for the newer Steam Crave Titan PWM V1.5 300W Mod or Kit
Review
Overview
Steam Crave just brought out the Titan PWM with Aromamizer Titan RDTA, an enormous combination that will leave you floored once you see it. This combo is certain to dazzle others because of its capability to support everything with high capacity range from 28mL juice capability of the tank, to its 300 watts of output and even the four cells that power the kit.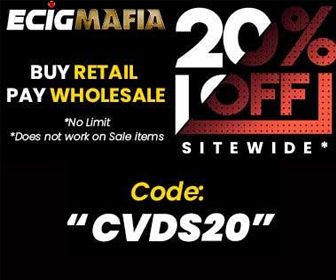 The Steam Crave Titan PWM box mod actually kind of looks like a box. This basic-looking monster has a small LCD display that shows imperative vaping information such as current wattage, current voltage, atomizer resistance, and battery charge. Below the display, you will see a beautiful Steam Crave logo. On the right side of the Titan PWM is a knurled large firing button that also twists enabling vapers to set their output without effort. To lessen the chance of problems, Steam Crave has shrewdly created this mod to work well with just one hand. Found under the fire button is another "Titan PWM Mod" logo.  At the bottom, you will find a latch locked battery door that hides the battery bay. The Titan PWM utilizes four 18650 cells and because these cells should be high amperage, the Titan PWM truly can sustain 300 watts of power.
Matched with the Titan PWM is an equally enormous RDTA, the Aromamizer Titan. With a width of 41mm and a juice capacity of a whopping 28ml, this tank is an absolute monster. There's also an 18ml tank section for which you will need to replace the chimney with an included shorter version.   Juice is added to the atty via kidney shaped fill ports that can be accessed via a threaded top fill system. At the base of the RDTA,  you will see the AFC ring that permits for airflow adjustments of four inlets.  To supplement flavor and air intake, the chamber is designed with a unique air intake mask that is located directly underneath the build deck. If you use the Aromamizer Titan as an RDA, the juice capacity is 4.5ml.
Features & Specifications
Titan PWM Mod
Wattage: 300W
Voltage: 1V – 8.4V
Max Current: 60A
LCD Display

Battery Level
Voltage Output
Wattage Output
Atomizer Resistance

Powered By 4x 18650 Batteries

Hindged Locking Battery Panel
24K Gold Plated Endpoints

Construction: Zinc Alloy
Single Rotatable Button

Acts As Fire Button / Wattage Adjustment

Stainless Steel 510 Threading

Compatibly With 41mm Atomizers
24K Gold Plated Spring Loaded Connection
Atomizer Specifications
Width: 41mm
Material: Stainless Steel and Glass
Threaded Top Fill System

2x Fill Ports
3x Configurable Well Volumes

4.5mL Juice Well
18mL Standard Glass E-Juice Capacity
28mL Tall Glass E-Juice Capacity

Configurable Build Deck

Postless Build Deck / Velocity Style Build Deck / Series Build Deck
4x Mounting Terminals

3mm x 2.5mm
Side Mounted Hex Keys

2x Wicking Ports
Chimney Threaded To Top Cap / Base

User Adjustable Dual Bottom Airflow

11mm x 4mm Large Airflow Slots
11mm x 3mm Narrow Airflow Slots
6mm x 4mm Oval Airflow Slots
4mm x 4mm Circular Airflow Slots
Air Intake Screen Increases Flavor + Decreases Coil Spitting

RDA to RDTA Transformation

Remove Chimney / Glass Tank Section
Attach Top Cap To Base

Drip Tips:

10mm Wide Bore Delrin 810
10mm Wide Bore ULTEM 810

Silver 510 Pin
Related Deals
Total Views Today: 1 Total Views: 598