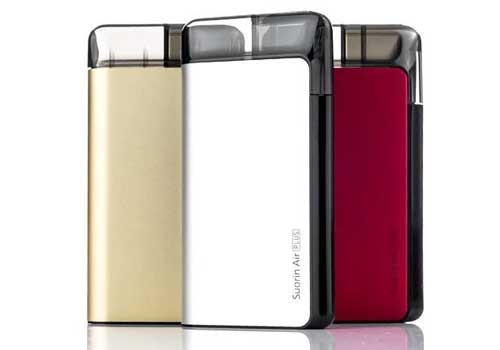 Here's a fantastic deal on the Suorin Air 500mAh Starter Kit. This mini pod kit has a 400mAh internal battery and uses refillable 2ml cartridges, making it perfect for high nicotine and nicotine salt juices. 
Overview
The Suorin Air is a brand-new kit with an amazing design and miniature form factor.  The all-in-one device utilizes a refillable 2ml cartridge, is powered by a 400mAh capacity battery, features adjustable airflow, a refillable 2ml cartridge, and a power indicator LED.
The thin kit measures 86mm x 54mm x 8mm and weighs just 136g.    This makes it perfect to put in your pocket and take virtually anywhere.  You can get one in many colors, including gun color, rose gold, silver, golden, and black.
The Suorin Air is built with a 2ml internal tank that is easily refilled.  All you do is remove the black cartridge from the battery portion, lift the e-liquid stopper from the fill port, and add e-juice.
The battery portion of the kit fires with an output of 16 watts which is possible thanks to an internal 400mAh cell.  This capacity should allow for long vaping times at the unit's maximum power level and is conveniently charged via a micro USB port on the bottom.  Charging is fast, within 30 minutes.
There is no fire button.  To activate the Suorin Air, draw on the mouthpiece at the top.  A power indicator LED will light up as you take a puff.  The LED  is also used to monitor the battery's charge level.  When blue, the battery is near full charge, while a red light indicates it's time the charge the internal cell.
Airflow can also be adjusted by flipping a switch at the bottom of the battery portion of the kit.
Features & Specs
All-in-one miniature vape starter kit
Produced by Foxconn: excellent quality control
Colors: grey, silver, golden, rose gold & black
Dimensions: 86mm x 54mm x 8mm
Weight: 136g
Thin and portable
400mAh internal battery
Micro USB charging
30-minute charge time
Easily refilled 2ml cartridge
Power indicator light to monitor battery level
Adjustable airflow switch
No fire button: activates when drawn
Gallery
Total Views Today: 1 Total Views: 1,164