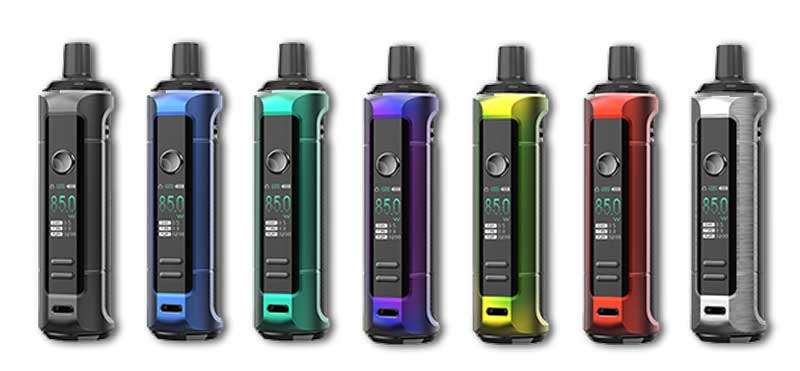 Here's a cheap deal to purchase the Suorin Trident Kit.  It features a single 18650 battery (not included), 85 watts of max power, variable wattage mode, 4.4mL pods, instant firing, an upgraded chipset, a 2-hour USB charging time, dual airflow adjustments, a plethora of safety features and TRI mesh coils.
Deals
Review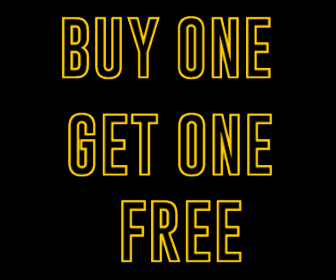 Suorin Trident Mod
The Suorin Triden is constructed from zinc alloy with plastic and is for sale in gunmetal, blue, black/green, rainbow, lively green, red, and silver.  Inspired by a race car, the kit features an intoxicating fusion of incredible design, amazing performance, and portable construction.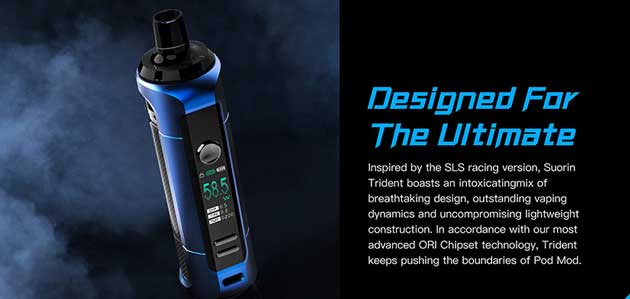 On the technical level, this setup is the fastest-firing pod system in the marketplace, thanks to a response time of less than 0.006s.  This is due to a brand-new reinforced ORI chipset that continuously monitors, controls, and manages the entire vape process to ensure users have an experience like they've never had.  And this chipset is also compatible with different types of mesh coils to ensure incredible vapor production that has incredible flavor.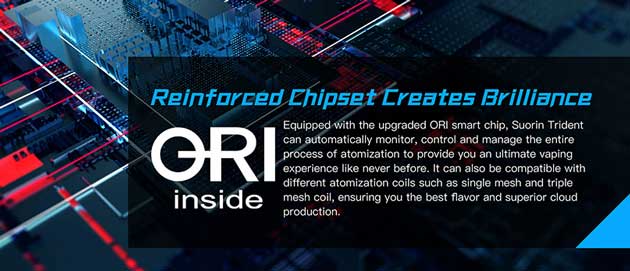 Not only is the Suorin Triden the fastest-firing mod, but it is also quite capable. You see, wattage from the single 18650 battery inside (not included) permits the production of up to 85 watts of power and is also adjustable from a 5-watt setting.  And a 1 amp USB-C charging interface permits recharging in under 2 hours.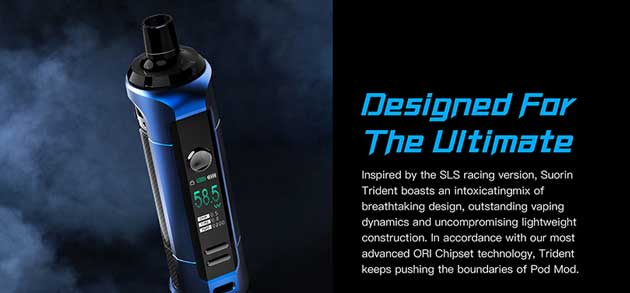 Suorin Trident Pod
At the top of the Suorin Triden Kit, you will find a 4.4mL capacity pod that will last a long time to reduce necessary refills.  This cartridge is also transparent so that you may monitor the e-liquid level inside.  But, since the refill system is not listed, it looks like there may be a juice port at the bottom, thus making this setup less convenient to top off.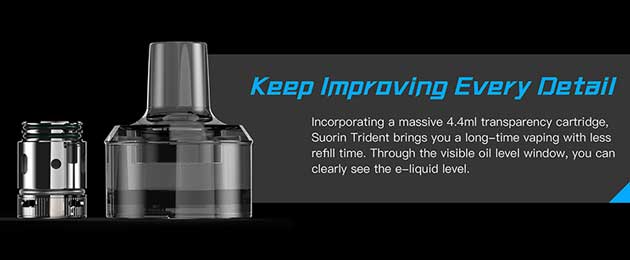 And, if you are looking for different puff-style options, the Trident won't disappoint.  With purchase, you'll get both a  TRI Single Mesh 0.4ohm Coil (pre-installed) and a TRI Triple Mesh 0.2ohm Coil, both of which are said to produce the flavor you want, especially the triple mesh coil.  There are many other optional coils, including a single coil RBA head for more experienced vapers.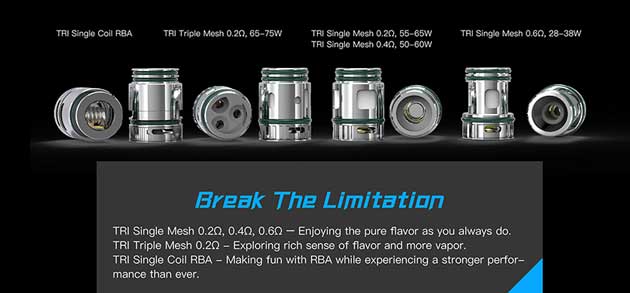 Finally, the pod also features a brand new dual airflow adjustment system to permit you to fine-tune the air intake to your liking.  In this way, you may maximize the versatility of your puff style in the most efficient manner possible.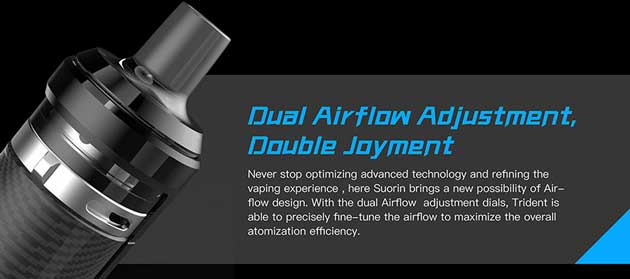 Features & Specifications
Colors: Silver, Gunmetal, Blue, Black Green, Lively Green, Rainbow, Red
Dimensions: 34.6mm x 31.2mm x120mm
Made from zinc alloy & plastic
New ORI chipset
0.006s firing response time
Boost converter for huge immediate power
TFT display screen with color UI
Uses a single 18650
USB Type -C charging system
2-hour charge time
Operating modes: power
Power output range:5W to 85W
4.4mL pods
Transparent pod to monitor juice level
Coils: TRI Single Mesh 0.2Ω/0.4Ω/0.6Ω Coil; TRI Triple Mesh 0.2Ω Coil; TRI RBA
Compatible with all TRI coils
Dual adjustable airflow control
Safety protections: open circuit, over-puff, short circuit, overcharge, low voltage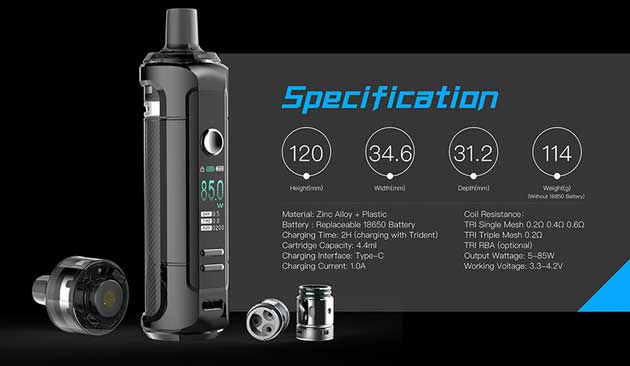 In The Package
Suorin Trident Kit
TRI Single Mesh 0.4ohm Coil (Pre-installed)
TRI Triple Mesh 0.2ohm Coil
Manual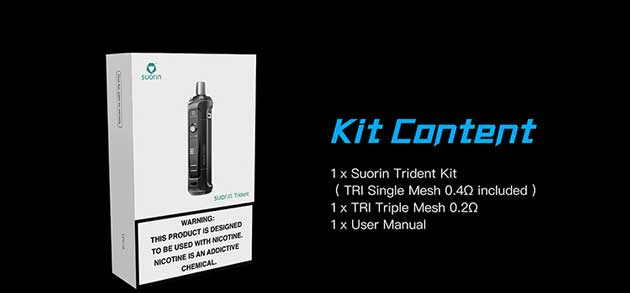 Related Deals
Total Views Today: 1 Total Views: 1,449