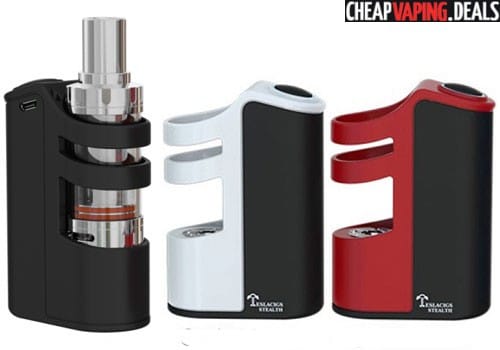 Here's an amazing deal for the Tesla Stealth 100W Mod.
Overview
The Tesla Stealth is a mod that features a submerged atomizer design, similar to the Smoant Knight V1.  Stealth mods have become quite popular because they are portable and can be safely placed in your pocket or purse. Tesla's Stealth fits any 22mm tank and allows it to be stored inside the mod. It can also fire atomizers with low resistance up to 100W and features a long-lasting 2200mAh battery.
With dimensions of 49.5mm x 70mm, the device is extremely portable and smaller than similar devices. It can be easily carried in the pocket without the possibility of accidental firing. The mod was constructed from zinc alloy with a durable rubber finish that is ergonomic and won't slip from the hands. At the top of the device, the slanted fire button makes using the device a breeze.
The Tesla Stealth stealth can hide any tank or RDA that is 22.5mm in diameter or less. To install an atomizer, simply hold the top and bottom and rotate it into the tank slot's 510 connection. If you use a top fill tank in combination with this setup, there'll never even be a need to remove it.
This mod can put out up to 100W of power depending on the output voltage. Voltage is indicated via the LED on the fire button. If the voltage falls below 3.7V, a red indicating light will be present and if the voltage is from 3.7V to 4.2V, you'll see a blue light.  The unit can fire atomizers all the way down to 0.1Ω, so it should work with many of the newer tanks or builds.
The Stealth mod is powered by one internal 2200mAh internal LiPo battery which should allow for extended vaping, without a need to recharge. LiPo batteries are said to be safer than Lithium Ion ones and have a longer life. The mod is charged via its USB port and has passthrough capability, so you can continue vaping while it's plugged in.
The device also has multiple safety features built-in. For safer vaping, the amperage is limited to 40A and the chipset was built with over-puff protection, high voltage protection, and low resistance protection.
Overall, the Stealth Mod by Tesla looks like an excellent, portable stealth mod. While it does not feature variable wattage or temperature control, it is still suitable for use by both beginner and seasoned vapers.
Check out this Reddit conversation on the Tesla Stealth Mod
More info and pictures of the Stealth Mod 
Features & Specifications
Dimensions 70mm x 49.5mm x 5mm
Constructed from zinc alloy with a durable rubber finish
Big angled fire button
The tank is stored inside the mod
Fits any tank with a diameter of  22.5mm or less
Maximum Output Power: 100w
Lowest atomizer resistance: 0.1Ω
Maximum Output Voltage: 4.2V
Voltage indicator with blue or red LED
Max Output Current: 40A
Powered by a built-in 2200 mAh 1S LiPo
USB charging:5V/1A
Passthrough capable
Many safety features
Review
Gallery
Similar Products
Total Views Today: 1 Total Views: 835