Check out the Think Vape Auxo DNA 250C Mod with a luxurious design, comfortable hand feeling, genuine leather, 200 watts of power, a DNA 250C chipboard, a  full-color screen, versatile operating modes, two 18650 batteries,  a charging system, a replay function, and much more.  This item is outdated, so check out our other Evolv DNA devices.

Luxurious, Portable Design
For sale in black, blue, carbon fiber, red, and brown, the Think Vape Auxo's design is elegant and luxurious.  The grip, which looks exquisite in combination with the carbon fiber chassis, is comfortable in the hand, adding to the appearance's luxurious nature.  Moreover, the Auxo mod is also the perfect shape and has a reasonable weight to make it suitable for vaping on the go.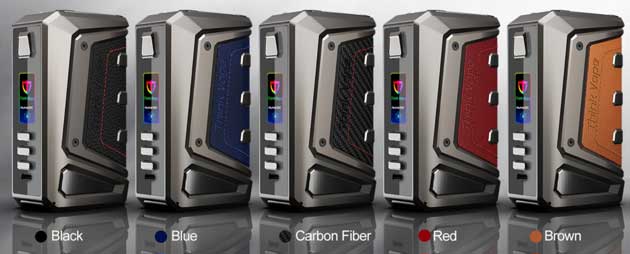 On the control face, there's a 0.96-inch full-color TFT screen with a resolution of 160 x 80 that shows all the vape data you can possibly need in a crystal-clear fashion.  Moreover, you may change the theme via Evolv's Escribe 2 and the matching Theme designer, both of which permit changing the background or theme.  Another benefit of the Think Vape Auxo Mod is that navigating the UI is absolutely effortless thanks to three buttons, one of which allows you to select menu items or change settings.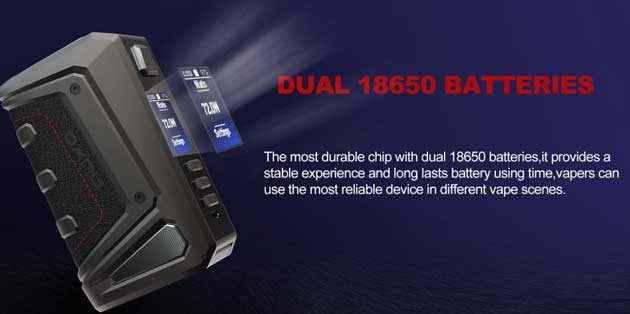 DNA250C Chipset
Powered by the most updated DNA 250C chipset, power transfer from the dual 18650 batteries occurs with a 97 percent efficiency.  The cells are also easy to access as a bottom battery panel flips open to reveal the battery bay, while a micro USB port on the control face can recharge the batteries quite fast with the included cable.  This means that the Auxo Mod can operate with 200 watts of power and also features accurate temperature control from 200 to 600 degrees Fahrenheit with any atomizer with a resistance of 0.08ohm or above.  A replay function further ensures you get the original flavor from your e-juice, while Auxo's boost system provides higher initial power upon firing.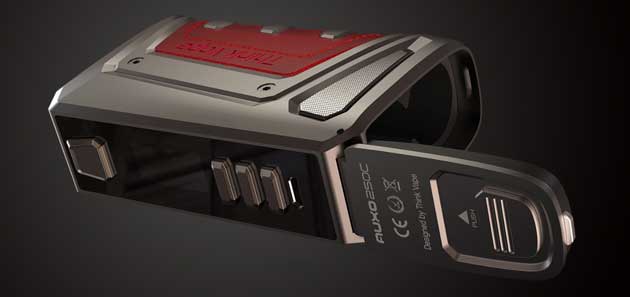 Features & Specifications
Dimensions: 90mm x 55.0mm x 29mm
Colors: brown, red, carbon fiber, blue, black
Gunmetal chassis
Leather grip
Ergonomic and portable
0.96″ full-color TFT display screen
Change theme and backgrounds via Escribe
Exquisite fire button
DNA 250C chipset
Modes: VW, TC (Ni80, Ni90, Ti, SS316, TCR), Custom curve
Dual 18650 batteries (not included)
Bottom battery panel
Gold-plated contacts for conductivity
Fast 2A  charging
Power output range: 1W to 200W
Boost mode
Temperature Settings Range: 90℃ to 315℃ | 200℉ to 600℉
Resistance range power mode: 0.1Ω to 2.0Ω
Temperature modes/TCR resistance: 0.08Ω to 1.0Ω
Upgrade firmware
Power presets
Power lock
Resistance lock
Stealth mode
Atomizer short protection
Cell-by-cell protection
Short circuit protection
Cell balancing
Overheat protection
Low voltage protection
Reverse polarity protection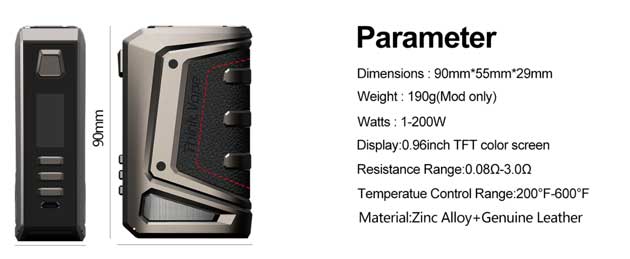 Gallery
Total Views Today: 1 Total Views: 786