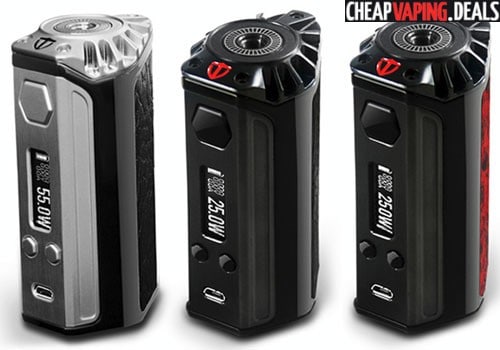 Here's an incredible deal for the Think Vape Finder DNA 250 Mod.
Update: This Item Is Out Of Stock Everywhere – Check  Similar DNA250C Mods Below
Overview
The Think Vape Finder DNA 250W has the identical Evolv DNA 250 chip board as the Finder167W. But, it is powered by triple 18650 cells to allow for a whopping 250 watts of output and also features a completely new design to store the three batteries.
The mod has dimensions of 89mm x 41mm x 49.5mm and is constructed with a zinc alloy body and a leather battery sleeve.  It is available in silver/black leather, black/red leather and black with black leather.  The design is amazing in detail with grooves encircling the stainless steel 510 springloaded connection bezel and real leather battery door.  The hexagon-shaped fire and adjustment buttons on the control face also integrate beautifully into the modern design. The screen features a DNA 250 menu with all the bells and whistles you would expect from Evolv's most powerful chip set.  The menu and presets are also easily customized on your PC or Mac with Escribe software.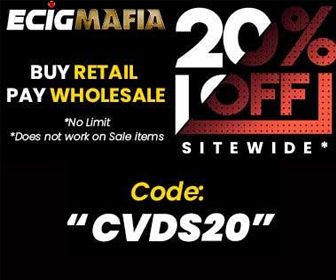 The device uses three 18650 batteries to put out the massive 250 watts its is capable of.  The batteries can be charged while stored inside the Finder 250W and you can continue to vape while it's plugged in.  Charging is done via the micro USB port which is also used to customize settings via Escribe and for firmware updates in case there are added features in the future.  If you want to swap out the batteries, they are accessed effortlessly by removing the leather battery sleeve that firmly stays in place because of two powerful magnets.
The Thinkvape Finder DNA 250 can control temperatures from 200 to 600 degrees Fahrenheit with all coil wire types and can power atomizers with a resistance as little as 0.10Ω.  As usual, there's also a wide range of safety protections to safeguard your vaping experience.
Overall, if you like DNA box mods, the Think Vape Finder 250W is sure to please you.  With an amazing design, premium materials and a DNA 250 chip board, this one looks to become quite popular.
Video Review
Features & Specs.
Dimensions: 89mm x 41mm x 49.5mm
Weight: 160g
Colors: all black, silver/black, black/red
Zinc alloy chassis
Real leather battery sleeve
Hexagon buttons'
Springloaded 510 threaded stainless steel connection
DNA 250 OLED display
Powered by Evolv DNA 250  chip
Power range: 5W to 250W
Temperature range: 100°C to 300°C or 200°F to 600°F
Power mode resistance: 0.20Ω or higher
Variable temperature mode resistance: 0.10Ω or higher
Input voltage range: 9V to 12.6V
Output voltage range: 0.5V to 9.3V
Maximum output current: 55A
Efficiency: 97%
Uses two external high rate 18650 batteries (not included)
2A Fast Micro USB charging
Vape whilel charging
Customize by installing Escribe software on PC or Mac
Future firmware upgrades
Pictures
Total Views Today: 1 Total Views: 338