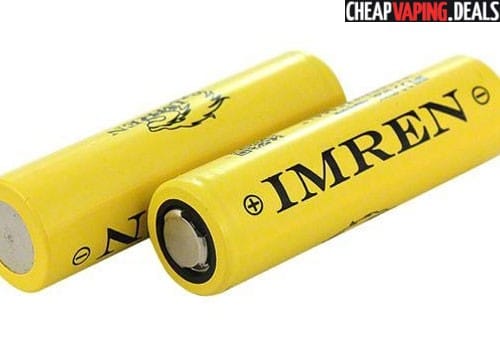 Here's an amazing blowout deal for authentic for a 2-pack of IMR 18650 25A 3400 MAh Batteries.
Overview
IMREN is not the most well known battery company in the vape market place, but they do seem to make high quality and safe products.   These IMR 18650 batteries have a 3400 mAh capacity, a nominal voltage of 3.7 volts and a maximum discharge current that comes in at 25 amps.
These are not cloned or cheaply made batteries that may leak or explode. These yellow Imrens are high drain cells of which you can check the authenticity by going online.  From seeing the reviews, the 3400mAh batteries hold a charge well, are safe for sub ohm vaping  and can be relied upon.
Specifications
Nominal Capacity: 3400 mAh
Nominal Voltage: 3.7V
Discharge End Voltage: 2.5V
Standard Charging Current: 1.25A
Charging Voltage: 4.20+-0.05V
Max. Discharging Current: 25A
Review 
Similar Products
Total Views Today: 1 Total Views: 400