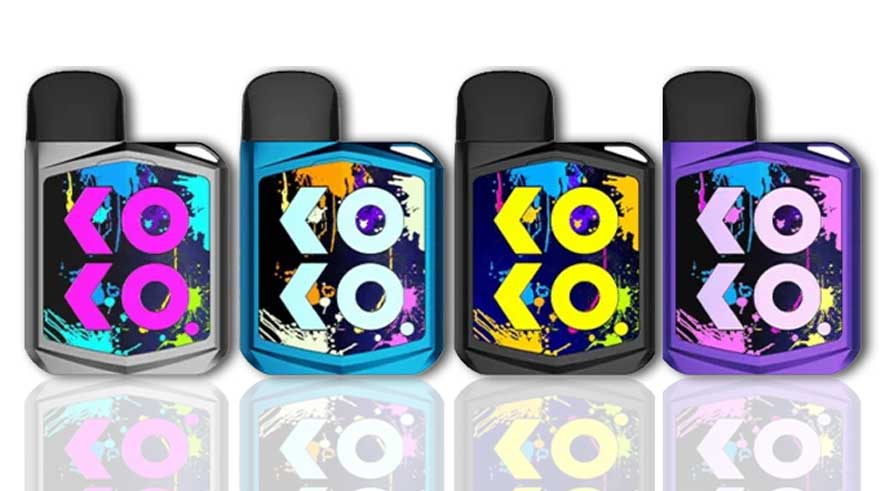 Uwell Caliburn Koko Prime or Prime Vision:  Portable 690mAh/2mL Pod Kit with Replaceable Panels
Here are cheap deals to purchase the Uwell Caliburn Koko Prime.  This pod kit features a 690mAh integrated battery, exquisite decorative panels that can be swapped out, portability, Pro-FOCS flavor testing technology, MTL vaping for nic salts, a Type-C USB port, a 2mL juice capacity, and effortless refills.
Also, check out the new version of this kit: The Caliburn GK2.
Koko Prime Deals 
Koko Prime Vision Deals (Translucent Body)
Overview
The Uwell Caliburn Koko Prime is the follow-up to the much older Caliburn Koko, extremely popular on Cheap Vaping Deals today.  The new device should be even more trendy as it features a series of design, flavor, and operation upgrades.   Appearance-wise, it features a rectangular, compact size and lightweight construction thanks to sturdy PC & ABS materials and decorative panels that are sure to turn heads.   The panels can be swapped out and are for sale in purple, grey, blue, and black for a personalized look.  And an included lanyard attachment point means it can be painlessly anywhere.
On the technical level, the Caliburn Koko Prime pod kit also has many enhancements, such as a more powerful 690mAh battery for longer vape times and a convenient Type-C port to recharge the cell within only an hour.  A tri-color LED indicator lets one see the current operation status and the charge level of the internal battery.  Firing the Uwell Caliburn Koko Prime does not entail pressing a button, so take a puff to activate the device.   And, for safety, there's open circuit, overtime, low power indication, and short circuit protection.
This kit also utilizes easily-refilled pods that feature a 2mL juice capacity with a leak-free top juice port.  Inside each cartridge, there's an included replaceable 1ohm Caliburn Koko Prime coil that is ideal for nicotine salt e-liquids with nicotine strength as high as 5% or 50mg.  There's also a 0.8ohm UN2 Meshed-H coil which is sold separately.   Further adding to the incredible vapor production from these coils is Pro-Focs flavor technology and dual airflow design that is said to provide exquisite flavor.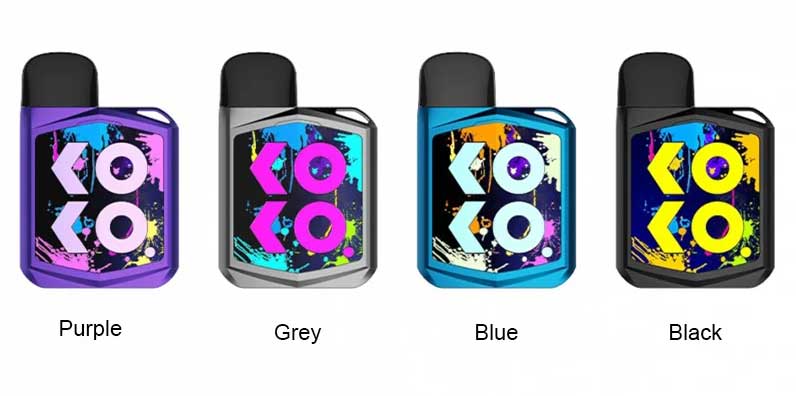 Features & Specifications
Dimensions: 68mm x 45.6mm x 16mm
Zinc alloy chassis
Durable PC
Color options: purple, grey, blue, black
Replaceable panels
690 mAh integrated power
Type-C USB port
Tri-Color LED
Max wattage: 15W
Draw-activated firing
2mL pods
Easy refills
Included coil resistance: 1.0ohm
Optional coil: UN2 Meshed-H 0.8 Ω
Compatible with Caliburn G Coils
Pro-FOCS flavor technology
Dual airflow airway design
Overtime indicator
Low power indicator
Short circuit protection
Open circuit indicator
Similar Products
Total Views Today: 1 Total Views: 2,611