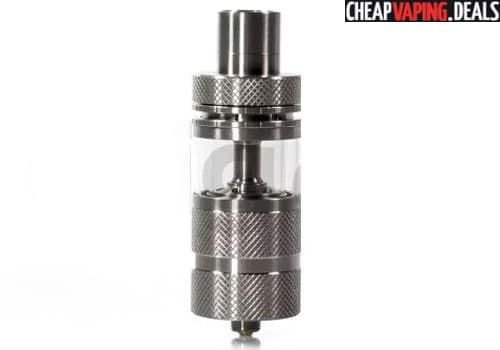 Update: The
Uwell D1 Tank
Has Been Discontinued – Check Newer Sub Ohm Tank Deals Below
Overview
The Crown D1 is a follow up device to Uwell's Crown and Crown II.  It features an amazing anti-leak/condensation design, a unique top airflow setup that directs air in between a double glass tank, a 4ml tank capacity and a brand new D1 coil.  At this time, it is only available in silver.
The D1 has a diameter of 24.7mm and is made from stainless steel with a one-of-a-kind double quartz glass tank. The tank is built with hidden top airflow via three adjustable air intakes that direct air to the coils in between the D1's double glass tanks. This results in incredible flavor and vapor.  The tank's capacity is 4ml and is easily refilled via a screwed top fill system with large fill ports for convenient refills.   Compared to previous Crown devices, the D1 also has a one-of-a-kind leak proof setup due to its cupped design.  And, there's also condensation prevention built into the bottom of the device that relieves pressure and prevents flooding.
The coil setup has also been changed from the D1's predecessors.  The tank's heating element is now located in the top section instead of the base for mess-free coil swapping and without the necessity to empty the reservoir.   With mid-wattage vaping in mind, the coils themselves are the same as the Crown II , but there's also a new 0.8Ω Kanthal parallel coil that is rated at 35W to 55W. The other two coil options are a 0.25Ω SUS316 head that has a recommended wattage of 50 to 80 watts and a 0.5Ω SUS316 coil that is rated from 40 to 60W.
Features & Specs 
Diameter: 24.7mm
Constructed from superior stainless steel chassis
Designed for maximum vapor and flavor
Double quartz glass tank section
Unique hidden top airflow
Wide-bore drip tip
510 connection pin
Adjustable air slots direct air in between double glass tank to coils
Tank capacity: 4ml
Easy top fill set up by unscrewing top cap
Anti-leak technology
Anti-condensation holder at bottom
Unique coil setup screws into top instead of base
Mess-free coil swapping without emptying tank
Quad wicking ports
 SUS316 parallel coil / 0.25Ω, 50W to 70W
SUS316 parallel coil / 0.5Ω,  40W to 60W
Kanthal parallel coil / 0.8Ω, 35W to55W
Pictures
Video Review
Not available yet
Total Views Today: 1 Total Views: 61