Vandy Vape Jackaroo Dual 18650: 188 Watt Waterproof TC Mod
Here are cheap deals for the Vandy Vape Jackaroo Dual 18650.  This box mod features 188 watts of maximum power, dual 18650 batteries, micro USB charging, waterproof/dustproof/shockproof design, a find-my-device app, easy UI theme settings via the app, an upgraded chipset, and a multitude of modes including bypass, voltage, power, and temperature control.  It is for sale at a low price in stripy black, G10 obsidian black, resin blue porcelain, and resin red agate.  You may also be interested in the latest Vandy Vape Jackaroo 18650 Kit.
Update: This Item Is Out Of Stock Everywhere – Check  Similar Mod  Deals Below
Review
Exquisite Ergonomic Design
With a beautiful replaceable panel that is available in four different colors, the durable Vandy Vape Jackaroo Dual looks very similar to the less powerful Jackaroo that operated on a single one.  Just as is the case with the predecessor, each mod is black with a replaceable panel in either stripy black, G10 obsidian black, resin blue porcelain, and resin red agate.  Swapping to any of these four layins is as easy as removing four screws.  On one of the small sides of the Vandy Vape Jackaroo Dual 18650, there's an anti-skid handgrip that is also ergonomic to make it comfortable and secure in the hand.  And, at the bottom of the unit, you will also see 12 holes that have the function of relieving air pressure from the device to prevent it from overheating.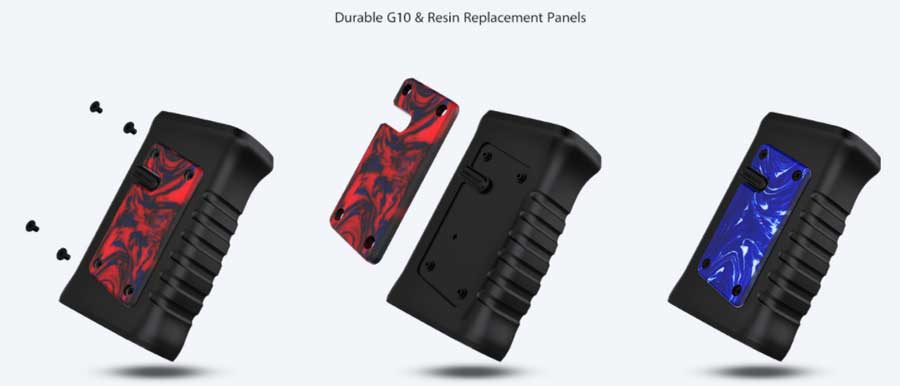 Waterproof, Shockproof & Dustproof
Thanks to Silica gel material integrated into the chassis, the Vandy Vape Jackaroo Dual Box Mod is IP67 waterproof which means it has protection from water, shock, and dust.  What this indicates for the average user is that there is no need to worry about rain or taking the device into dusty and dirty environments.  Plus, you can be assured that if you drop the Jackaroo Dual 18650, there won't be any device to the chipset or body.  To be clear,  the IP67 rating refers only to freshwater and does not mean protection from other liquids such as coffee, beer, or soda.  For example, ocean water has high salt content which adds additional stress to an IP67-rated device, so this box mod is not recommended for the ocean.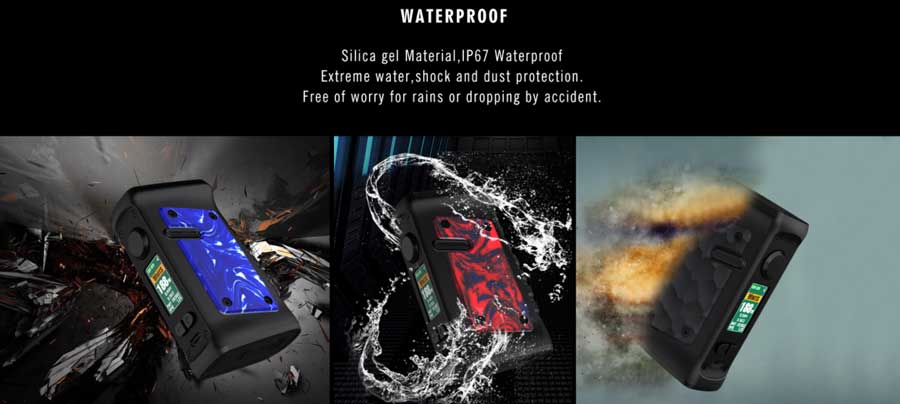 Smart Phone App
Unlike similar box mods out there, Vandy Vape has released an app that goes along with the Jackaroo Dual 18650, but it is uncertain if it is available for both iOS and Android devices.  With this app, you can connect your phone to the mod's Bluetooth connection, permitting you to use a retrieval function in case you lose track of the mod's location.  Simply press the retrieve button and the device will make a sound to locate it.  Another benefit of the app is that it permits firmware upgrade of the Jackaroo Dual's software in case a new version is released.  And, you can change the user interface's theme to one of several colors, although exact details are not available.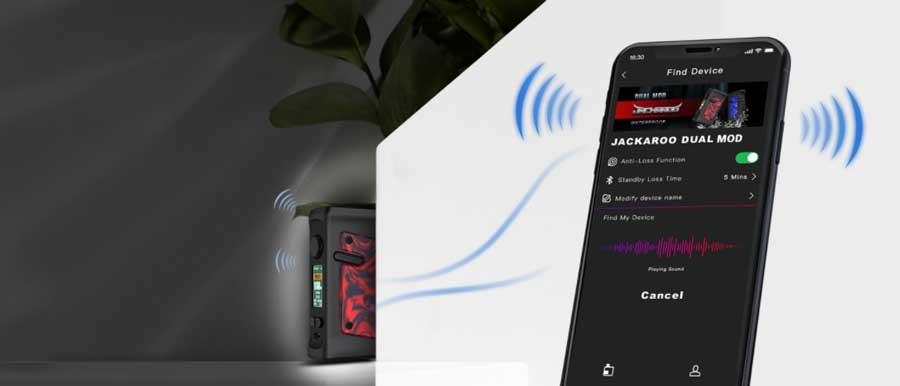 Six Modes & 188 Watts Of Output
Powered by an updated Vandy Vape Chipset, the Jackaroo Dual can generate up to 188 watts of power safely thanks to short circuit, open circuit, over-puff, overheat, low battery, and over current protection. With this new chipboard, you may operate the unit in power mode, bypass mode, voltage mode, and three temperature control modes for either nickel, titanium, or stainless steel coils.  As you choose each mode, the menu on the full-color display screen will change to display the compatible vape data such as the current wattage, the current voltage, or the current temperature.  Other indicators on the screen include two battery bars, a lock/unlock icon, the current atomizer resistance, the number of puffs taken, and the duration of the last puff.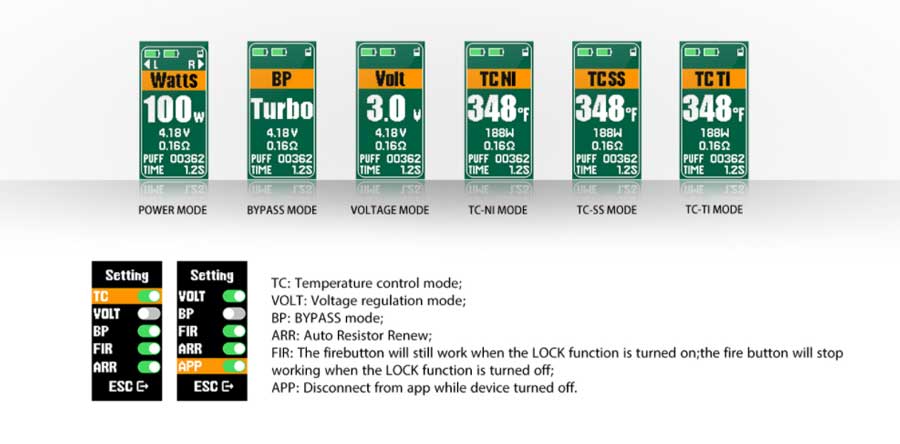 Powered By Dual 18650 Batteries
To achieve the 188 watts of power, the Vandy Vape Jackaroo Dual utilizes two 18650 batteries instead of the single one in its predecessor.  Installing these cells is done by way of a bottom flip panel that effortlessly opens when you pull its button to release it, thus revealing the battery bay with clearly marked polarities.  In this way, you may easily use an external charger to top off the batteries.  But, if you don't have one, the Jackaroo Dual 18650 Mod does have a micro USB charging system, but it is uncertain how fast this interface operates.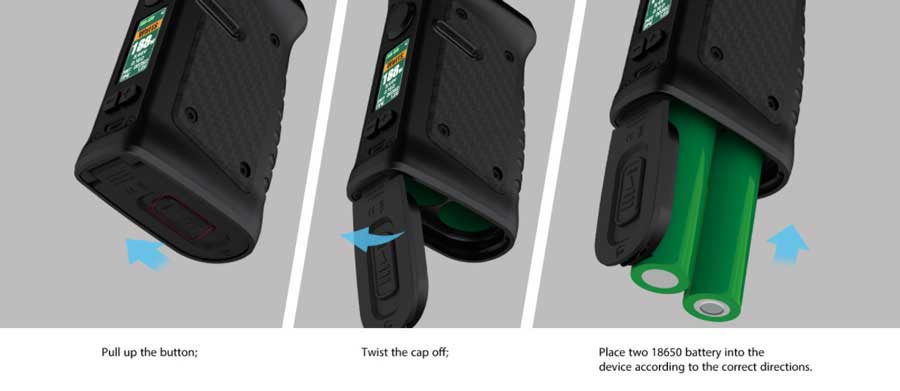 Vandy Vape Jackaroo Dual 18650 Features & Specifications
Dimensions: 90.5mm x 29.7 x 56.8mm
Colors: Stripy Black, G10 Obsidian Black, Resin Blue Porcelain, Resin Red Agate
510 threaded connection
Waterproof
Dustproof
Shockproof
Ergonomic
Anti-skid grip
Pressure relief holes at the bottom
Bluetooth app with anti-loss function and firmware upgrades
Customize the theme of full-color display screen via app
Updated Vandy Vape chipset
Powered by dual 18650 batteries
Micro-USB charging system
Easy bottom battery panel
Operating modes:Power/Bypass/Voltage/TC-Ni Mode/TC-SS/TC-Ti Mode
Power range: 5-188W
Voltage: 6.4-8.4V
Standby current:<50A
Output voltage: 0.5-8.0V
Atomizer resistance range:0.05-3Ω
Safety protections: Short Circuit/Open Circuit/Over-heating/Overcurrent protection/10 Seconds Cut-off/Low-Battery Warning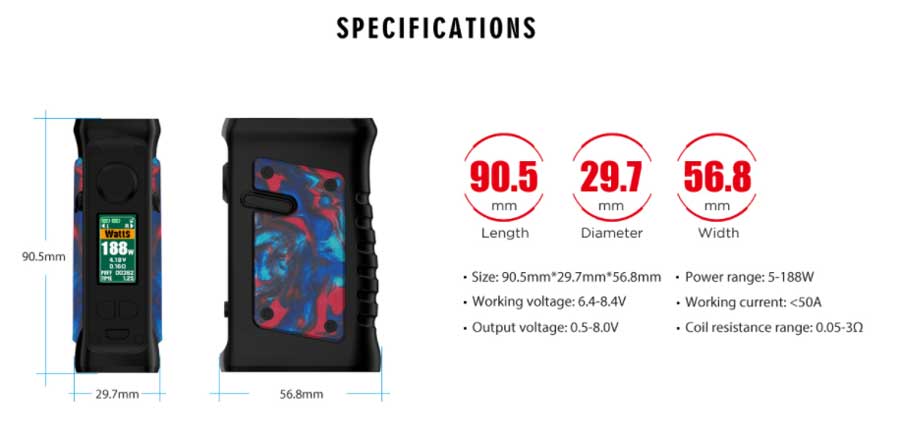 In The Box
With purchase, you will receive the Jackaroo Dual 18650 mod, two manuals, a warranty card, a QC USB cable, and a user guidance pamphlet.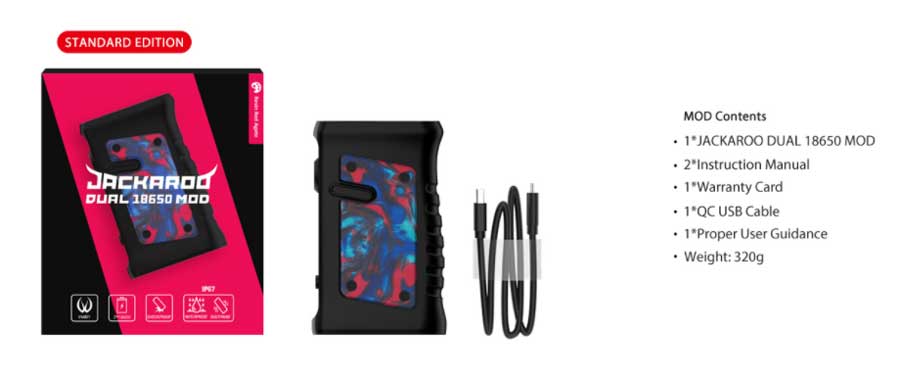 Related 
Total Views Today: 1 Total Views: 1,691