Vandy Vape Pulse Dual: Smallest Two-Battery Squonk Box Mod
Here are cheap deals and the best prices for the Vandy Vape Pulse Dual Squonk Mod Kit 220W.  The Pulse Dual Squonker Mod features a compact profile, an ergonomic design, an upgraded 220-watt chipset, dual 18650 batteries, micro USB charging, a wide range of modes including power, bypass, voltage and temperature, a 7ml juice bottle and several safety protections. If you get the Pulse Dual Kit, you will also receive the Pulse V2 RDA with dual/single coil support, honeycomb-style airflow, and a floating deck with four wire terminals.  This mod or kit is outdated, so check out our other Squonk Mods.
Smallest Dual Battery Squonker & Unique Design
With dimensions of only 52.9mm x 75.3mm, the Pulse Dual is the smallest squonker in the marketplace that works with two 18650 batteries. The unit is uniquely designed as the fire button and squonk bottle are on the same side for a natural feeling and effortless operation.  Available finish colors include black/red, black/blue, black/green, and black. The juice bottle features a 7ml juice capacity and an effortless refill system.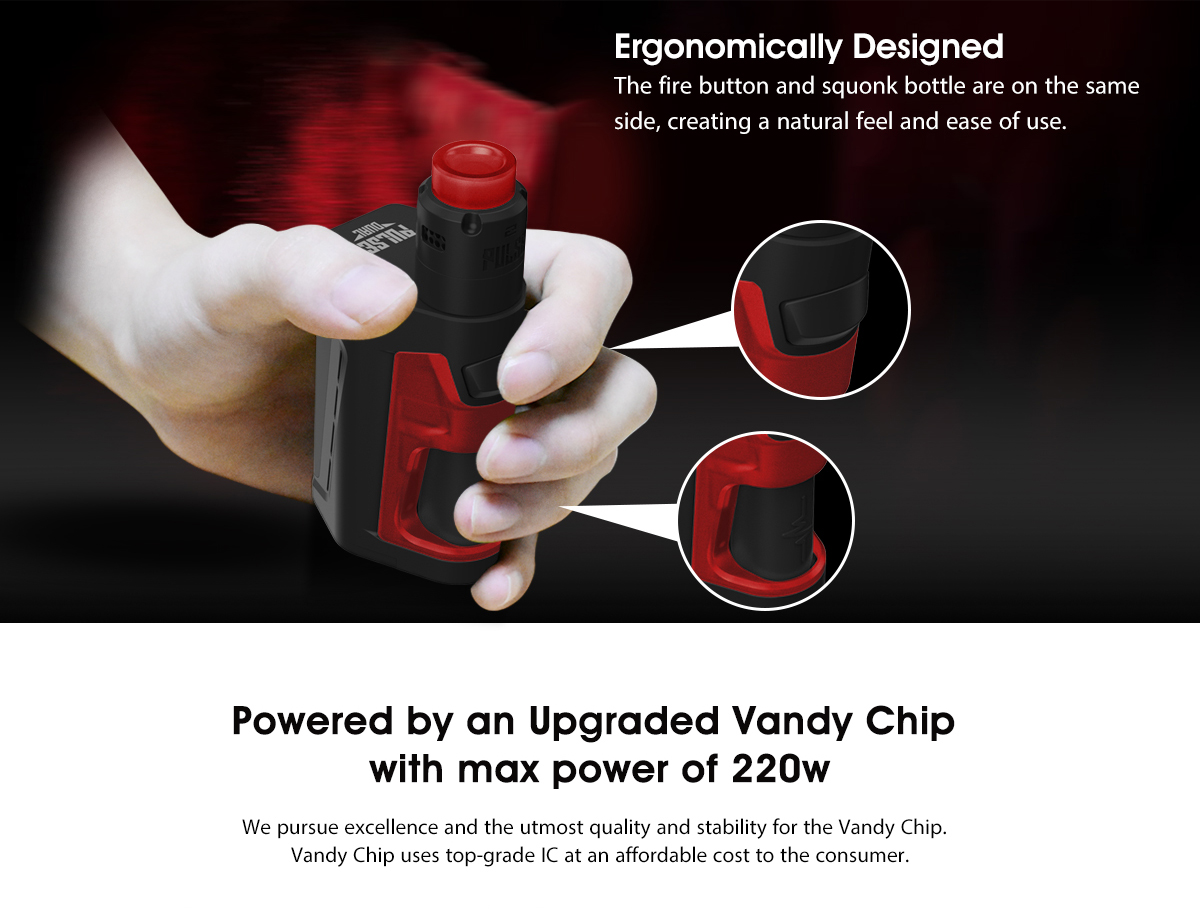 On the control face, a large black display screen features vape data in white font. Indicators on the screen include two battery bars, current mode, current voltage, current wattage, current resistance, puff time, and a puff counter. The display's brightness is adjustable.
Upgraded Chipset w/ 220 Watts Of Power & Versatile Operation
Built with the latest Vandy Vape chipboard, the Pulse Dual can operate with 220 watts of power and has many modes, including bypass, power, voltage, and temperature control (nickel, titanium, stainless steel) modes.  Powered by dual 18650 cells, there is a micro USB charging port for onboard charging and firmware upgrades.  And a wide range of safety protections includes short circuit protection, overheat protection, battery management, open circuit protection, 10-second cutoff, and high current protection.
Features & Specifications
Mod dimensions:  75.3mm x 52.9mm x41.7mm
RDA dimensions: 32.4mm x 24mm
Smallest dual 18650 battery squonker
Micro USB charging
Bottom battery access
Firmware upgrades
Large display screen
7ml internal squonk bottle
Updated Vandy Vape chipset
Power Range 5-220W
Working Voltage 6.4-8.4V
Working Current <50A
Output Voltage 0.5-8V
Wide range of safety protections
Modes Power/Bypass/Voltage/TC-NI/TC-SS Mode
Coil Resistance Range 0.05-3ohm (TC: 0.05-1.5ohm)
Separate battery and juice bottle
The fire button and squonk bottle on the same side for easy use
Floating build deck with four wire terminals
Works with dual/single builds
Honeycomb style airflow
Total Views Today: 1 Total Views: 1,931