Vandy Vape Swell: 188W Waterproof  Mod Kit w/ Resin Panel & Smart Phone App
After the success of the AP and Jackaroo, Vandy Vape has brought out yet another waterproof setup. The Swell is for sale as a standalone mod or with an included tank. The kit features a waterproof PCBA that can be cleaned or washed, a "find your device" function, a multi-functional smartphone app, a portable design, replaceable G10 & resin panels, dual 18650 batteries,  a wide range of color options, firmware upgrades, micro USB charging, a full-color screen, 188 watts of power, an updated Vandy Vape chipset, a multitude of safety protections, a 4.5ml juice capacity, adjustable airflow control, and effortless top fills.  This item is out of stock, so check out other kits, mods, or other waterproof devices.
Swell Mod & Kit Overview
The Swell Kit is available in 10 colors: obsidian black, red arowana, brown alligator snapper, green anaconda, blue iguana, violet, rock black, swamp green, wave blue, and flame red.
Or you may opt for the United States or United Kingdom version.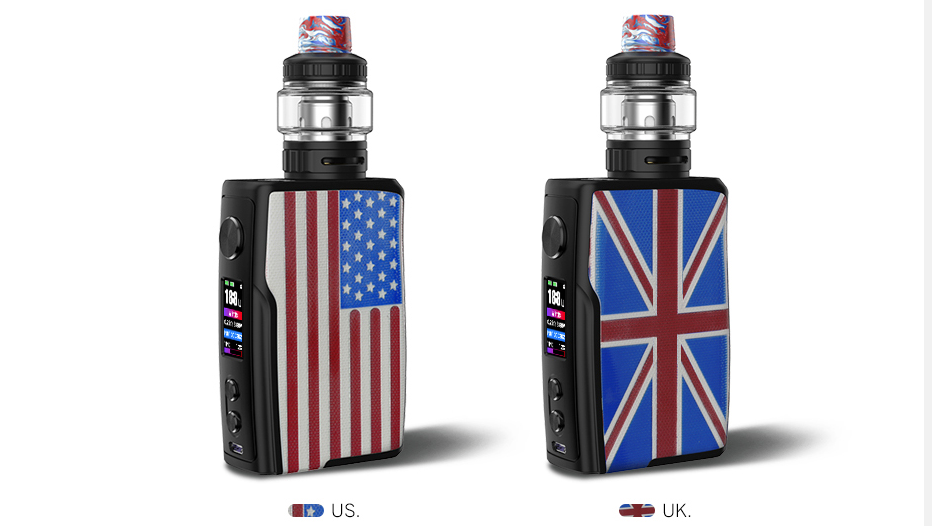 One side of the Swell features a G10 panel, while the other has a premium resin finish. These panels are replaceable for a brand new appearance and also hide the battery bay, which stores dual 18650 cells. The panels stay in place thanks to powerful magnets.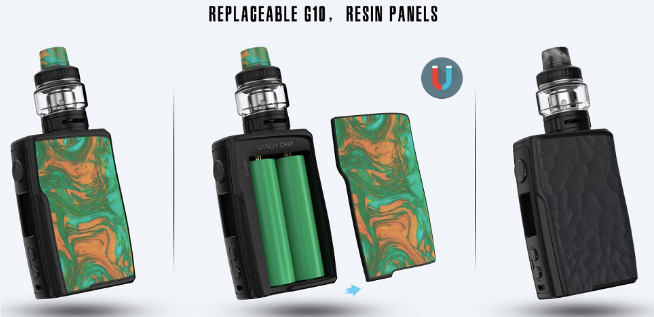 The craftsmanship of the box mod is exquisite. And, with a weight of only 106.41 grams, the design is extremely lightweight and portable.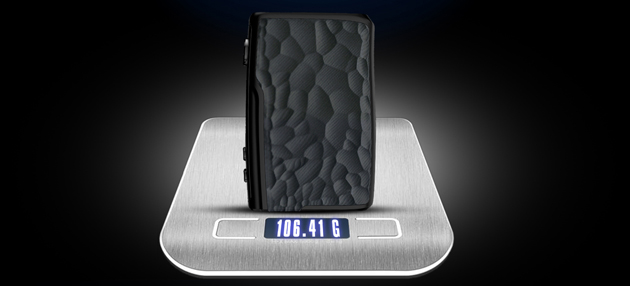 A waterproof PCBA means you can take the Swell to the pool or beach or clean it under running water.  Any dust or stains are easily removed.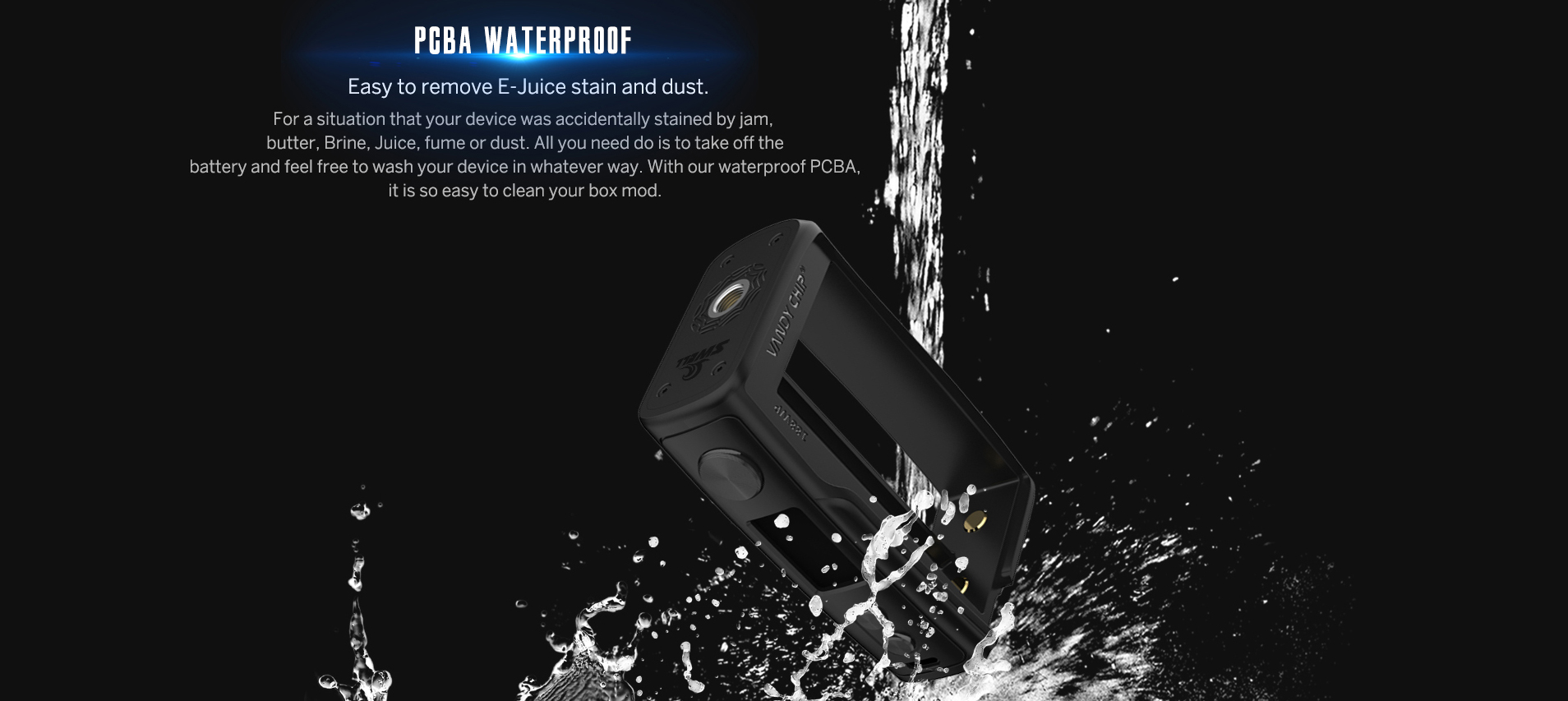 The device has a smart app that easily installs on your Android or Apple smartphone. Inside the app, you will see an anti-loss function that permits you to play a sound on the Swell so you may easily locate it.

The app also permits firmware updates, and you can also change the layout and colors of the user interface.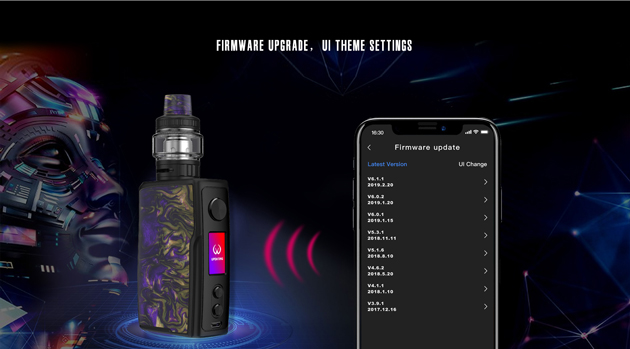 The display screen on the control face has a full-color menu. Here you may change all the settings to your liking, such as changing the user interface colors, changing power settings, adjusting temperature control settings, putting the device in sleep mode, setting puff limits, and much more.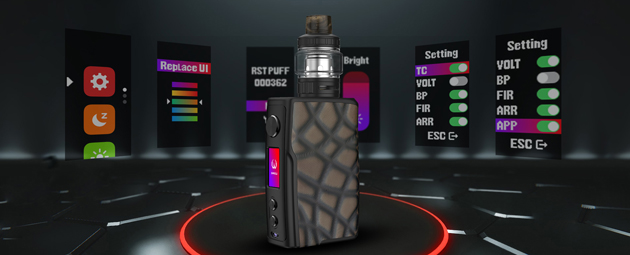 The device can operate in power, bypass, voltage, and three temperature control modes (nickel, titanium, and stainless steel).  Depending on your mode, the display screen will show vape data such as current wattage, current voltage, current temperature, atomizer resistance, puff counts, and puff time in a vertical orientation. At the top of the screen, there are also two battery bars to track the charging level of the cells.

To choose a mode to operate, access the settings menu and slide a mode on or off through the two adjustment buttons on the control face. Volt is for voltage mode, TC is for temperature control, and BP is for bypass. Other settings to modify inside this menu are auto resistor renew, the fire button function, or you may reset the device to factory settings.

This animation shows how easy it is to operate the menu system and adjust settings.

The Swell has many safety features, including short circuit protection, overheating protection, low battery warning, open circuit protection, over-puff protection, and high current protection.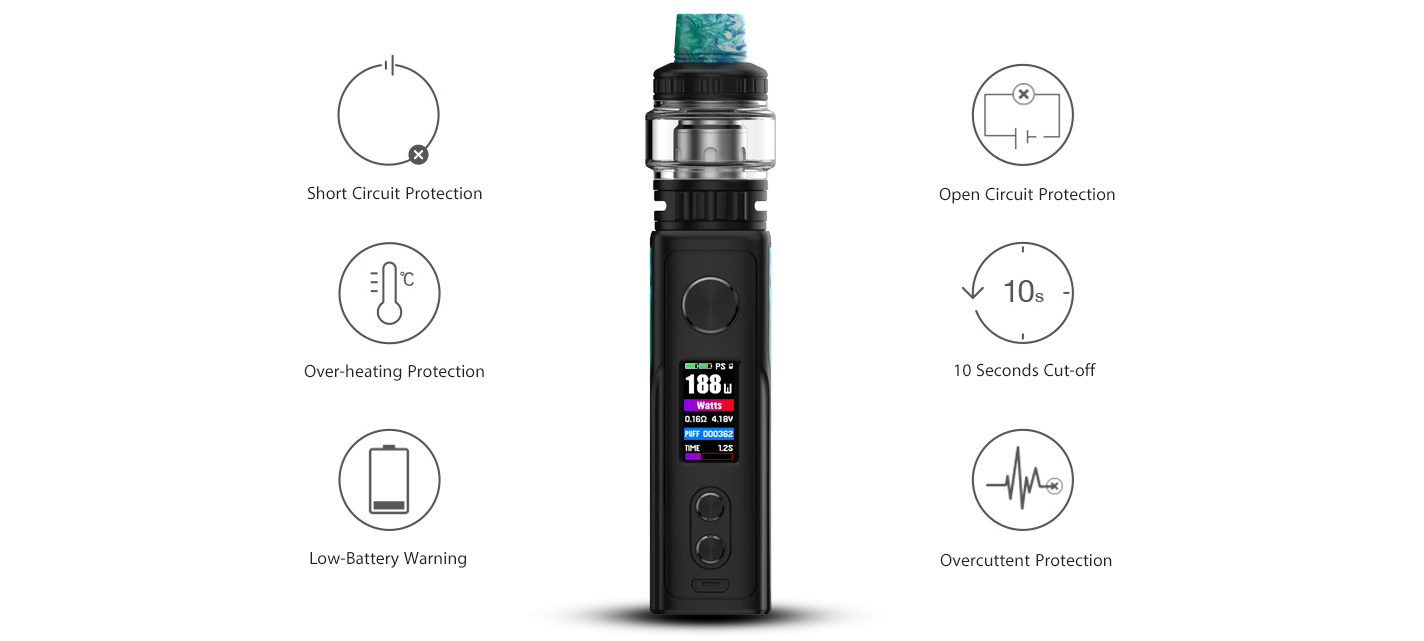 If you get the kit, you will receive a Swell Tank. It has a 3mL standard tube or a 4.5mL bulb-style glass section.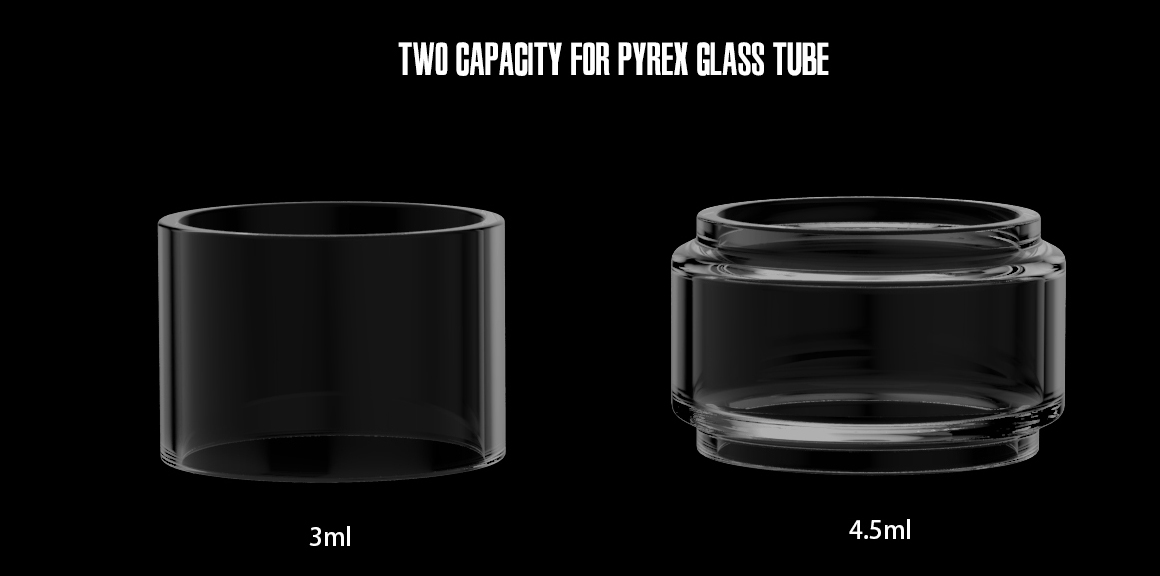 Refilling the juice reservoir is effortless thanks to an easy top-fill system. Simply unscrew the top cap by rotating it 90 degrees to expose a massive filling slot.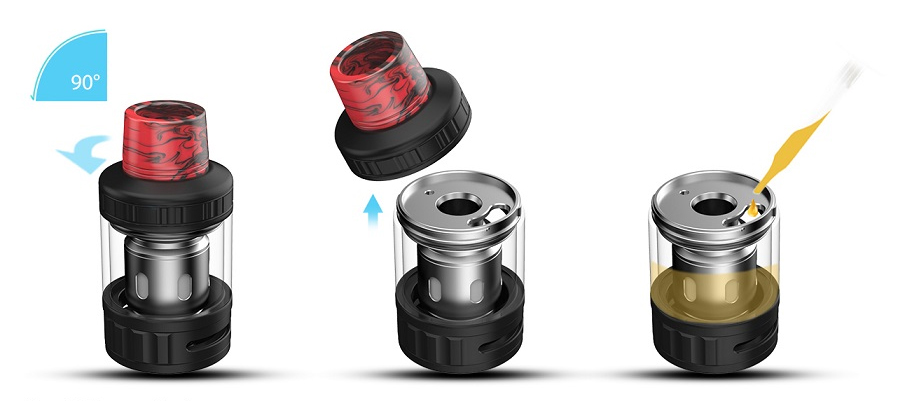 The tank comes with two mesh coil options known in the vape industry for producing maximum vapor and exquisite flavor. You will get a 0.15ohm triple mesh coil that fires 50 to 100 watts with purchase. or you may want to install the included 0.15ohm single mesh coil that can take power input from 50 to 90 watts.

Features & Specifications
Swell Box Mod
Size: 82mm x 26mm x 55mm
Weight: 106.41g
Color options: US, UK, obsidian black, red arowana, brown alligator snapper, green anaconda, blue iguana, violet, rock black, swamp green, wave blue, flame red.
Portable and lightweight
Waterproof PCBA
Stain and dust resistant
Clean and wash under running water
Replaceable G10 and resin panels
Multi-functional app
Find your device function
Firmware upgrades
Full-color display screen
UI theme optimization
Parameter adjustment control
Uses dual 18650 batteries
Micro USB charging system
Powered by an upgraded Vandy Vape chipset
Operating modes: bypass, variable voltage, power, temperature control (nickel, titanium, stainless steel)
Power Range: 5-188w
Working Voltage: 6.4-8.4
Working Current: <50A
Output Voltage: 0.5-7.5v
Resistance Range: 0.05-3ohm
Safety Protections

Short circuit
Overheating
Low battery
Open circuit
10 seconds cutoff
Over-current
Swell Tank
Length: 26mm x 44.65mm
Juice Capacity: 3ml/4.5ml
Easy top refill method
Bottom adjustable airflow control
Mesh coils
In The Box (Kit)
Swell Mod
Swell Tank
1 x 0.15ohm Mesh Coil
3mL tank tube
4.5mL tank tube
Bag Of Accessories
Manual
Charging cable
Total Views Today: 1 Total Views: 1,371