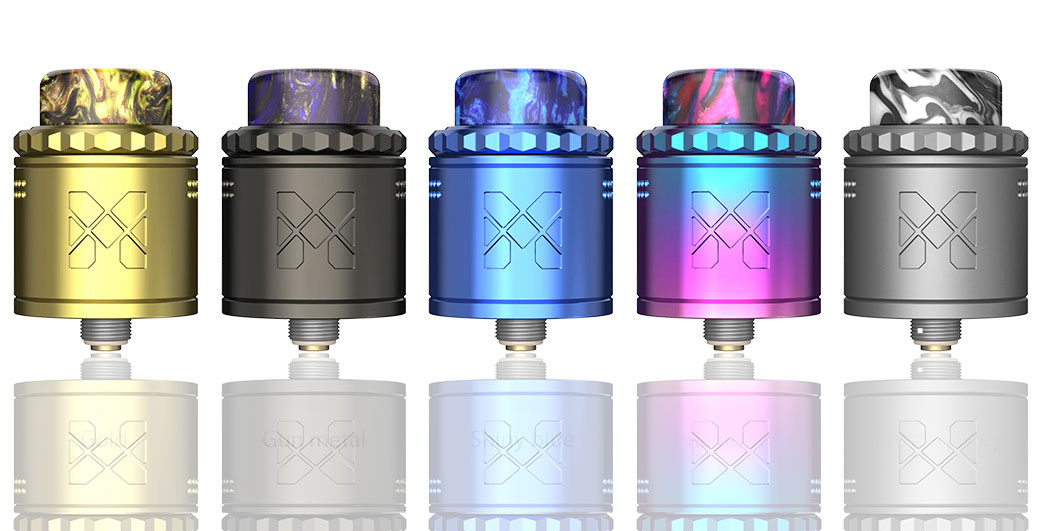 Vandy Vape Mesh 2 RDA
The Vandy Vape Mesh V2 RDAis also listed as the Vandy Vape M V2. This dripper features four wider mesh coil options for better flavor, top leak-free airflow, better juice flow, a squonk pin, four included mesh coils, and spring-loaded coil installation.
Unfortunately, this RDA is out of stock everywhere.  Check out the alternate RDA deals below
Design
The Mesh 2 measures 25mm x 25mm and weighs 148 grams, making it quite similar in dimension as its predecessor. On the chuff cap, you will see a beautiful laser-etched logo on a  semi-glossy paint or matte black paint finish. The color options are frosted grey, rainbow, shiny blue, gunmetal, gold, stainless steel, and matte black.

Four Mesh Coil Options
There are four different mesh coil options for the Mesh V2, all of which are wider for better flavor production. The dual 0.15ohm M coil operates in the range of 45 to 70 watts, the Ni80 M coil from 55 to 70 watts, the 0.15ohm A1 M coil from 50 to 65 watts and the 0.12ohm SS316L coil can be fired from 50 to 70 watts.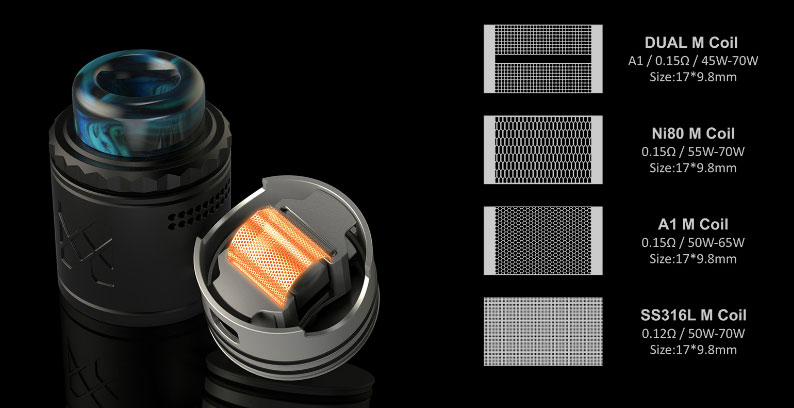 M V2 RDA vs M V1 RDA
In addition to the wider coils, version 2 features enhanced juice flow thanks in part to a deeper juice well with a 2mL capacity.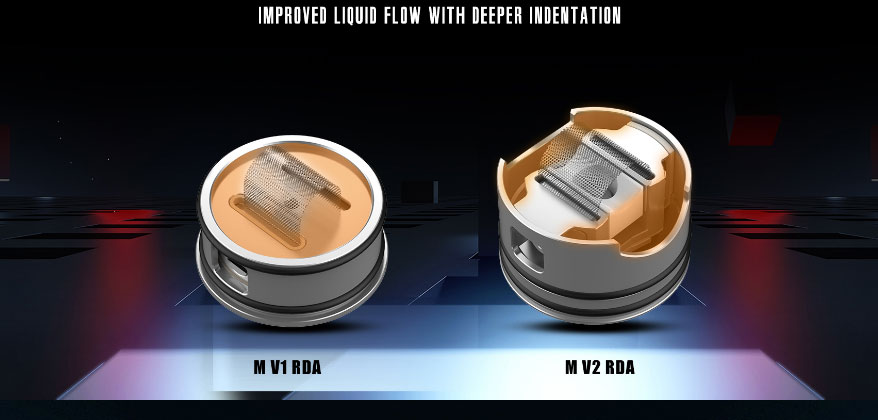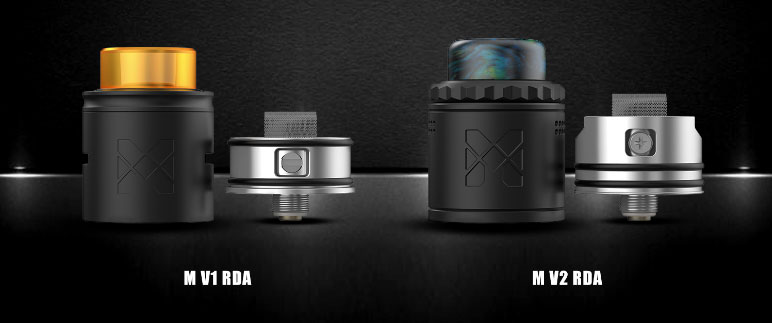 Leakproof Top Airflow
Air enters the chamber via small holes on the top/side of the chuff cap and are fully adjustable. This results in the coils being directly hit with air for exquisite flavor while also preventing e-juice leakage.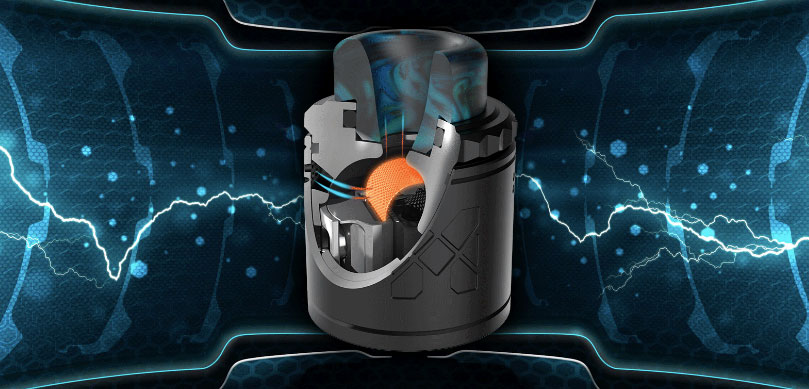 Spring-Loaded Coil Installation
To keep coils in place, the Mesh V2 utilizes two Phillips head screws that are easily installed from the exterior. A spring-loaded mechanism further ensures this is an effortless process.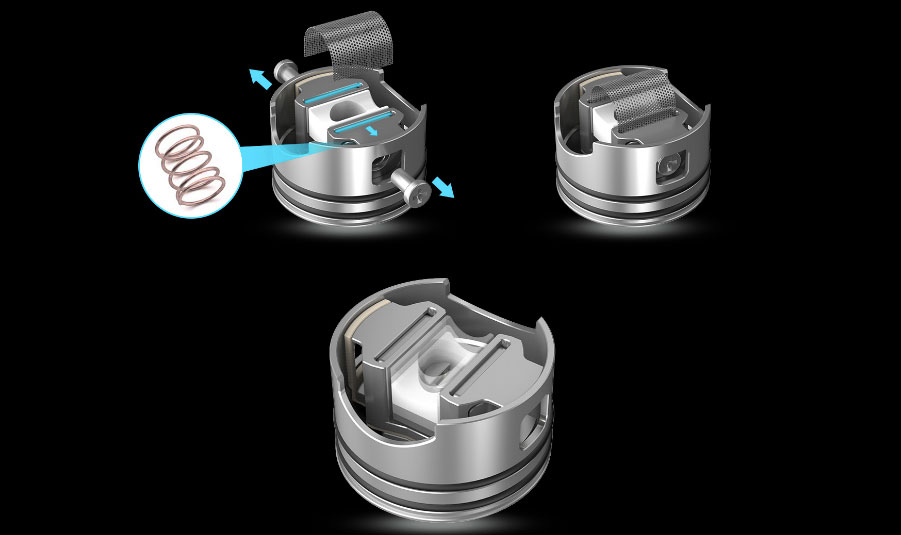 In The Box
With purchase, you will get the M V2 RDA, a squonk pin, extra parts, a manual, 2 vape cotton laces, an A1 M coil, an Ni80 M coil, a dual M coil and a SS316L M coil.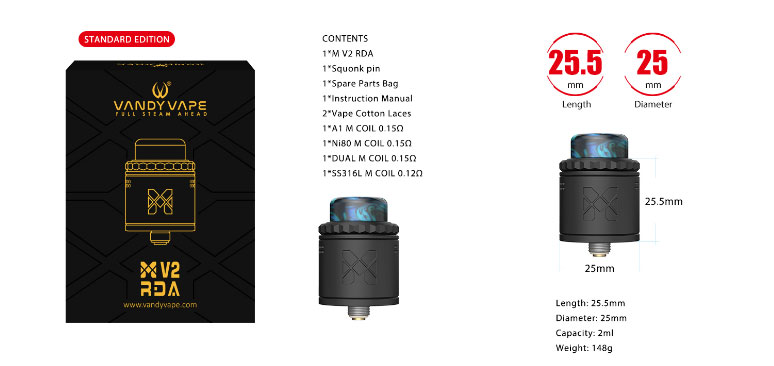 Features & Specifications
Dimensions: 25.5mm x 25mm
Weight: 148g
Colors: frosted grey, rainbow, shiny blue, gunmetal, gold, stainless steel, matte black
2mL juice capacity
Better juice flow thanks to deeper juice well
 Wider mesh coils for better flavor

0.15Ω Dual M Coil (45-70W)
0.15Ω A1 M Coil (50-65W)
0.12Ω SS316L M CoiL (50-70W)
0.15Ω Ni80 M Coil (55-70W)

Spring-loaded coil installation via Phillips head screws
510 pin
Squonk pin included
Top adjustable airflow

Air directly hits mesh wire
Leak-free
Total Views Today: 10 Total Views: 1,024