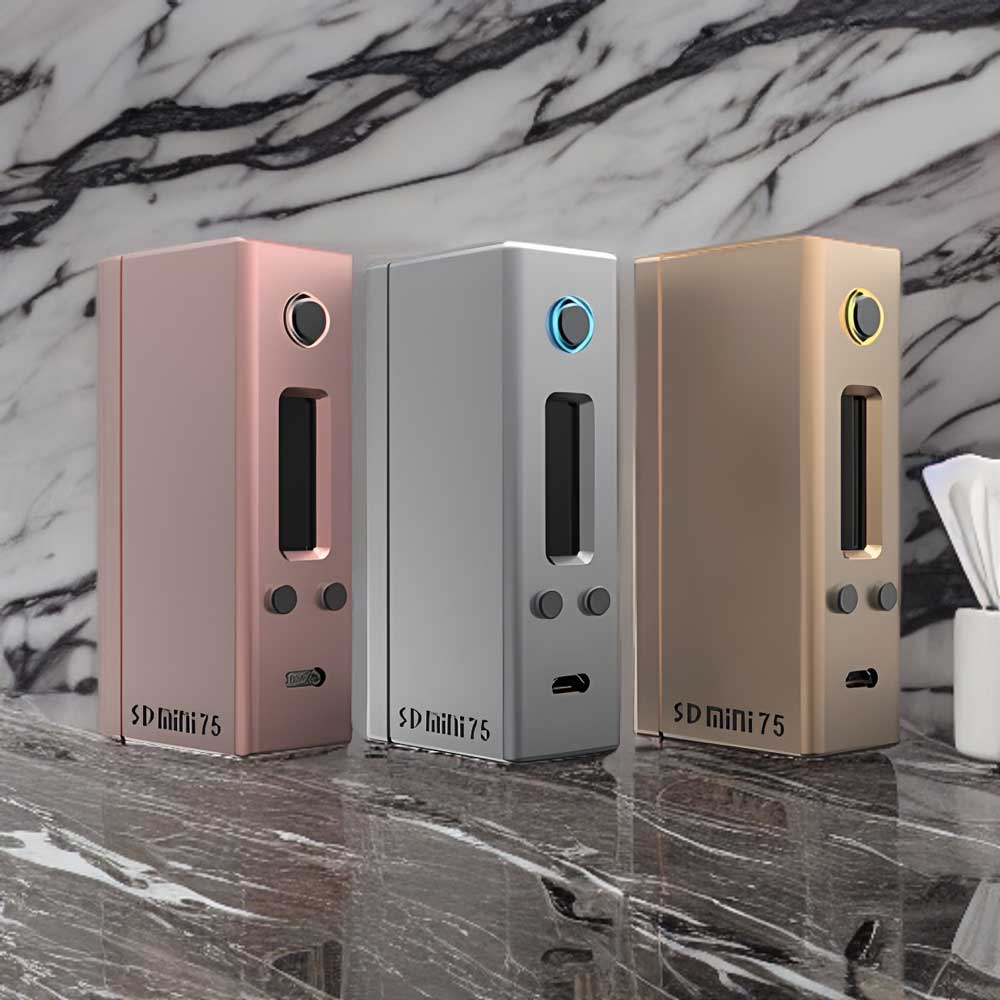 Here's a fantastic deal on the Vapecige SD Mini75 Box Mod. This is a very old mod, so check newer Evolv DNA Mods.
SD Mini75 Overview
The SD Mini75 is a box mod from Vapecige and is built with an Evolv DNA75W chipboard.  The device was designed to be used by both experienced and beginner vapers.
The box mod features a simple design,  yet it looks sleek.  It was built from Aluminum 7071, used in aerospace engineering, so you know it's durable.  The dimensions are just  0.94 x 1.67 x 3.27 inches, making it the smallest and most portable DNA75 box mod in the marketplace.  At the top of the mod, there's a 510 spring-loaded threaded connection so that it will fit most atomizers.  The control face features a large fire button with an LED light which can be changed to different colors depending on whether the device is in normal operation mode, charging, or firing. In between the fire and adjustment buttons, you'll see a 0.91″ OLED screen with the same menu you'll find on other DNA devices.
The SD Mini75 is built with an Evolv DNA75W chipboard.  As a result, it features accurate temperature control in the range of 200°F to 600°F and is compatible with nickel, stainless steel, and titanium coil heads.  Atomizers can be fired down to 0.08Ω, and the box mod's maximum power output is 75W.  It uses a single 18650 battery behind a magnetic door that easily pulls off for faster swapping.  There's also a USB charging port which doubles as a firmware upgrade port to keep up with the evolution in vaping technology.  And you can plug the box mod into any desktop PC to customize all its settings.
The unit also has multiple safety features, including reverse battery, high temperature, short circuit, low resistance, and low voltage protections.
Features & Specifications
Dimensions: 24mm x 42.5mm x 83mm or  0.94″ x 1.67″ x 3.27″
Weight: 110g
Constructed from durable 7071 aluminum
Lightweight, compact, portable
Bezel diameter: 24mm
Springloaded 510
0.91″ OLED
Customizable LED light on fire button depending on mod status
DNA75W chip
Maximum power: 75W
Temperature range: 200°F – 600°F or 100°C – 300°C
Power mode resistance range: 0.1Ω to 3Ω
Variable temperature mode resistance range:  0.08Ω to 1Ω
Compatible with all coil wire types
Powered by a single 18650
Onboard USB charging
Magnetic battery door
Firmware upgrades
Many safety features
Total Views Today: 1 Total Views: 263