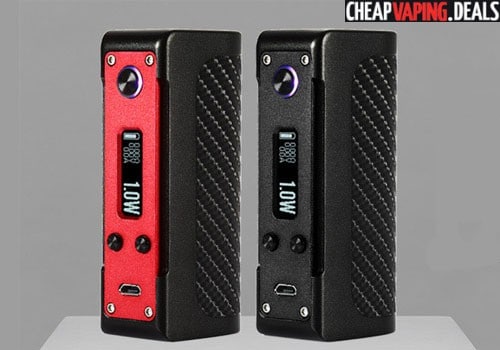 Update: The
Vapecige SD75 DNA 75 Box Mod
Has Been Discontinued – Check  Newer Evolv DNA Mods Below
Overview
The SD75 is a box mod from Vapecige which features Evolv's DNA chip, proven to be a reliable chipboard in vape mods.  The mod is quite portable and is built with the ability to fire atomizers up to 75 watts, reliable temperature control with many coil types, and a beautiful design.
The mod has dimensions of 30mm x 43mm x 87mm and was built from aluminum.  On the control face, there's a 0.91″DNA 75  OLED, two adjustment buttons, and a USB charge & upgrade port in case new firmware is released.  A customizable LED surrounds the fire button at the top of the control face: you can choose the light colors from yellow, orange, blue, green, black, and white when the unit is fired.  When charging, the LED will always be red, and when charging is complete, it will turn green.
The connection bezel is located at the top at features a 510 connection pin which is springloaded for perfect atomizer installs.  The connection will easily take up to 30mm diameter tanks or builds, so it is bound to work perfectly with your atty.
The unit can be powered by either an 18650 or 26650 battery.  The latter will allow for longer vape times while the 18650 needs to be inserted into the battery bay inside the included battery sled. Batteries are loaded from the bottom via a screwed cap easily grasped for fast battery swapping.  But, if you want to charge the cell while it's in the mod, you can plug it into any USB port on a computer or wall outlet.
The SD75  is built with a DNA chipset, a versatile system that works with EScribe desktop software for amazing customization.    With Escribe, you can update firmware, change battery settings, input TCR resistance values, set up different firing profiles and customize the OLED's menu.
The DNA chipboard allows the SD75 to fire atomizers at up to 75 watts and fire nickel, titanium, and stainless steel coils in variable temperature modes from 200 to 600 Fahrenheit.  The mod can also be used with coil heads that fire with a resistance of as little as 0.08ohm. With these specifications, it will certainly work with even the latest atomizers in stores today.
You can also rest assured that vaping on this mod will be quite safe due to low voltage protection, low resistance protection, short circuit protection, over-temperature protection, and reverse polarity protection.
Features
DNA 75 Box Mod
Measurements: 30mm x 43mm x 87mm or 1.18″ x 1.69″ x 3.43″
Weight:  149g or 5.26oz
Made from aluminum
Customizable LED light encircles the fire button
30mm diameter 510 threaded connection bezel
Spring-loaded center pin
0.91″ OLED screen
Power output range: 1W to 75W
Temperature range: 100°C to 300°C or 200°F to 600°F
TC mode supports Ni200, Ti, SS
Output voltage range: 0.2V to 6V
Power mode resistance: 0.1Ω to 3.0Ω
Temperature control resistance: 0.08Ω to 1.0Ω
Multiple safety features
Use with 18650 or 26650 battery
18650 battery adapter sled
Easy-screwed battery door
On-board USB charging
Escribe customization
USB upgrades
Gallery
Total Views Today: 1 Total Views: 406