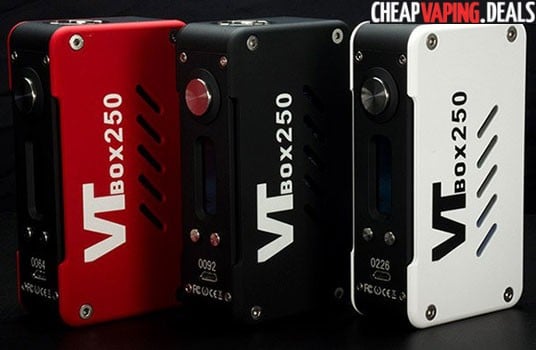 Here's a amazing deals on the Vapecige VTbox250 DNA 250 Box Mod.
Overview
The Vapecige VTBox250 is the upgraded VTBox200.  It features the same amazing design and colors, but is powered by the latest DNA 250 chip instead of a DNA 200 chip.  This results in increased power output up to 250 watts.
The mod has the same design, materials and measurements of its lower wattage predecessor.  It measures 99mm x 32mm x 55 mm, is hefty, is made of aviation aluminum for durability and has a rubberized finish for durability and to prevent slippage.  The buttons on the control face are made of aluminum and are clicky for easy use.  At the top of the unit, there's a spring-loaded 510 connection bezel for easy atomizer installs.   At this time, the device is available in all black, white with balck and red with black.  The other colors are said to be added very soon.
The VTBox 250 utilizes a Li-Polymer 1500mAh internal battery that can be swapped out conveniently by removing the magnetic back cover.  The battery is recharged via a USB port on the control face, which is also used for firmware upgrades in case a new OS with the latest features comes out.  The device is can also be completely customized thanks to Evolv's Escribe software which easily installs on any PC.
The DNA 250 is built with a 0.91″ OLED display with a very intuitive menu.  The screen's menu is easily navigated and includes indicators such as current power, mode, voltage and resistance.  And, there's a wide range of presets to customize your vape experience without a lot of hassles.
This VTBox features a massive 250 watt power ouput and precise temperature control with all coil types.  Variable temperature operation is available in the range of 200°F to 600°F and the unit can fire down to 0.20Ω in power mode and 0.10Ω in temperature control modes.  To make  it easier to operate, the device comes pre-installed with eight different presets.  For more customization, it is recommended to use Evolv's Escribe software to put in your preferences very fast and easy.  Built into the VTBox250 is also a number of safety protections that prevent the device from overheating, from shorting, from firing with a resistance that is too high/low and to ensure battery levels are optimal.
Features & Specs
Constructed from T6 senior aviation aluminium
Durable rubberized finish
Available in black, black/red, black/white
Measurements: 3.9″ x 1.3″ x 2.2″ or 99mm x 32mm x 55 mm
Weight: 195g
Stainless steel/springloaded 510 connection
0.91″ OLED screen
Authentic DNA 250 chip by EVOLV
Power output range: 1W to 250W
Voltage output: 0.5V to 9.0V
Swappable Li-Polymer 1500mAh battery
Balance 2 amp charging via USB port
Pass-through vaping
Power mode range: 1W to 250W
Temperature range: 200°F to 600°F
Power mode resistance: 0.20Ω or higher
Temperature mode resistance range: 0.10Ω or higher
Input voltage range: 9V to 12.6V
Output voltage range: 0.5V to 9.3V
Maximum output current: 55A
97% efficient
Use Escribe software for customized profiles
USB Firmware upgrades
Atomizer short warning
Low battery warning
Over-temperature protection
High resistance protection
Low resistance protection
Pictures
Video Review
Coming soon
Total Views Today: 1 Total Views: 39,007