Vapefly Siegfried Mod or Kit: 21700 Tube Mod w/ 7mL Mesh RTA
Check out the Vapefly Siegfried Mod or Siegfried Kit.  The mod features bypass mode, single 18650/20700/21700 battery compatibility, an LED indicator, exquisite workmanship, and a smart protection system.  The kit with Siegfried RTA has a 7mL juice capacity, mesh coils, an anti-dry burn system, easy coil building in just three steps, and side-adjustable airflow control. This setup is for sale in stainless steel, black, and gunmetal.  However, it is outdated, so may we suggest you check other stick mods or all mods.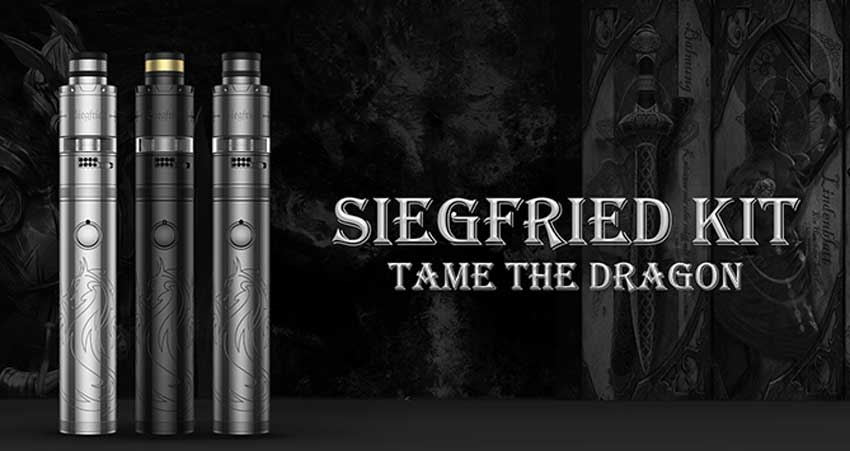 Mechanical Mod w/ Exquisite Design
As soon as you see the Vapefly Siegfried, you can tell its design consists of exquisite workmanship and high-quality materials in a portable form factor.  That is because the mod kit is the 5th project cooperating with German 103 and results from 365 development days.  On the stainless steel chassis, incredible CNC engravings are sure to draw attention wherever you take this setup.  Available in black, gunmetal, or SS colors, this setup will surely withstand the test of time.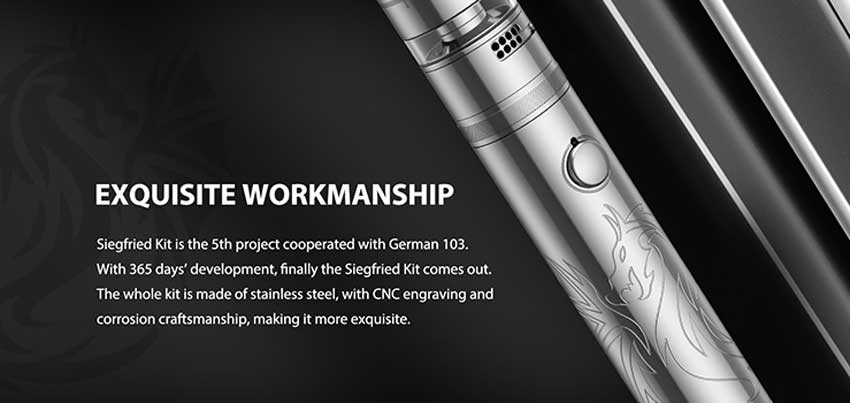 The Vapefly Siegfried works with either a 21700, 20700, or 18650 battery, all of which will ensure continuous power supply.  To track the charge level of this cell which is inserted via a bottom screw cap, there is a LED indicator on the power button.  A green light indicates the charge level is above 3.8 volts, a blue light above 3.4 volts, and a red LED means you should recharge the battery with an external charger.  Built with a 3S chipset, there are many safety features, but the mod is not regulated and only works in bypass mode.   This means that performance depends solely on the charge level of the battery.  Finally, for security, there is short circuit, reverse battery, over-current, high temperature, and 10 seconds cutoff protection.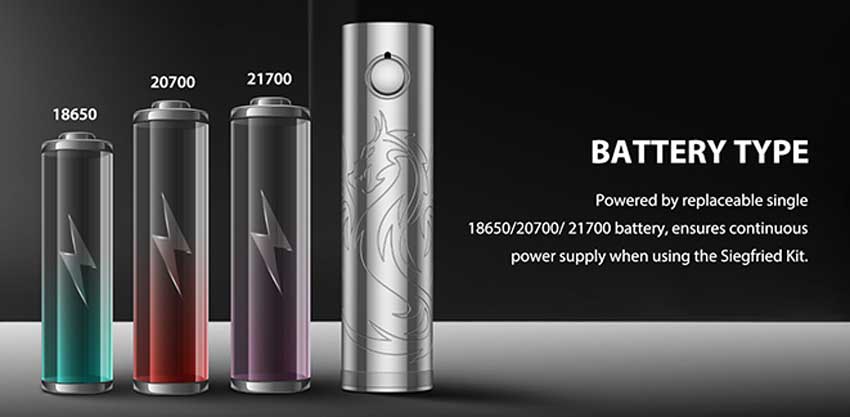 7mL RTA w/ Easy Mesh Coil Building
The RTA in the Vapefly Siegfried Kit works hand-in-glove with three different types of mesh coils: a 0.2ohm M1 Mesh Wire Ni80 (50 to 60 watts), a 0.2ohm M2 Mesh Wire KA1 (50 to 60 watts), or a 0.18ohm M4 Grid Mesh Wire KA1 (50 to 65 watts).  Building a coil is also quite effortless as it takes only three steps: construct your coil, lay the cotton onto the deck, and cut it to the correct size.  Perhaps the best aspect of this process is no leaking because you don't put the cotton into the wicking slot.  It is also important to note that the build deck has only a single coil configuration. You should use the included Firebolt M cotton for the Siegfried Mesh RTA Kit.  Best of all, an anti-dry burn system means a larger contact area between cotton, yet e-juice is transferred faster and over a shorter distance for incredible vapor production.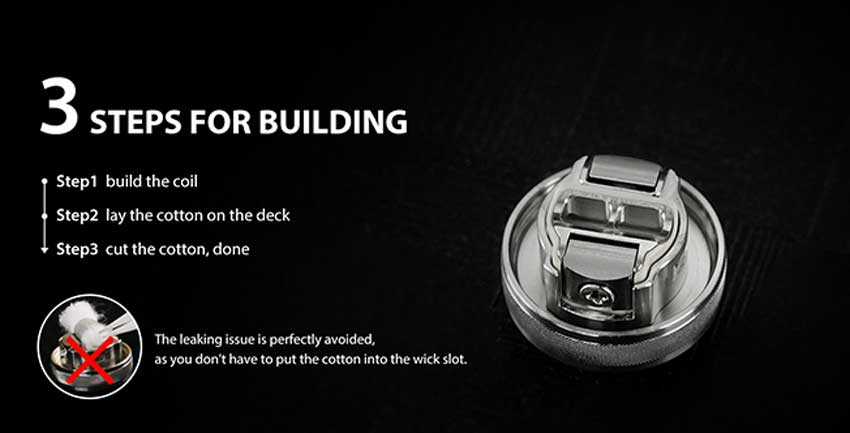 With the same material and craftsmanship, the Siegfried RTA is an ideal match for the previously discussed mod.  This atomizer can also hold up to 7mL of e-liquid and is easily refilled via a top-fill method.  Moreover, side-airflow from dual air intakes are fully adjustable and provide excellent flavor and huge vapor.  At the top of the Vapefly Siegfried, you can see a magnificent 810 drip tip but unfortunately, a 510 drip tip adaptor is not included with purchase.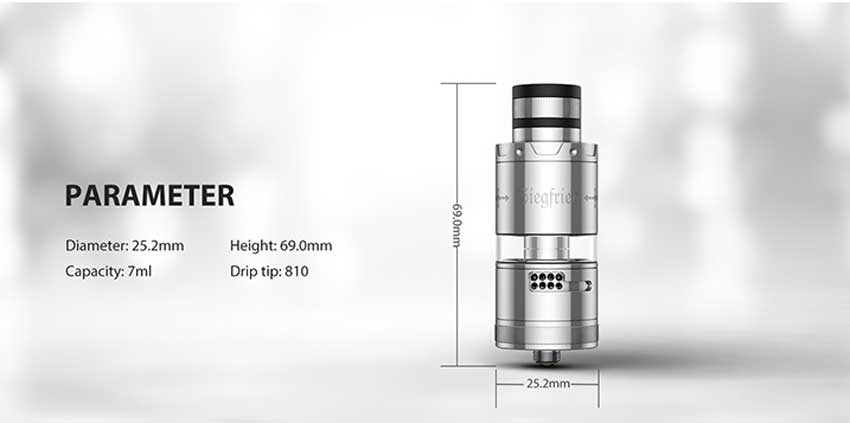 Vapefly Siegfried Features & Specifications (Kit)
A partnership between Vapefly & German 103
Materials: SS & Pyrex glass
Color options: black, SS, gunmetal
Tube height: 99.2mm
Tank height: 69.0mm
Diameter: 25.2mm
810 drip tip
7mL juice capacity
Top filling
Operating mode: bypass
Works with a single 18650, 20700, 21700 battery
Bottom battery access
Coil M1 Mesh Wire Ni80 0.2ohm
M2 Mesh Wire KA1 0.2ohm
M4 Grid Mesh Wire KA1 0.18ohm
Hollow deck design
3-step coil building
Anti-burn design
Safety protections

Short circuit
Reversed polarity
Over-current
Over-temperature
Nano-coating to avoid damage from e-juice or water
Overpuff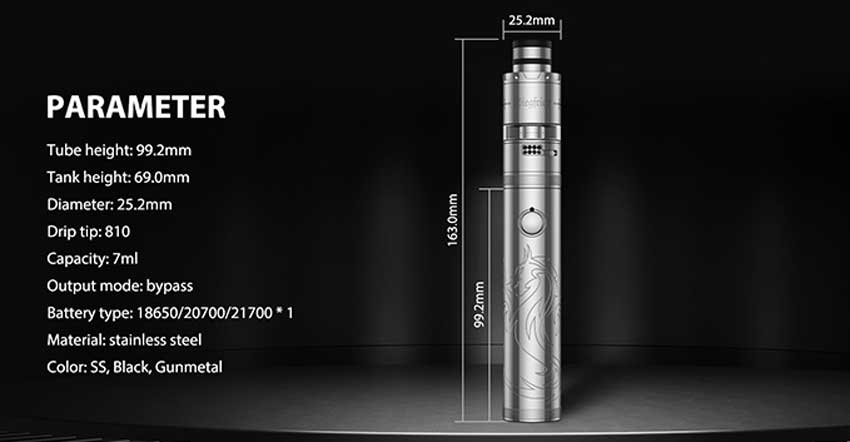 In The Box
With the purchase of the Vapefly Siegfried Mod, you will also receive a 18650 battery adapter, a manual, a safety card, a German 103 card and warranty information.  The Siegfried kit has these additional items: the Siegried Mesh RTA, one prebuilt coil, two Ni80 Mesh coils, two KA1 Mesh coils, two pieces of Firebolt M Cotton, an extra glass tube, three extra screws, one o-ring, a screwdriver, and a coil rod.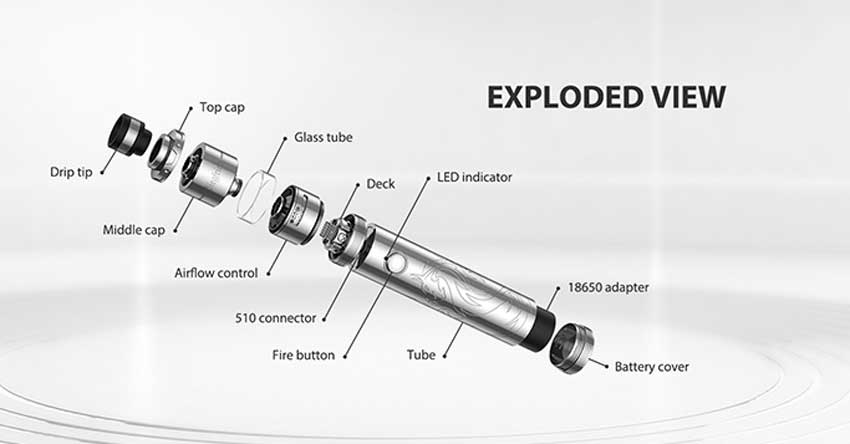 Related Deals
Total Views Today: 1 Total Views: 2,278