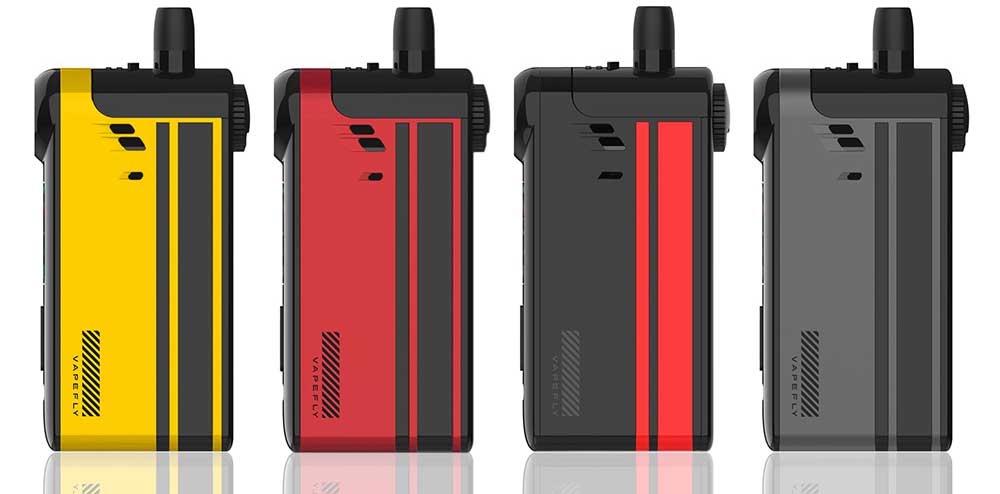 Here are cheap deals to buy the Vapefly TGO at a low price.   It features 0.02s fingerprint unlocking, accidental touch protection, fabulous flavor production from mesh coils, an RBA option, 4.5mL pods with easy refill system, 70 watts of variable output, a 2300mAh integrated battery, fast type-C charging, portability and a myriad of safety features. This pod system kit is for sale in 7 different colors.
TGO Mod
With advanced fingerprint mode capability, the TGO pod mod kit is unlockable within 0.02s by a simple touch of the fire button, but you may also set the device in communication mode to use it without fingerprint security. However, in fingerprint mode, the Vapefly TGO will automatically lock within 3 minutes and you may store up to 6 fingerprints in its memory, 2 of which can be set to admin only. All of this technology ensures privacy and keeps your children safe inside your home.  And, touch protection prevents your TGO from accidental engagement or changes to your settings.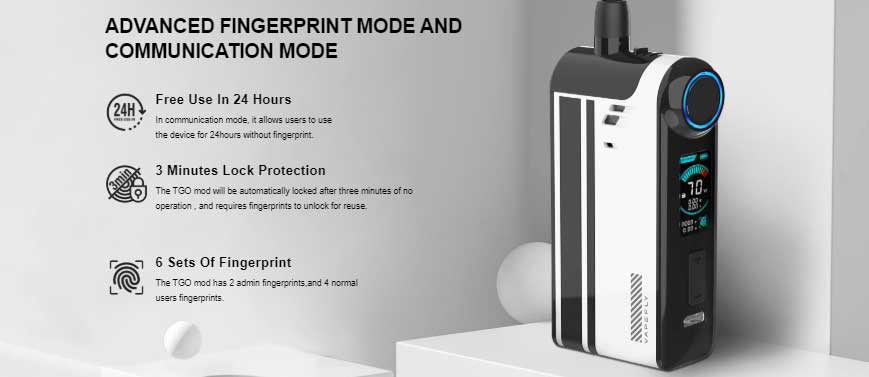 Also as important is that the Vapefly TGO features a built-in 2300 battery for long vaping times at 70 watts of power. This also means you don't need to buy a battery for this setup or a charger. Best of all, a type-C charging system will add voltage to the cell in virtually no time to finish the charging process fast.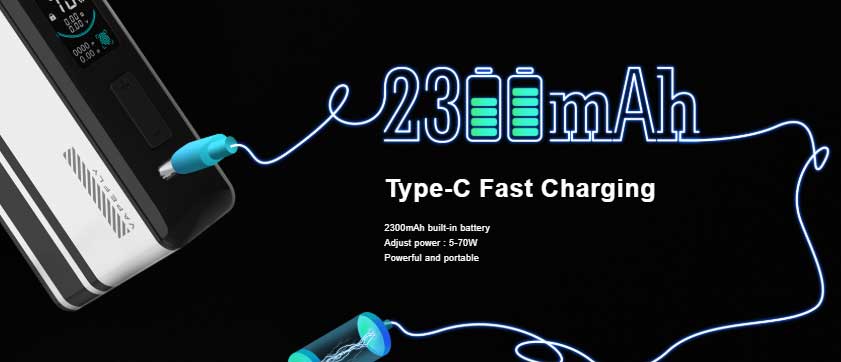 On the control face of the TGO kit, there's a full-color display that measures a massive 0.96″ across. On the screen, you may access all the important vape data that displays in a vertical orientation for crystal clear viewing.  Vape data includes current battery voltage, current wattage, atomizer information, puff time, and much more.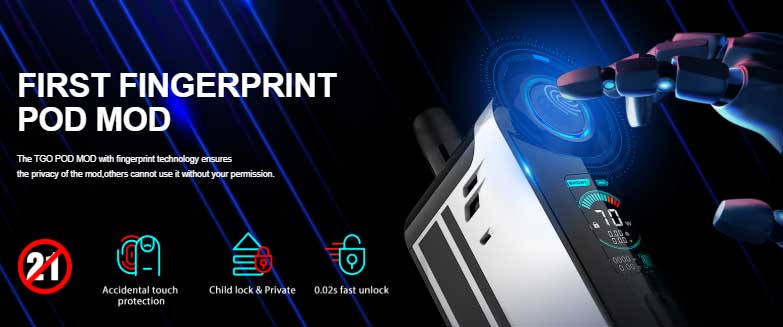 As previously mentioned, the TGO mod is capable of up to 70 watts of power and you may adjust this output starting at only 5 watts.  And, the TGO chipset further permits 3 minutes lock protection, accidental touch protection, a child lock, low battery protection, high-temperature protection, 10-second cutoff, short circuit protection, and overcharge protection.

TGO Pods & Coils
Upon close inspection of the Vapefly TGO pods and coils, we've noticed they certainly don't disappoint. In the package, you will find a TGO 0.3ohm mesh coil that works best at 30 to 40 watts with 10mg or less nic e-liquids.  Or, you may prefer to use the lower wattage TGO 0.6ohm mesh coil that is best with vape juices of less than 20mg.  An additional benefit of using these coils is that the TGO mod will automatically match the ideal wattage with these coils for the best performance. And, airflow hits the coils from 3 different directions to enhance flavor. For DIY fanatics, there's also an RBA head, but you must purchase this separately.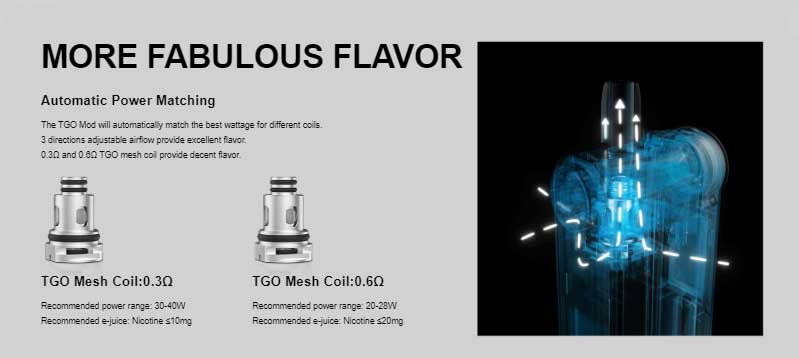 With a 4mL juice capacity, the Vapefly TGO pods doesn't need a lot of refilling, although the EU clients will get only a 2mL pod due to regulations.  The top-fill method also looks unique as you simply slide the mouthpiece to discover a large juice port. Yet another security aspect of the TGO is that the refill system is completely childproof.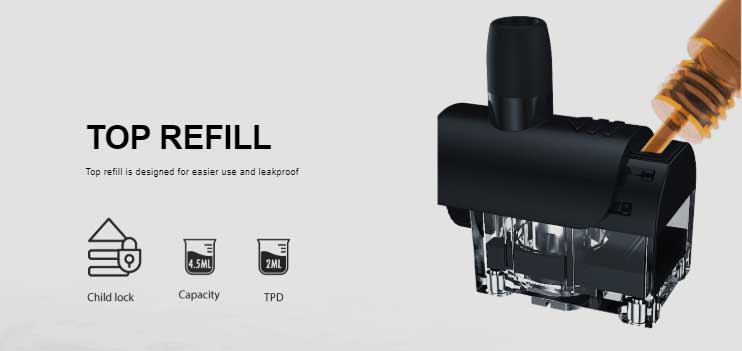 Vapefly TGO Features & Specifications
Available in yellow, black, blue, red, gunmetal, black/red, and white, the TGO is portable with dimensions of only 50mm by 23mm by 102mm.  The chassis is made with zinc alloy materials while each cartridge from PCTG.  An integrated built-in 2300mAh battery with a type-C charging system permits power output from 5 to 70 watts and there is a myriad of safety features.  And, the pod's reservoir has a 4.5mL juice capacity, easily refilled by sliding the top cap. Two mesh coils ensure flavorful vapor production.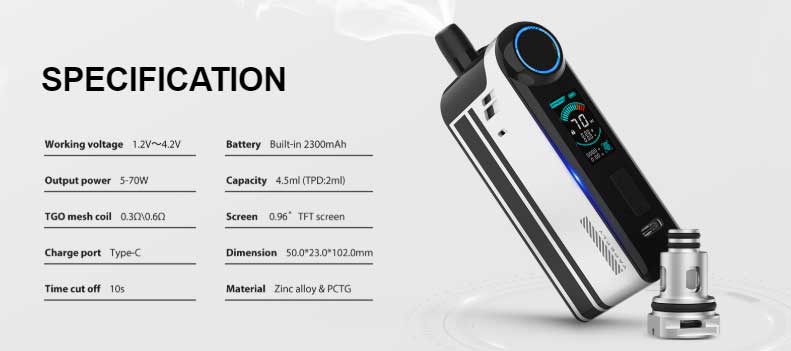 In The Box
With the purchase of the Vapefly TGO, you will receive the mod, a cartridge, a TGO mesh 0.3ohm coil, a 0.6ohm mesh coil, a type-C charging cable, and a user manual.

Related Deals
Total Views Today: 1 Total Views: 287