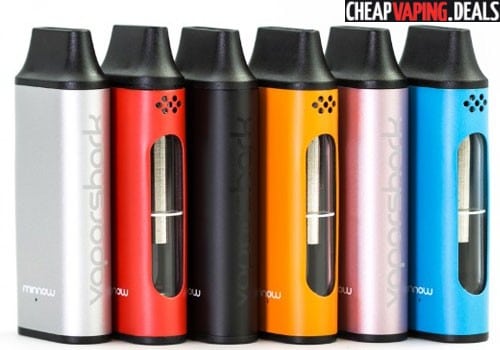 Overview
The Minnow by Vapor Shark is a brand new all-in-one portable vape system.  It is a setup that features a seamless design with maximum performance even though it easily fits in the pocket or purse.
The Minnow does not feature a firing button.  When drawn, it automatically activates in response to the pressure of inhalation. Included with purchase, you will receive two amazing coil heads that work best with high VG e-juice for amazing flavors no matter the PG/VG ratio.    The heads are built with large wicking holes, are made of stainless steel and fire from 5W to 15W.  Because the Minnow is an unregulated device, power output is dependent on the battery's charge level.  The internal cell has a 650mAh capacity that should be enough for long vaping times. The battery is charged via the micro USB port and the process occurs with a maximum current of 1 amp.  An LED allows easy tracking of charge levels.  A green light means there's over 21% of power while yellow or red means its time to plug the device in to top off the battery.
Inside the Minnow, there's a 2ml capacity internal tank that is easily refilled via a top fill system.  E-liquid levels are monitored via a convenient viewing window to ensure you never run out of juice. Airflow is also adjustable via four 2mm airholes at the top.
From a design perspective, the Minnow starter kit is incredibly small with dimensions of just 30mm x 14mm x 75mm.  This makes it a perfect vaping system to use when traveling or on-the-go.  The unit is so small, it will even fit into a shirt's pocket.  The device is available in a wide range of colors including baby blue, electric blue, orange, red, rose and white.
Instead of a drip tip, the kit works with three included alternate cap styles: the standard cap, a smooth curve cap or a 510 drip tip adapter cap.
Overall, if you are a beginner or smoker who is looking to start your vape journey, the Minnow vape system seems to produce plenty of vapor for its tiny size and is easy to use.
Video Review
Features & Specifications
Ultra portable vape system
Dimensions: 30mm x 14mm x 75mm
Internal 2ml tank
E-liquid viewing window
Top fill system
Top adjustable airflow
2 x SS316L coils included
Coils are compatible with high VG e-liquid
Large wicking ports
Easy coil swapping
LED indicator light for battery level
640mAh Lipo batttery
Micro USB charging
Device fires when drawn
Maximum power output (full battery): 15W
Resistance range: 1.0Ω to 3.5Ω
Three alternate top caps
Many colors
Pictures
Total Views Today: 1 Total Views: 277