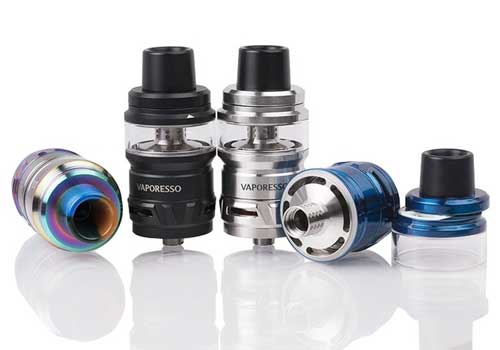 Here are cheap deals for the Vaporesso Cascade Tank.
Overview
The Cascade Tank by Vaporesso features amazing craftsmanship and is available in silver, saphhire blue, matte black, rainbow, black and blue. It measures 24mm x 60.5mm, has a 510 threaded connection and a tank capacity that comes in at 7ml. To add juice to the tank, the top cap swivels open and reveals a juice filling hole inside a rubber gasket. At the bottom, you will find external adjustable air slots that direct air inward. Air travels inside the Cascade in a balanced triangular manner to hit the coils and provide a smooth vape that has plenty of flavor, without any burnt puffs.
With an isolation structure design, the juice chamber and coils are completely separated which further results in a fresh vape every time. The coils are in the Universal Coil family and are compatible with all GT cores. With purchase of the tank, you will get a 0.15ohm GTM 8 head that fires in the range of 80 to 200 watts and a 0.4ohm GTM 2 coil that fires in the range of 40 to 80 watts. They are made with either traditional cotton or ceramic, depending on your preference. All coils utilize a plug and play system for a fast, easy and mess-free replacement process.
Total Views Today: 1 Total Views: 590