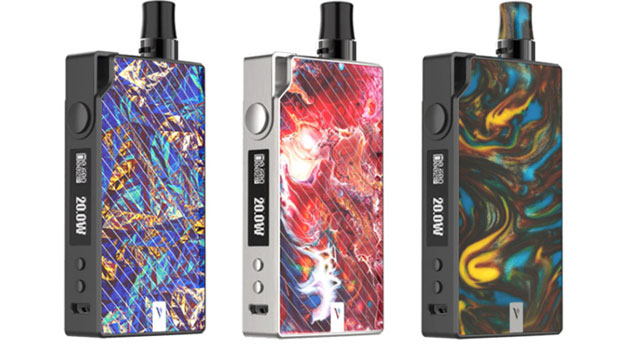 Vaporesso Degree: 2mL/950mAh/30W Variable Wattage Mesh Pod System 
The Vaporesso Degree features 2mL refillable pods, a mesh coil, a ceramic coil, easy top fills, dry hit protection, a 950mAh built-in battery, fast 2 amp charging, a low e-liquid reminder system, a smart output system and pulse mode with rapid firing.
Dry Hit Prevention
To ensure the best possible flavor production, the AXON chipset inside the Degree is designed with auto temperature control technology. This prevents dry hits and results in flavorful puffs while extending coil longevity.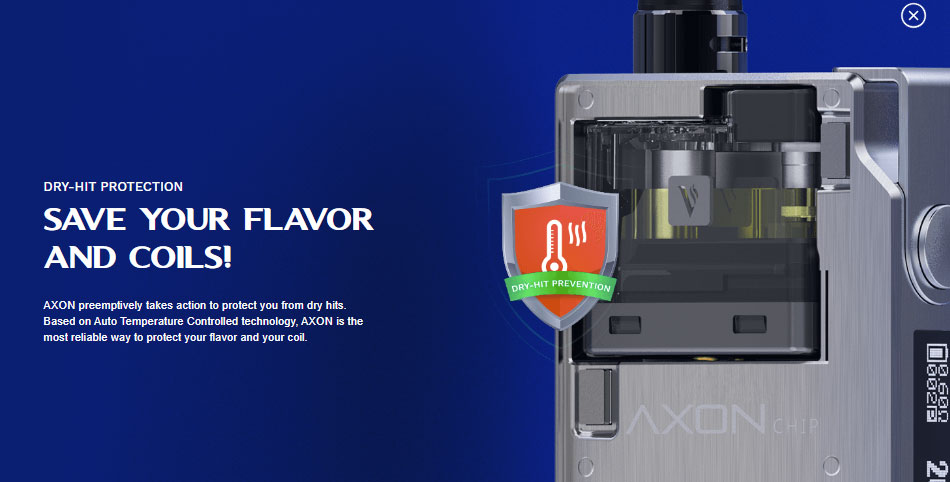 Low E-Liquid Notification
Compared to other pod systems, the Degree will notify you when e-juice levels are low and a refill is required. In this case, the display screen will indicate "low e-liquid" and will not fire until the pod's juice level is adequate.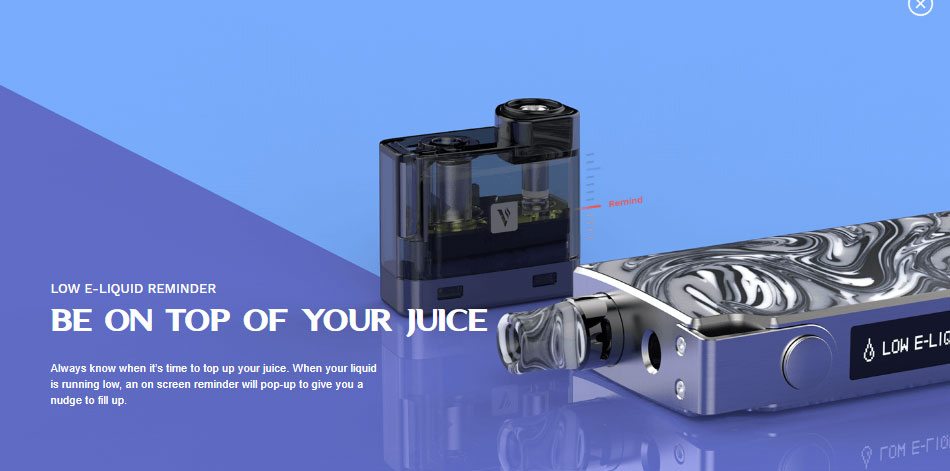 Intelligent Chipset
The chipset of the Degree automatically identifies the inserted pod and sets the correct wattage range to prevent problems and ensure the best vapor production. When the CCELL pod is inserted, the default setting is 10 watts, while the cartridge with the mesh coil is best used at 20 watts of power. Wattage can be manually changed via two adjustment buttons at the bottom of the control face.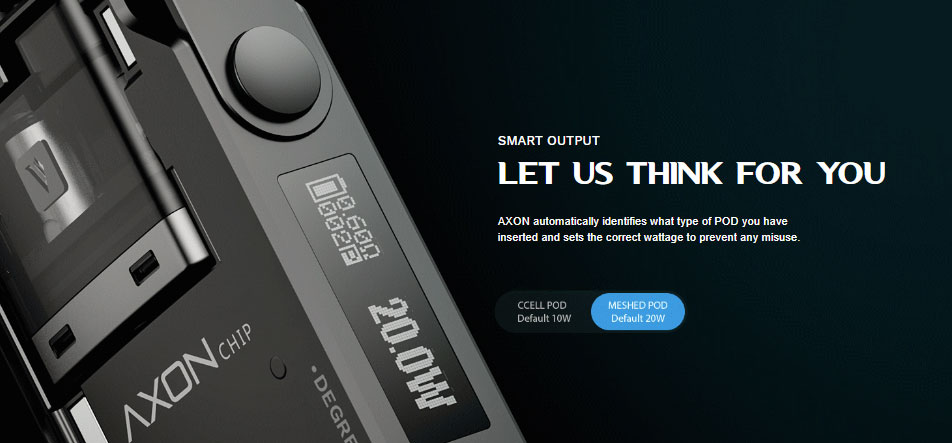 Leak-Free Pods
The 2mL juice pods are easy to swap out and are affordable. Airflow is  located on the mouthpiece to prevent leakage and the refill port is adjacent, so you don't have to remove the cartridge to top off the juice reservoir.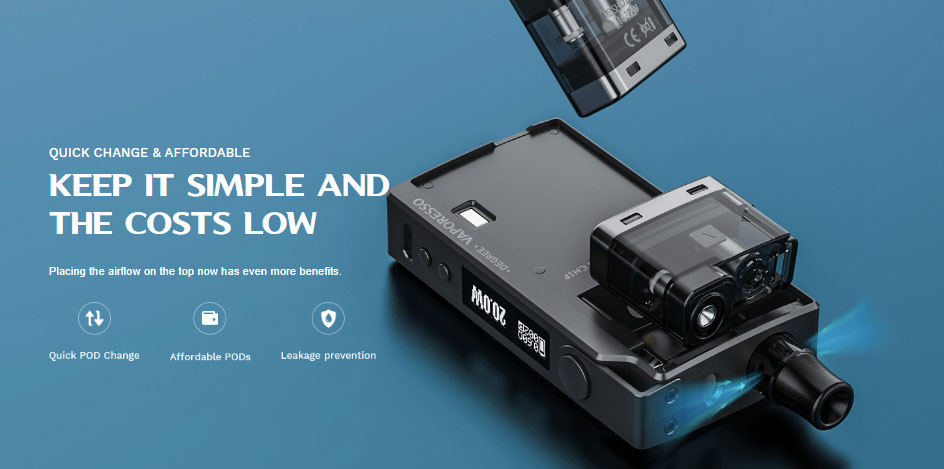 Pulse Mode With Rapid Ramping
With pulse mode, the Degree kit will continuously fire, every 0.02 seconds. This results in more power, rapid firing and exquisite flavor production.

Mesh or CCELL Coils
The Vaporesso Degree pods are built with one of two coil options. The CCELL coil (1.3ohm) is best with nicotine salt based e-liquids and CBD. Each CCELL head has micro pores that heat up e-liquid in a uniform manner for the ideal mouth-to-lung vape experience. Or, you may prefer the pod that has an integrated meshed coil (0.6ohm for standard e-liquids) with a large surface for rich flavor production, fast heating,  more airflow for massive vapor and a direct-to-lung style vape.
Components
Each Degree kit consists of a refillable pod and a mod. The pod cartridge has a drip tip with adjustable airflow control, and an easy-access PTF refill port. The mod section features a large power button, a 0.69 inch OLED display, two adjustment buttons and a micro USB port for fast recharges. On one of the larger sides, there's a pod cover that hides the juice reservoir and is available in the following finishes: marble, lava, red, silver carbon fiber, blue and grey carbon fiber. You can swap the panel out with a different color for a new appearance.  Finally, the combined kit has measurements of 41.5mm x 16.45mm x 90.5mm, making it compact and easy to carry around.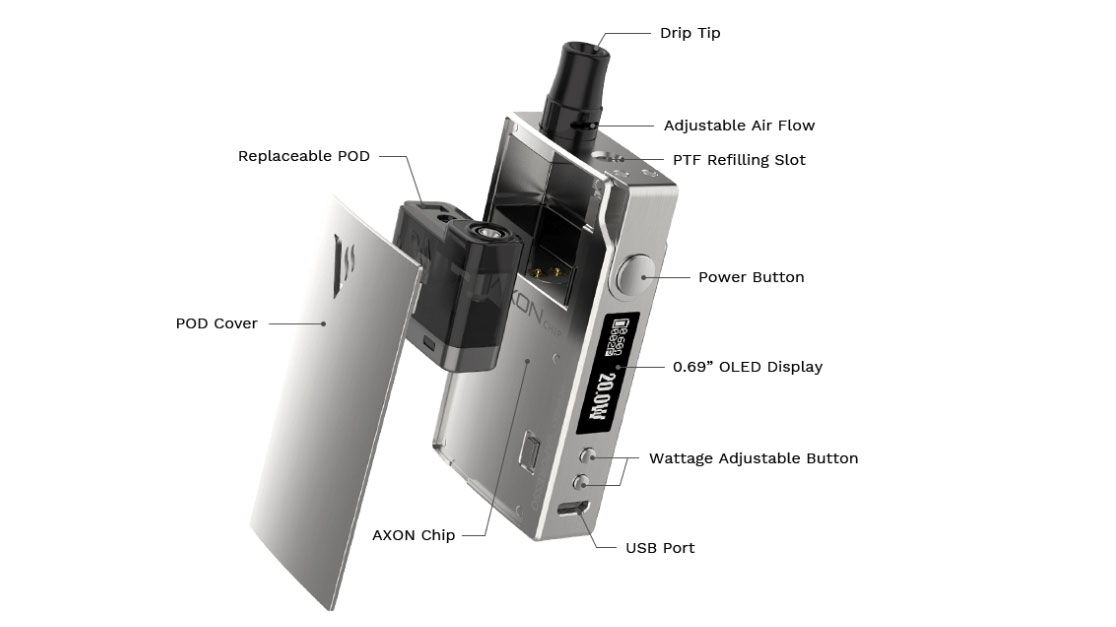 Specifications
The Degree mod has a power range of 5 to 30 watts and features an integrated 950mAh battery for power. The cell is rechargeable via a micro USB port on the control face that has a 2 amp capability to complete recharges very fast.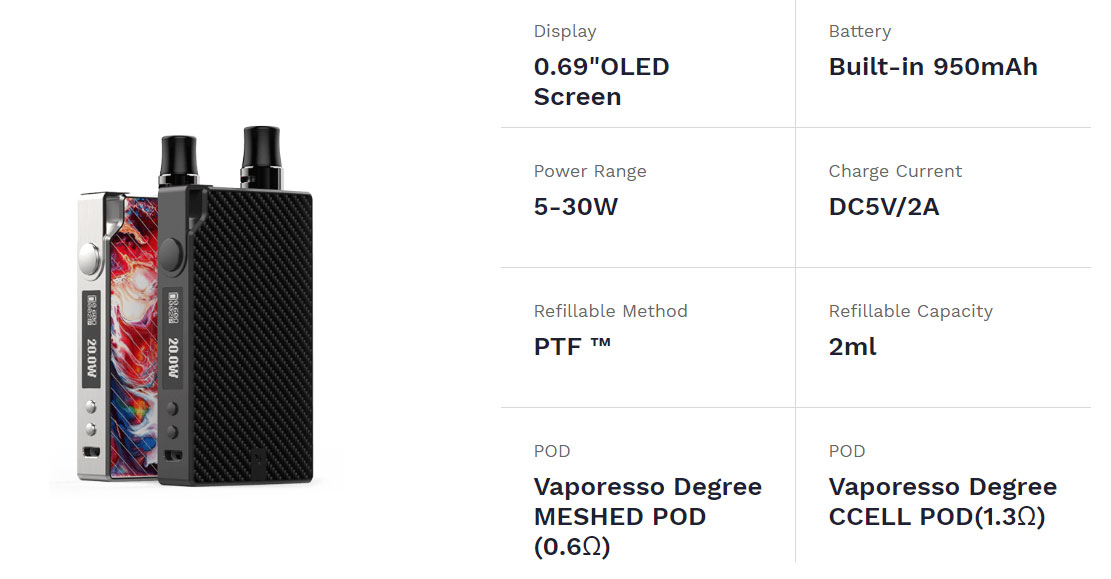 In The Box
With the purchase of a kit, you will receive the Degree mod, a 1.3ohm CCELL pod, a 0.6ohm meshed pod, a 10mL e-liquid filling bottle, a micro USB charging cable, a user guide, a warranty card, and a reminder card.
Total Views Today: 1 Total Views: 887