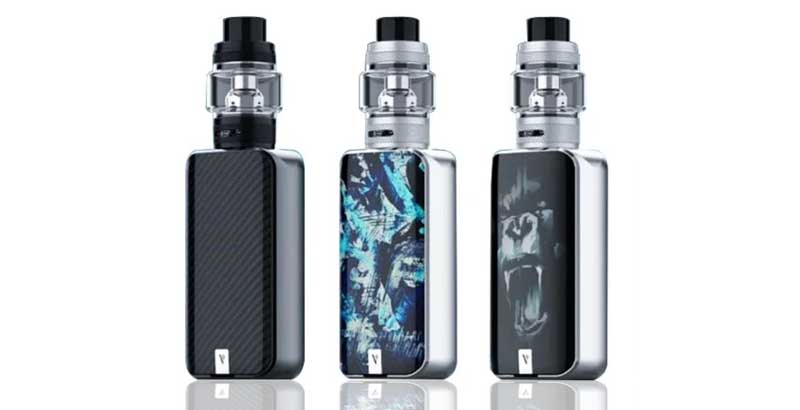 Vaporesso Luxe II Kit: 220W Mod With 8mL NRG-S Mesh Tank
Here are cheap deals for the Vaporesso Luxe 2 Kit at a low price.  The mod in this starter kit has incredible design finishes, exquisite IML panels, two 18650 cells (not included), easy battery bay access, 220 watts of power, haptic feedback, virtual +/- buttons, a brand new chipset for versatility, and a 2.5A charging system. The NGR-S Tank features GT meshed coils, an 8mL e-liquid reservoir, an effortless top-fill method, effortless push/pull coil installation, and dual bottom airflow intakes.  The Luxe II Kit is for sale in iceberg, gorilla, black, lava, bronze coral and bronze stripe.
USA Deal: Kit

$38.24

  Use coupon code 25C at checkout (exclusive 25% off sitewide – rock bottom prices on everything – one use per account – $300 limit – fast USA shipping)

Mod Only

$44.99 (USA Warehouse) |

$45.99

(CN-SZ Worldwide Shipping Warehouse)  Use coupon code Luxe2M at checkout
Review
Exquisite Design
The first thing you notice about the Luxe 2 Kit is the incredible IML panels that are available in many different patterns and colors. The overall design is in fact very similar to previous Luxe kits such as the Luxe and Luxe Nano, especially the size, shape, transparency, high color saturation, and the ergonomically curved body.   On the back of each mod, one of the panels comes off to expose the battery bay that stores the dual 18650 batteries to power the entire setup.  A 2.5 amp fast-charging USB port makes it also more convenient than ever to quickly recharge the cells while they are stored inside the Luxe II.  Adding to the incredible appearance is the user interface that features a 2-inch color TFT display screen with customizable UI and touch panel. The adjustment buttons also feature haptic feedback, so they will vibrate as they are pressed on when making adjustments to the Vaporesso Luxe 2 Kit's settings.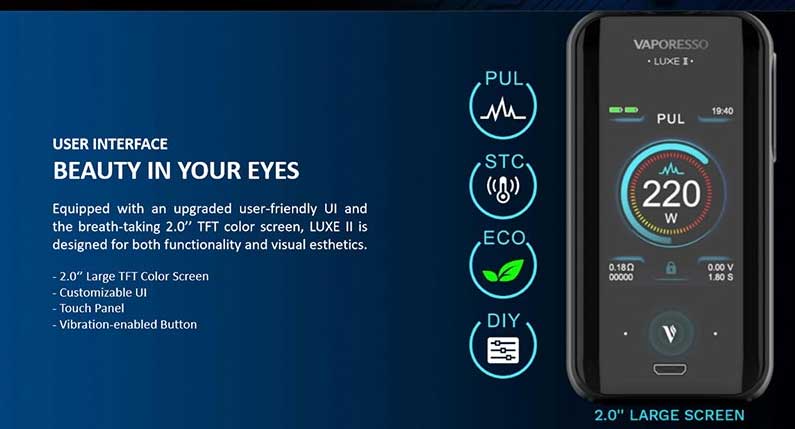 New Chipset
All previous versions of the Luxe featured an Omniboard, which was quite versatile, but not as much as the new AXON chipboard inside the Luxe 2 starter kit.  You see, the unique chipboard permits many output modes, produces better vapor & flavor, and features an ECO setting that extends the life of the batteries. Additional output modes include power, smart temperature control, and TCR, switched to in an instant by way of the full-color display screen.   Plus, a myriad of safety protections on the software and hardware level means you'll always have a safe vape experience.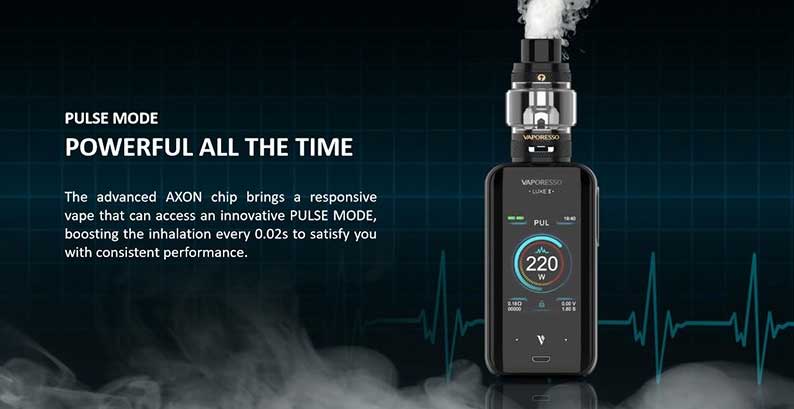 GT Meshed Coils
The NRG-S Tank in the Luxe II Starter Kit works with GT meshed coils for exquisite vapor and flavor. Meshed coils are known to heat up fast and to have a larger heating surface for a premium experience throughout the vape industry.  And, this setup is literally compatible with every type of vape setting you may wish for thanks to 9 different coil options.  However, only two are found in the Vaporesso Luxe II kit package: pre-installed, you will get GT meshed coil that has a 0.18ohm heating element and works from 50 to 85 watts, or you may want to use the GT4 meshed coil with 0.15ohm resistance and 50 to 75-watt range.  Best of all, these coils have a handy pull/push coil replacement system to result in mess-free coil swaps.

8mL E-Liquid Capacity
Moreover, the Vaporesso Luxe 2 Kit can take an incredible 8mL of e-liquid, refilled via an effortless top-fill method. You see, adding e-liquid is as simple as sliding the top cap and squirting juice into the exposed port. The tank also includes an insulating layer between the top cap and the vape juice to ensure heat does not escape out of the reservoir.  And, at the bottom, there are also two adjustable air intake slots that can be set from wide open to completely closed to achieve your favorite draw and throat hit.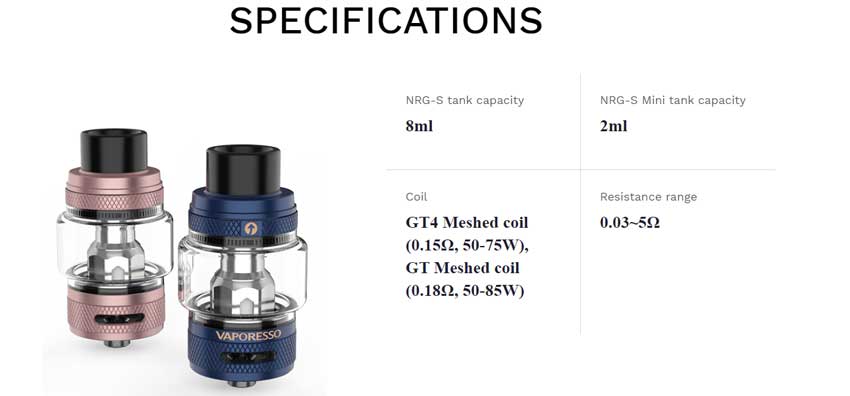 Features & Specifications
Dimensions: 47.8mm x 29.5mm x 145.8mm
Colors: iceberg, gorilla, black, lava, bronze coral and bronze stripe
 2″ color  TFT screen
Virtual buttons
Haptic feedback
Works with two 18650 cells

Lightning-fast 5V/2.5A charging with the included cable
Vape while charging

Updated AXON chipboard

0.001s firing response
Mod power range: 5W to 220W
Mod resistance range: 0.03Ω to 5.0Ω
Available modes: Pulse, Power ECO, TC, TCR
A multitude of safety features

8mL juice capacity
9 coil options
Included mesh coils

Pre-installed: 0.18ohm GT Meshed Coil | 50W to 85W
0.15ohm GT4 Meshed Coil | 50W to 75W

8mL juice reservoir
Easy sliding top-fill method
Heat insulation separates the juice from the mouthpiece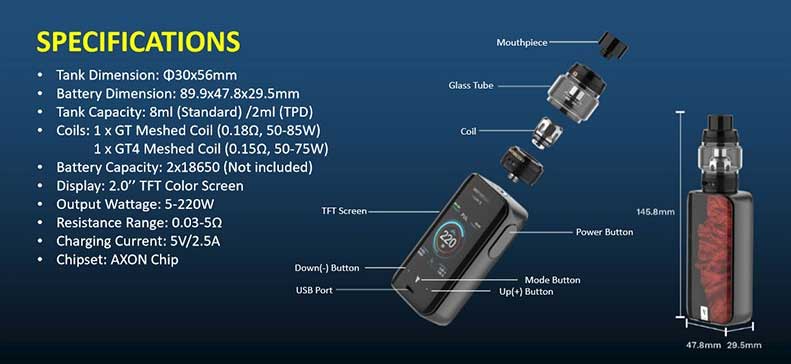 In The Box
With the purchase of the Vaporesso Luxe 2 Kit, you will receive the mod, the NRG-S Tank, a GT Meshed coil, a GT4 Meshed coil, a glass tube, four o-rings, a manual, and a warranty card.  But, the Luxe 2 Kit TPD Version contains all the same accessories, but the reservoir only stores 2mL of vape juice.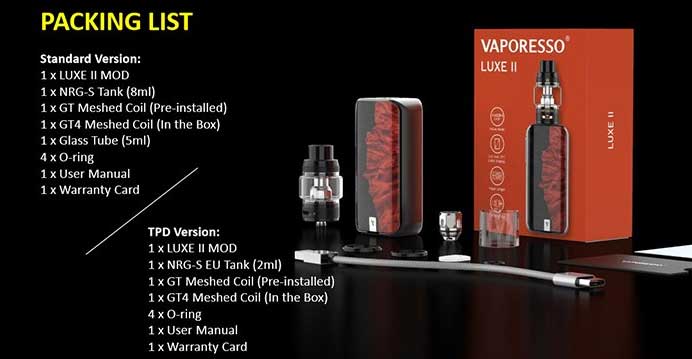 Similar Products
Total Views Today: 4 Total Views: 6,473