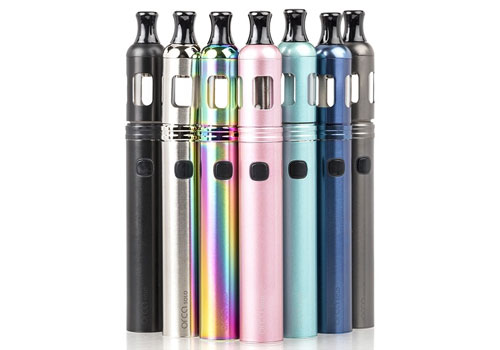 Here are cheap deals for the Vaporesso Orca Solo Starter Kit 800mAh. This all-in-one vape kit features a 1.5ohm resistance making it perfect for nicotine juices, CCELL coils for the best possible flavor production and an internal 800mAh battery.
Overview
The Orca Solo is the latest all-in-one kit from Vaporesso that should be perfect for beginner vapers or those who enjoy high nicotine or nicotine salt juices. At the top of this setup, you will see a 1.5ml vape tank that utilizes a 1.5ohm CCELL coil for excellent flavor production with any high nicotine juice. One filling of the tank permits about 190 total puffs, so you won't need to refill the atomizer's reservoir very often, but if a refill is due, this unit does have an easy top fill system for an effortless process.
At the bottom of the Orca Solo Kit, you will see the battery mod that is built with an 800mAh internal cell for long vaping times on this low wattage device. Recharges of the 800mAh internal battery occur via the USB port with an included cable that utilizes a 1A decent charge current. The Orca Solo by Vaporesso is built with a flash heat system thanks to its Omni Board Mini updated chip set. This allows for fast heating of the coil. It is uncertain if airflow is adjustable with this setup, but rest assured that vaping on this device is a mouth-to-lung type vape, similar to smoking an analog cigarette.
Design-wise, this setup can be purchased in black, silver, 7-color, purple, rose gold, mint green and metallic grey. And, with dimensions that come in at 24.5 x 138mm, it is very thin allowing for easy placement in a shirt or back pocket. With purchase, you will receive the Orca Solo kit, 2 coils, a micro USB charging cable and a user manual.
Features & Specifications
Dimensions: 24.5mm x 138mm
Colors: metallic grey, mint green, purple, rainbow, silver, black, rose gold
Tank capacity: 1.5ml (about 190 puffs)
Easy top fill system
Internal 800mAh battery
Omni board mini chip board
Flash heat system
MTL lung vape experience
Coil: CCELL 1.5Ω Coil

Works with high nic/nic salt juices
Total Views Today: 1 Total Views: 446