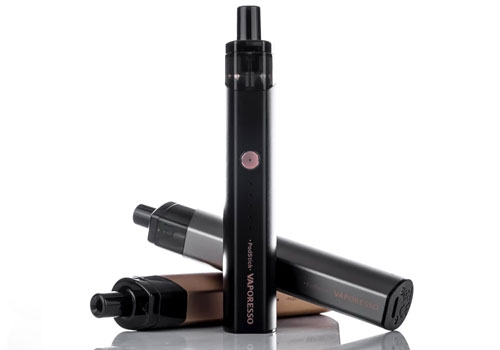 Vaporesso Podstick: 2mL/900mAh Mesh Pod System With 3 Output Settings
The Vaporesso Podstick features a 900mAh integrated battery, 2mL pods, easy top refills, 3 output settings, a 0.6ohm coil for MTL sub ohm vaping, a 1.3ohm coil for CBD & nic salts, and multiple safety protections.
Summary
The Podstick is a pen style pod system that is said to be effortless to use. Depending on the installed coil, you may use the device for mouth-to-lung or sub-ohm vaping.  Unlike other pod kits, the cartridges that insert into the battery feature a top-fill system for the cleanest and easiest possible refills. And, on the front of the aluminum battery, there are 5 battery lights to detect the charge level of the integrated 900mAh battery.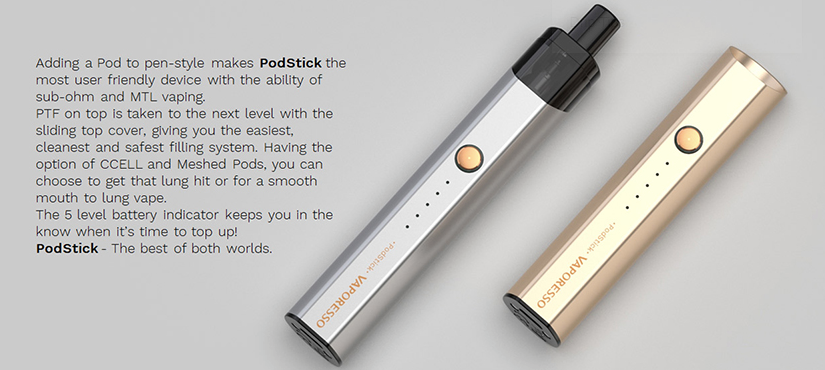 Seven Color Options
The finish options for the Podstick are sure to turn heads as they look exquisite. You may choose silver, black, blue, phantom, gold, silver or splashed paint finish.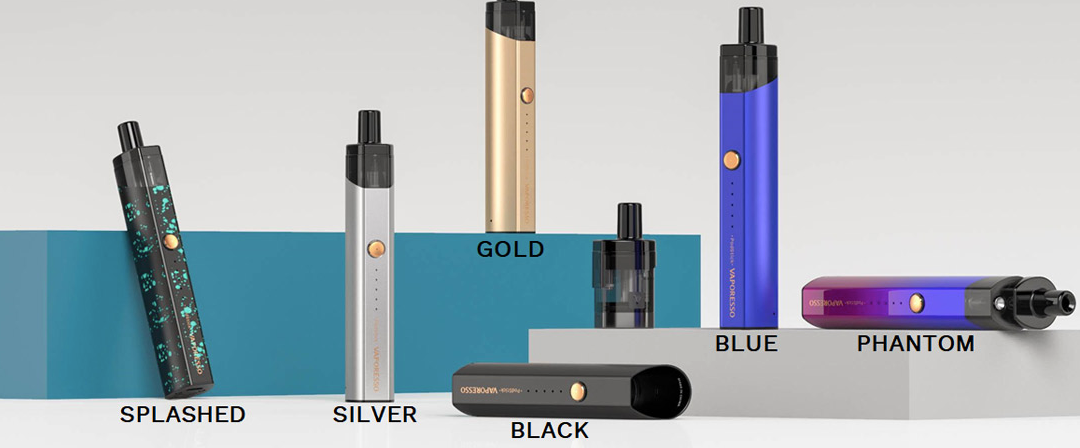 Compact Design
With measurements that come in at 18mm x 22mm x 111mm, this compact pod is very similar in design and size of the popular Aspire Spryte Kit. The battery section has an aluminum housing while the 2mL pods are made from medical grade PCTG.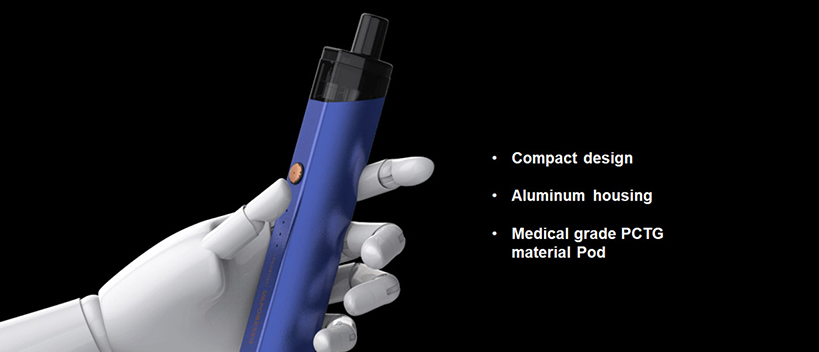 Three Power Levels
Surrounding the fire/power button, there is a LED light that indicates the current output setting of the Podstick. With CCELL coils, a green LED indicates 12.5 watts of output, blue 10.5 watts, and red means 9 watts. If you have the mesh head inside your cartridge, green indicates 22 watts of power, blue 20 watts, and red 17 watts.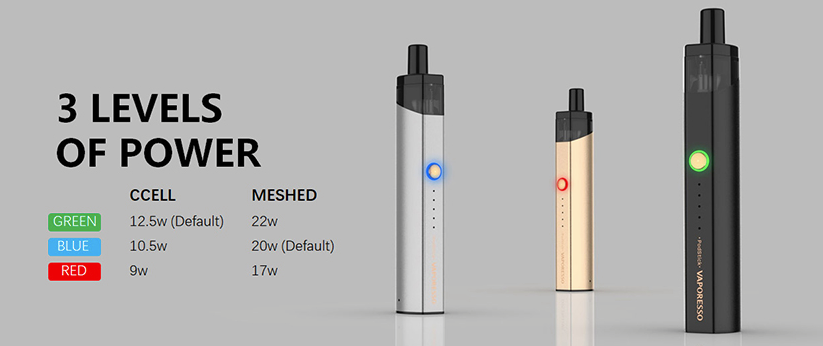 Easy Top Refills
It is very rare to find any pod system in the vape marketplace that has a top-fill method, but this system is the exception. Underneath the sliding top cap, you will find a filling slot which permits adding e-liquid without ever removing the cartridge.

Meshed Coil For Flavor Production
The Vaporesso Podstick comes with a mesh coil option which is ideal for restricted MTL vaping with lower nicotine e-liquids. This type of head has a contact area that is 5 times larger for rich flavor production, fast heating and increased airflow for massive vapor production.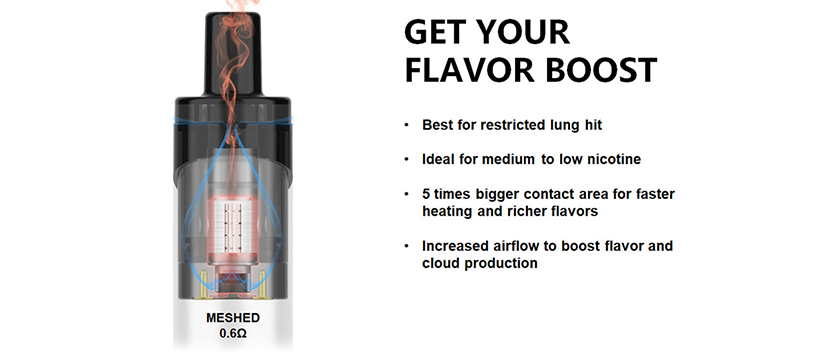 CCELL Coil For Nic Salts & CBD
The CCELL coils feature ceramic heating elements to fully realize the flavors of CBD and nic salt e-liquids. These heads have micro pores to ensure proper heating of vape juices in a uniform way, from the first puff. The result is a consistent, smooth puff and tighter airflow for a MTL style vape experience.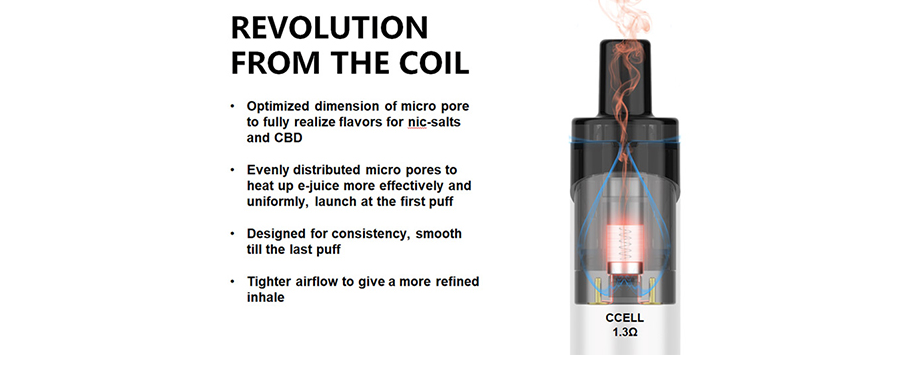 5 x LED Battery Indication
On the front of the Podstick battery, there are 5 LED lights that will extinguish as the battery drains. This allows for effortless and more accurate monitoring of cell's charge level.

Child Safety
The pod system on top is made with a sliding top cap that is childproof.

Omni Board Mini Chipset
An updated Omni Board Mini chipboard powers the Vaporesso Podstick. This results in a power boost to enhance flavors and permits automatic detection of the coil type to reduce the possibility of dry hits.

Multiple Safety Protections
You may always feel safe while using the Podstick thanks to short circuit protection, no-load protection, overcharge protection, overtime protection, and low power protection.

Features & Specifications
Dimensions: 18mm x 22mm x 111mm
Aluminum battery
Medical grade PCTG pods
2mL capacity
Easy top fills
Childproof
Coils

1.3ohm CCELL
0.6ohm mesh coil

900mAh integrated battery
1A charging system
5 x Battery LED
Three power settings
Multiple protections

Low power
Overtime
Overcharge
No-load
Short circuit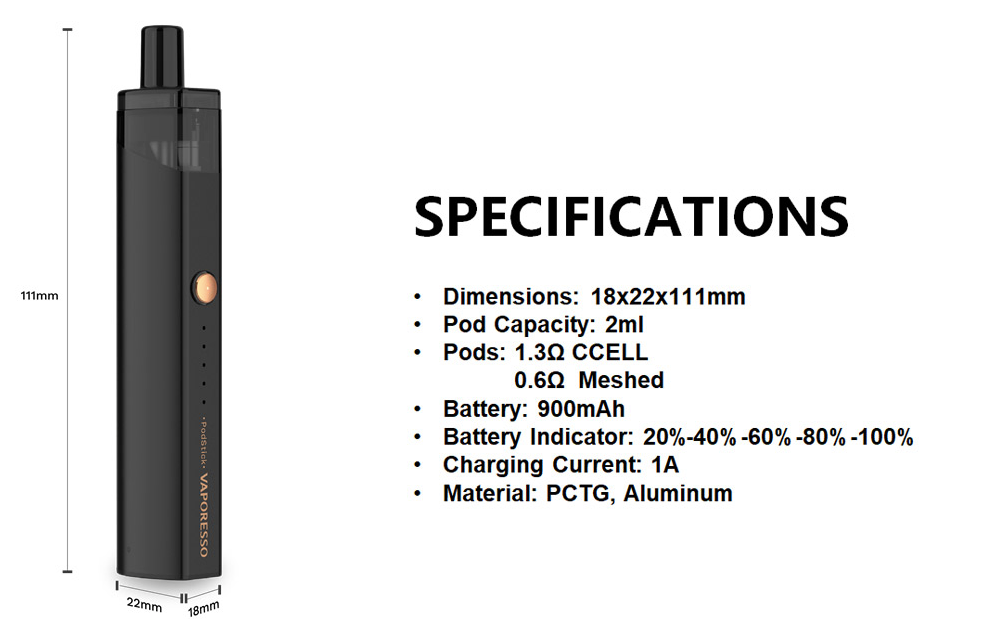 In The Box
Vaporesso Pod Stick Battery
1 x CCELL Coil (pre-installed)
1 x Meshed Coil
Charging Cable
Manual
Warranty Card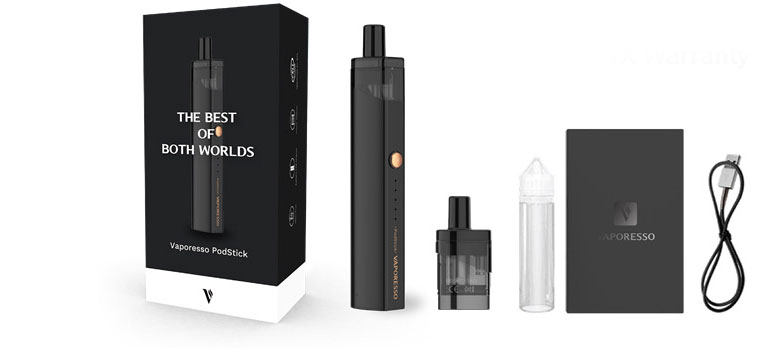 Related Deals
Total Views Today: 1 Total Views: 1,503