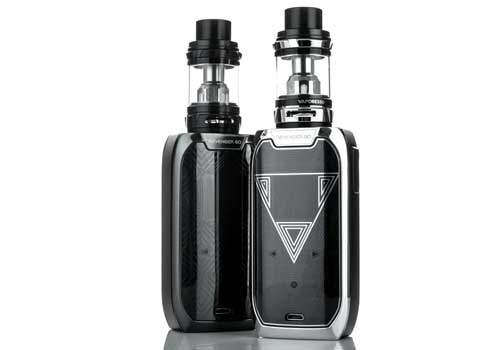 Here's some discounted prices for the Vaporesso Revenger GO Box Mod Kit.  
Overview
The Vaporesso Revenger GO is the latest update in the popular Revenger series of mods. The new device features a massive 5000mAh internal battery for extended vaping times, an Omniboard 2.2, three button menu navigation, 220 watts of power, fast charging and a myriad of operating modes.  At this time, the device is only available in black.
With the same dimensions of 45mm x 89mm x 28mm as its predecessor the Revenger X, this mod is portable and easily placed in the pocket.  Made from aluminum alloy, the finish is made from  IML (in mould labeling) for a premium appearance.  The fire button is located on the side, but you won't see physical adjustment buttons as this mod utilizes touch control to navigate the menu on the 0.96″ display. Navigating the menu and changing modes has been made easier thanks to a third adjustment button that allows easily selecting items on the menu. Moreover, the mod gives vibrational feedback via haptic response that can be set to your liking and you can change the screen's brightness to 16 presets.
Unlike previous Revenger box mods, the Revenger GO utilizes an integrated battery. The cell's capacity is a whopping 5000mAh, so you will be able to continue vaping without recharges for a long time.  Recharging the cell occurs via the micro USB port which in all likelihood is a 2.5A  charging interface to finish recharges in no time.  Made with an Ominboard 2.2 chip, this mod has a myriad of output modes that include bypass, power, temperature control with nickel, titanium, stainless steel and TCR.  And, there's ramp vaping capability in all temperature modes, as well as power mode.  Power output tops out as 220 watts, while the lowest resistance is 0.05ohm and the highest temperature comes in at 600 degrees Fahrenheit.
The full Revenger GO kit also includes the NRG tank. It has five alternate coil options, a 5ml or 2ml (EU) e-liquid reservoir and has decent vapor production. Refills are done by sliding the top cap to expose a fill port. You will get two NRG 0.15ohm coils and there are plenty more coil options set to be released.
Revenger GO Box Mod Features & Specs.
Dimensions: 45mm x 89mm x 28mm
Portable
Made from aluminum alloy with IML
Colors: black only
0.96″ screen

16 brightness adjustments
Timeout
Real time clock

Three adjustment touch control buttons

Third "select" button
More pleasurable mod appearance
Responsive
Easily navigate menus

Haptic feedback like cell phones

Device vibrates
8 customizable settings

Omniboard 2.2
Output modes: VW(H/N/S), CCW, CCT, VT(NI,TI,SS), TCR(M1,M2), RTC, BYPASS
Built-in 5000mAh battery

Extreme vaping times
Fast micro USB charging

Fires within 0.1s
Power mode output: 5W to 220W
Resistance range: 0.05Ω to 5.0Ω
Temperature control range: 200℉ to 600℉ or 100℃ to 315℃ or
Total Views Today: 1 Total Views: 14,137