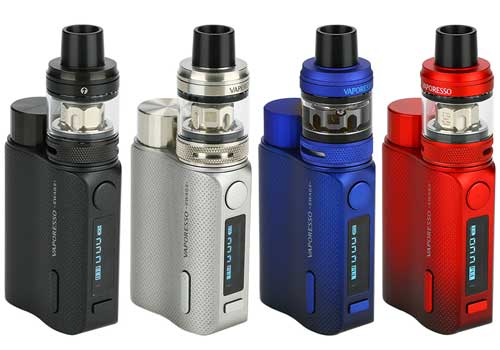 Vaporesso Swag II: 80W/3.5mL Single 18650 Box Mod Mesh Kit
The Vaporesso Swag 2 consists of a mod combined with a NRG PE Tank. The box mod features a portable design, 80 watts of power, an axon chipset, a 0.91 inch OLED display screen, single 18650 battery support, ergonomic finishes and a wide range of safety protections. The NRG PE atomizer can hold 3.5mL of e-liquid, has mesh coils for flavor and vapor, is built with bottom adjustable airflow and has an effortless top fill system.
Deals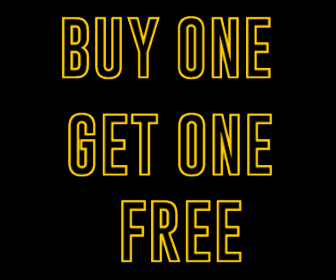 Review
Ergonomic Design
The Swag II, the follow-up of the Swag by Vaporesso,  is available in the following colors: red, blue, silver or black. The finish consists of a rubber coating that is fingerprint-resistant, scratch-resistant which is comfortable in the palm of the hand and also makes the setup light and durable. The mod is portable thanks to measurements of only 50mm x 35mm x 75mm and weighs only 120 grams.  And, the included tank in the kit is also tiny with measurements of 25mm x 50mm, yet it can store up to 3mL of e-liquid. When compared to the more powerful Vaporesso Gen kit, you can see this kit is much smaller for easy transportation.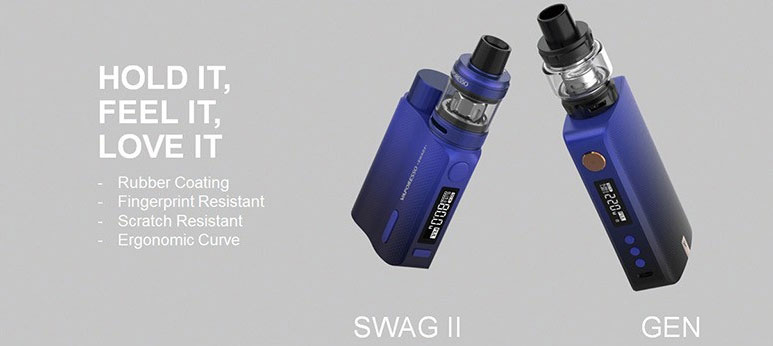 Compatible with 25mm Atomizers
The original Swag Mod was compatible only with tanks and atomizers up to 22mm in diameter. The new version's bezel measures a whopping 25mm, so it is sure to work well with virtually any mod, buid or tank in your collection.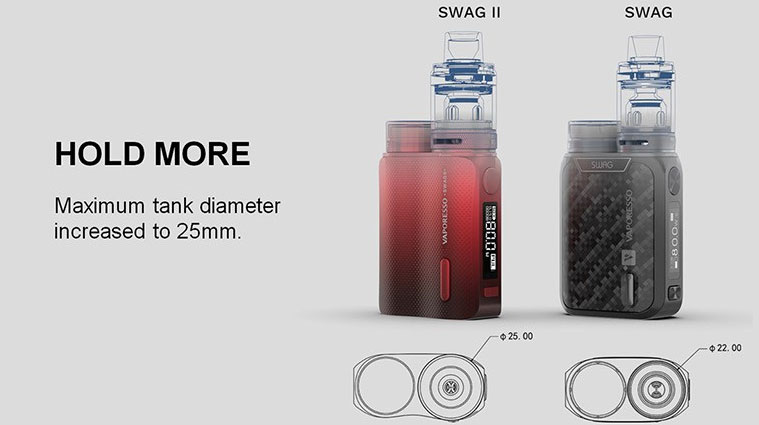 Easy To Operate Interface
On the control face, you will notice a decent 0.91 inch OLED display screen which displays vape data horizontally on a black background for easy reading. This new menu system is said to work well for both new and advanced vapers and indicators include current battery charge level, current atomizer resistance, current mode, number of puffs taken and more. Navigating the menu occurs via dual adjustment buttons on one of the large sides of the mod.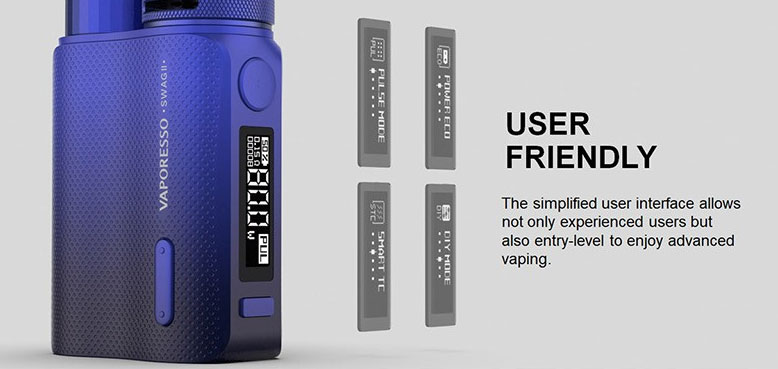 GT4 Meshed Coil
A wide range of coils are compatible with the included tank. These include the GT CCELL, GT1, GT2, GT4, GT6, GT8, GT4 Meshed and GT CCELL2 heads.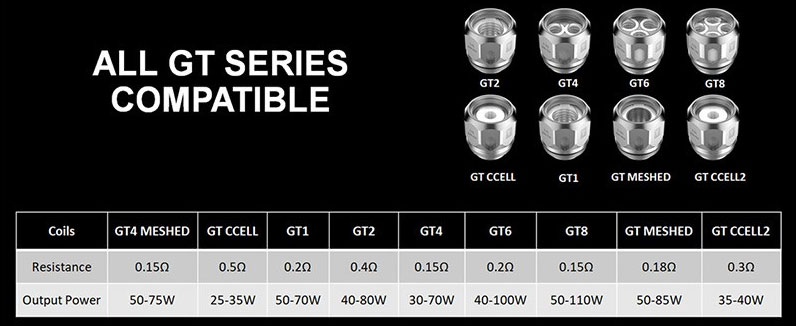 The included GT4 meshed coil features a 0.15ohm mesh heating element that fires in the range of 50 to 75 watts. It has dual coils that in combination with tea fiber wicking material produce pure flavor and denser vapor.

AXON Chipset
The Swag II is built with the latest AXON chipset which results in rapid initial firing for fast, flavorful vapor production. Additionally, the chipboard performs repeated firing throughout a puff, every 0.02s, to ensure high power output from start to finish.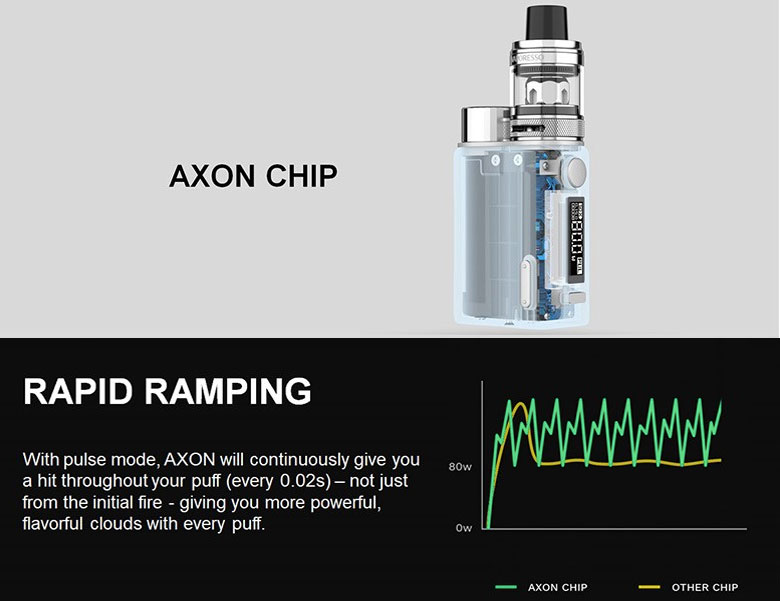 Features & Specifications
The mod can operate from 5 to 80 watts and is compatible with any atomizer down to a rock bottom 0.03ohm of resistance. Operating modes include power, temperature control, TCR and several ramp modes. Underneath the display screen, you can see a fast 2 amp micro USB charging port that will top off the single 18650 battery very fast. The cell is accessed via an easy-access screw cap at the top.
Depending on your location, you will get either the NRG PE tank with the kit or the NRG SE Mini tank. The PE has dimensions of 25mm x 50mm and a 3.5mL juice capacity. The NRG SE Mini measures 22mm x 46mm, and only stores 2mL of e-liquid. The latter device is included for those who are in the European Union due to TPD regulations. Both atomizers have an effortless top fill system for easily adding e-juice to the reservoir.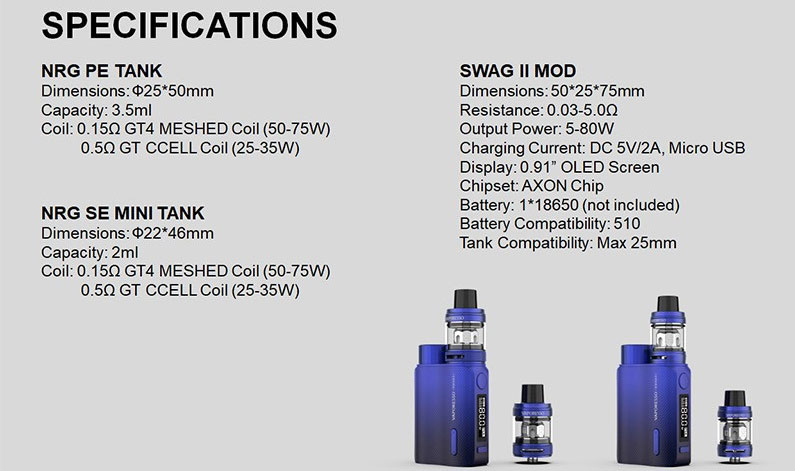 In The Box
With purchase, you will receive the Swag II, an NRG PE or SE Mini Tank, a GT4 Meshed coil, a GT CCELL coil, 3 extra o-rings, a micro USB charging cable, a manual and a warranty card.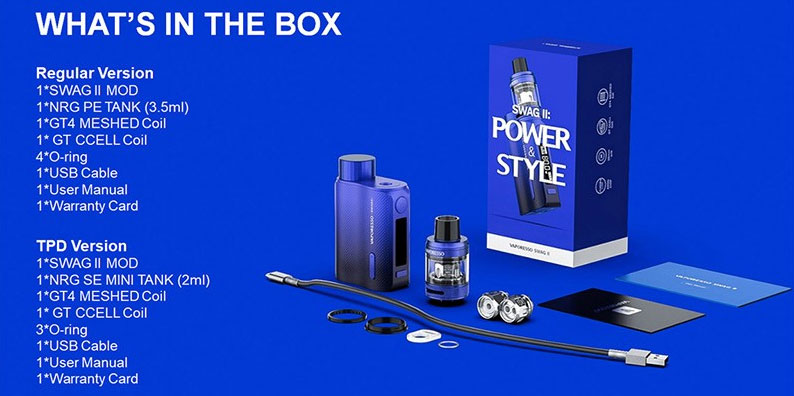 Comparable Products
Total Views Today: 1 Total Views: 2,384