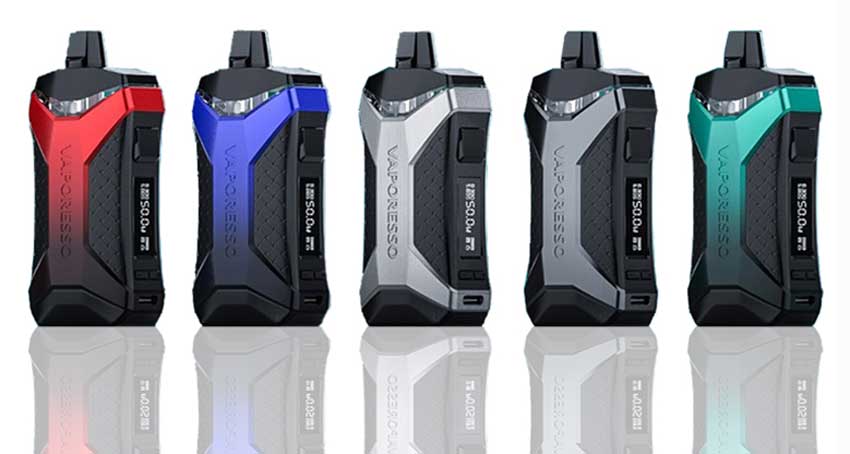 Vaporesso Xiron: 50W/5.5mL Variable Wattage Pod Mod Kit
Here are cheap deals to buy the Vaporesso Xiron, the latest pod mod system kit to hit the marketplace.  It features a 1500mAh battery, 5.5mL capacity pods, a 0.69″ OLED screen, Type-C charging, an 810 drip tip, and two mesh coil options. This setup is for sale in silver, black, green, red, and blue.
Deal
Overview
To ensure the best possible flavor production and satisfying vape experience, the XIRON by Vaporesso adopts GTX mesh coils that also have an airflow dial so you may set air intake to your liking via a dial on the outside of the mod. Moreover, the mod's design features a built-in 1500mAh battery to easily achieve 50 watts of power. This output level is adjustable with a 0.69 inch OLED display screen and there are numerous safety protections to ensure safety. Another bonus is that the e-liquid level in each pod can be monitored because of a transparent section at the bottom of each cartridge.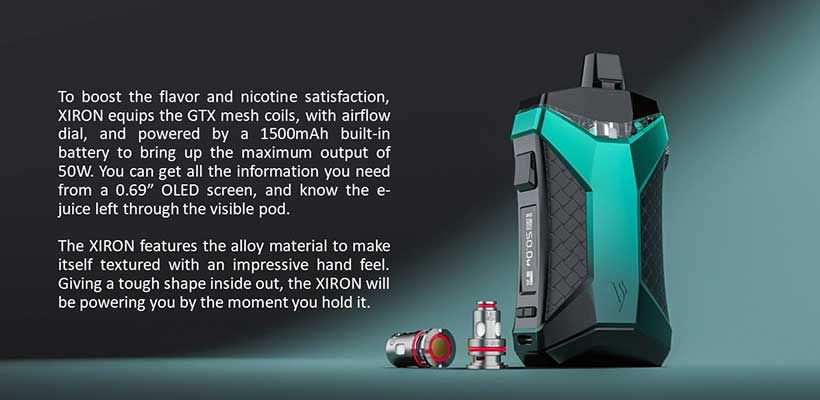 Seamless Design
Each Vaporesso XIRON pod kit features zinc alloy accent lines, with 5 color options, that seamlessly attach to the exquisitely textured chassis. And, this mod pod kit is portable, reliable, and durable.  In this way, you may effortlessly put it in your pocket or transport it in your purse, yet have a reliable device while away from your home.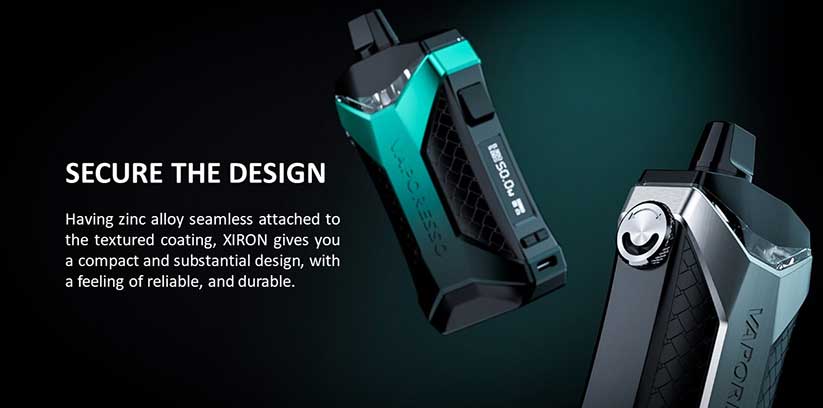 Powerful Performance
Although the XIRON pod kit is tiny, it can achieve 50 watts of power for an immersive vape experience.  In combination with the mesh coils inside each cartridge, you are sure to be able to produce the densest vapor while on the go.  Moreover, power comes from an integrated 1500mAh cell with a Type-C fast 2 amp charging port.   In this way, you can quickly finish the charging process, yet be assured that you can have plenty of puffs until the next time the Vaporesso XIRON should be plugged in.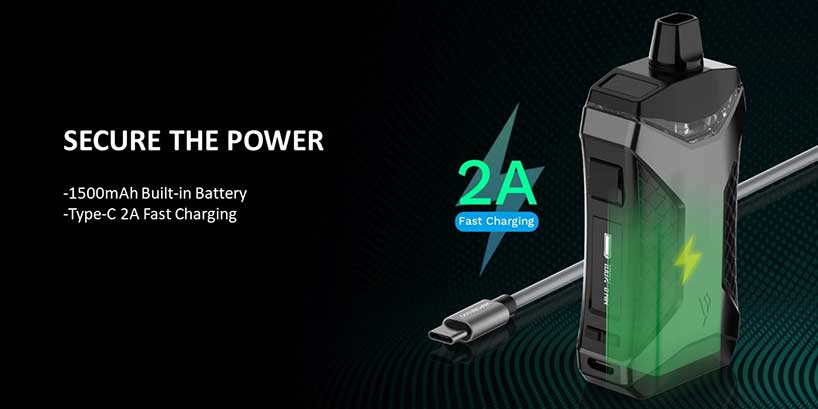 Flavorful Vapor Production
By adopting GTX mesh coils, the same type of head that comes with the PM80 and PM80SE, the XIRON kit is said to produce flavorful vapor.  In the package, you will see a 0.3ohm GTX mesh coil that works in the range of 32 to 45 watts and is compatible with almost all e-liquids. Or, if you prefer a mouth-to-lung puff from a higher nicotine vape juice, install the included 0.8ohm mesh coil that works from 12 to 20 watts.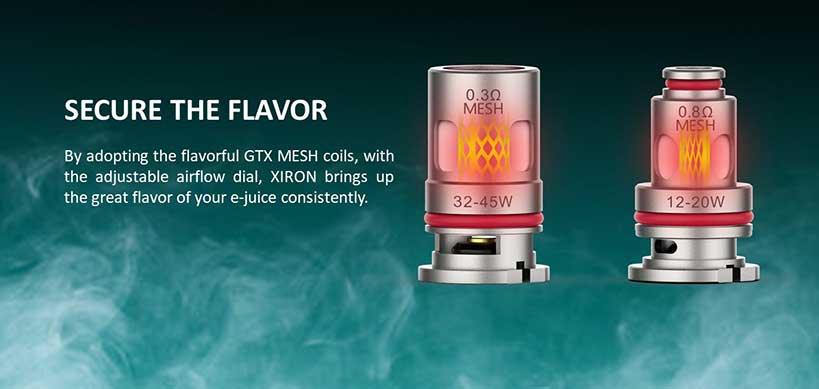 Leakproof 5.5mL Cartridges
For a mess-free experience, the XIRON pod is leakproof, has a top-fill system, and can store up to 5.5mL of e-liquid to reduce the number of required refills. To add e-liquid, simply lift a tab to discover an adequately-sized juice port that is sure to be compatible with your refill bottles. As an added bonus, the bottom of each cartridge is transparent to see the current fill level. And, the 810 threaded drip tip at the top is removable, so you may install the mouthpiece you prefer.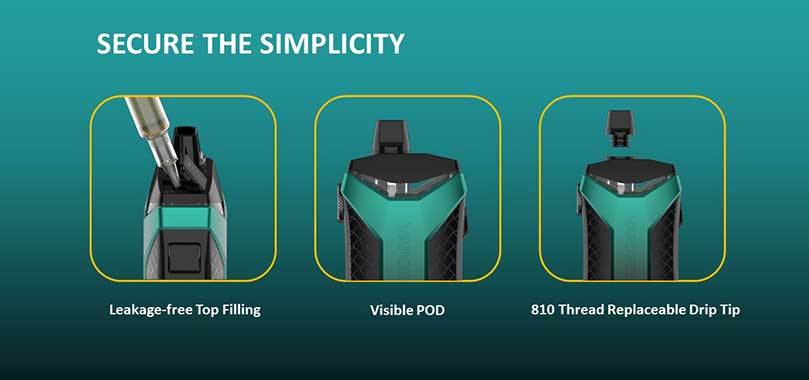 Vaporesso XIRON Features & Specifications
The XIRON's dimensions come in at 46mm x 28mm x 93mm with the pod installed. Each cartridge can store 5.5mL of e-liquid, but certain areas of the world are shipped a 2mL one due to laws and regulations. Output is adjustable in the range of 5 to 50 watts and comes from a 1500mAh battery with a Type-C USB port.  And, the coil options are either the GTX 0.3ohm mesh coil or the GTX 0.8ohm.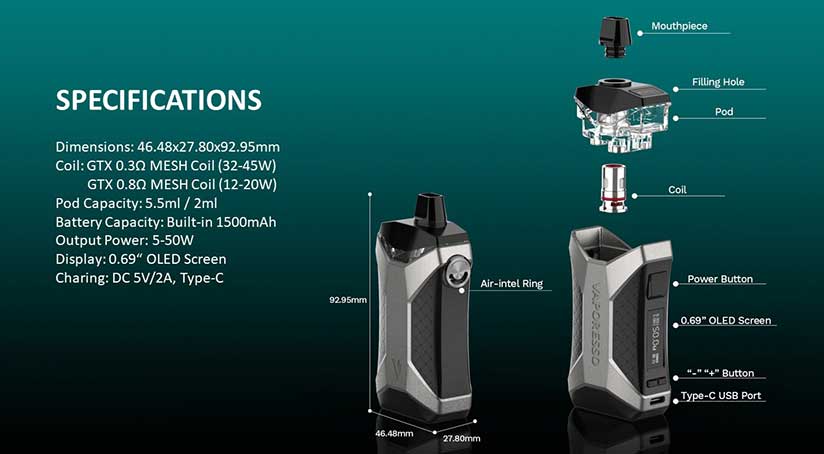 In The Box
XIRON Battery
XIRON Pod
GTX 0.3Ω Mesh Coil
GTX 0.8Ω Mesh Coil
Extra mouthpiece
Type-C charging cable
User's Manual
Warranty Card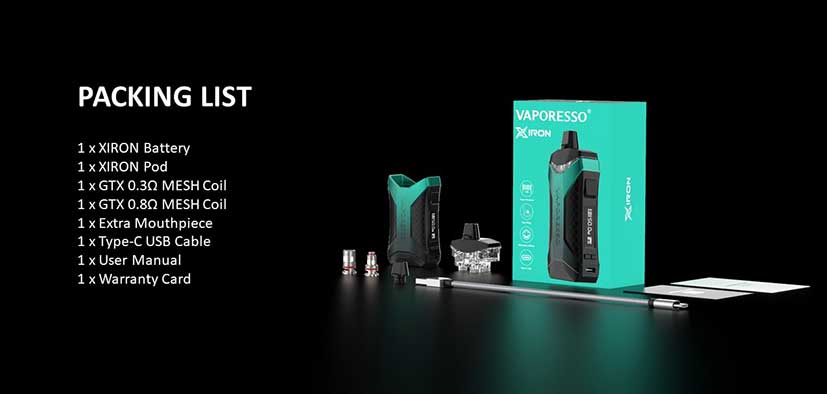 Related Deals
Total Views Today: 1 Total Views: 533