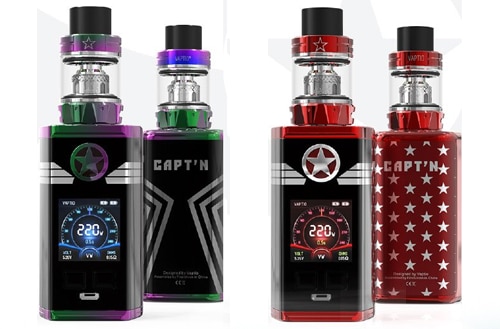 Update: The
Vaptio Capt'n 220W Box Mod Kit
 Has Been Discontinued – Check  Newer 220W Box Mod
 Or
All Mod/Kit Deals
Here are cheap deals for the Vaptio Capt'n 220W Box Mod Kit.  The Vaptio Capt'n Box Mod Kit features vivid color options, a 220W Mod, full color screen, car dashboard themed menu, an almost instant firing response, pocket-sized design, dual 18650 batteries, fast micro USB charging, a 4ml juice capacity, a top fill system and Frogman coil technology for massive vapor.
Overview
From a design perspective, the Capt'n Box Mod is made from a zinc alloy frame that utilizes in-mould labeling (IML) technology for a more intracate design that is underneath a thin sheet of plastic to make it very shiny. It is very similar to a smart phone's finish and colors will never fade as a result. The color options/themes feature very vibrant colors including camouflage green, red, black, golden, rainbow, blue and pink. Size-wise, this mod is pocket-sized, making it easier than ever to trasport. The control face is located on the front and features a large 1.3 inch TFT color display that has a car themed like interface with a speedometer type appearance and of which the menu is easy to navigate. Vape data includes batteries' charge level, current power/temperature, voltage, mode, puff time and atomizer resistance. At the top of the Vaptio Capt'n Kit, you will see a 510 threaded connection that is built with a patented anti-leak bezel to ensure the circuitry never gets wet due to a e-liquid spilling.
Technically, the Vaptio Capt'n Mod utilizes dual 18650 batteries that can be swapped out via a flip door at the bottom of the mod. Recharging is fast (2A charging current) and occurs via the micro USB port on the control face. The USB interface is also utilized to upgrade the firmware so you may easily update the device. The Capt'n is quite versatile thanks to 6 intelligent output modes that include smart mode, variable wattage mode, temperature control mode, ccw mode (power curve mode), cct mode (temperature curve mode) and bypass mode that can work down to 0.10ohm. Firing the Vaptio Capt'n results in a 0.005s response, so the unit will engage virtually instantaneously with up to a 220 watt massive output power. Also included with the Vaptio Capt'n Kit is the Capt'n Tank which is designed with improved Frogman coil technology, adds a larger airflow surface area and a decent 4ml tank capacity with an effortless top fill design.
Vaptio Capt'n Kit Features & Specifications
Made of zinc alloy
IML shiny finish/will never fade (Samsung technology)
Dimensions:  75mm x 33mm x 42mm (light/compact)
1.3 inch TFT display

Full color
Speedometer/car dashboard theme menu

Utilizes dual 18650 batteries
Fast micro USB charging
USB firmware upgrades
Anti-leak 510 threaded connection (patented)
Maximum power: 220W
Firing response time: 0.005s
Operating modes: Smart /VW / TC / CCW / CCT / Bypass
4ml juice capacity with top fill system
Bottom adjustable air inlets
0.4ohm Frogman W2 Coil
0.15ohm Frogman W8 Coil
Total Views Today: 1 Total Views: 140