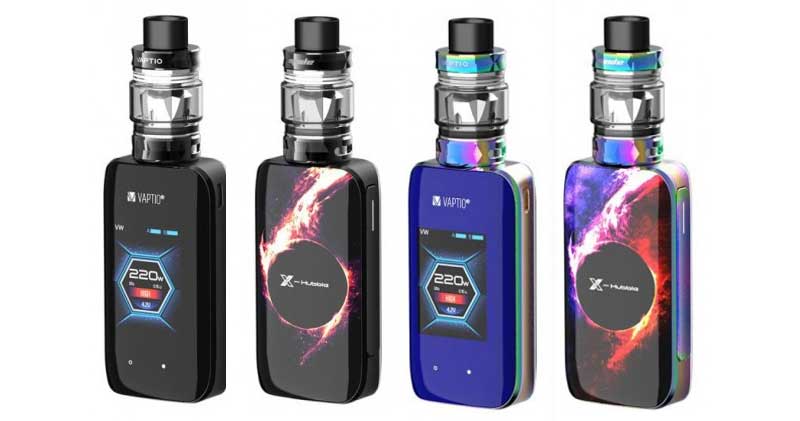 Here are cheap deals to buy the Vaptio X-Hubble, for sale as a Box Mod (no atomizer) or Starter Kit. The mod features instant firing speed, incredible finishes, touch screen buttons, a full-color TFT screen, 3 amp fast charging, tons of operating modes, multiple protections, and dual 18650 battery support.  If you purchase the kit, you will also receive the Apolo tank with mid-wattage mesh coils, easy refills, 5mL juice reservoir, and bottom adjustable airflow control.
Vaptio X-Hubble Box Mod
In the design department, the X-Hubble Box Mod looks very similar to the the Luxe Mod by Vaporesso.  With options of rainbow, black, gun metal, gold and silver, the affordable device actually looks fabulous mainly due to a space-like prints on the backside that are identical with all colorways.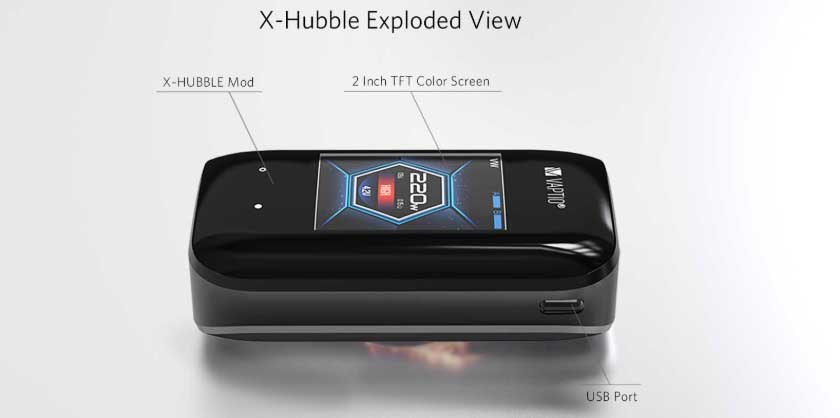 What really differentiates this mod from competing devices is the X-Hubble's 2.0 inch TFT screen with an ultramodern user interface that ensures switching modes or modifying settings is absolutely effortless.  Plus, the menu is in full color which makes it pleasing to the eye and there's plenty of space on the screen to give you more room to operate within. Underneath the display, there are two touch screen buttons with vibrational feedback, so you may navigate the different menus in an effortless way.  A sliding button on the side of the X-Hubble Mod locks/unlocks the screen with vibration alert.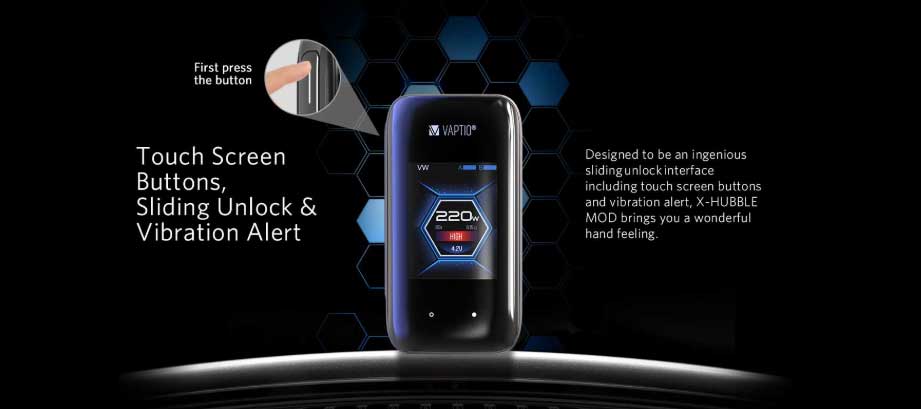 Since the Vaptio X-Hubble operates with up to 220 watts of power, it uses two powerful 18650 batteries for long vaping times. These external cells can be recharged with a fast 3 amp current via a USB port on the top/side. Together, the fast-firing chipset combined with the batteries produce massive output and also permit a plethora of safety protections such as over-puff, short circuit, low voltage, overcharge, over-discharge, over-temperature, and open circuit protection.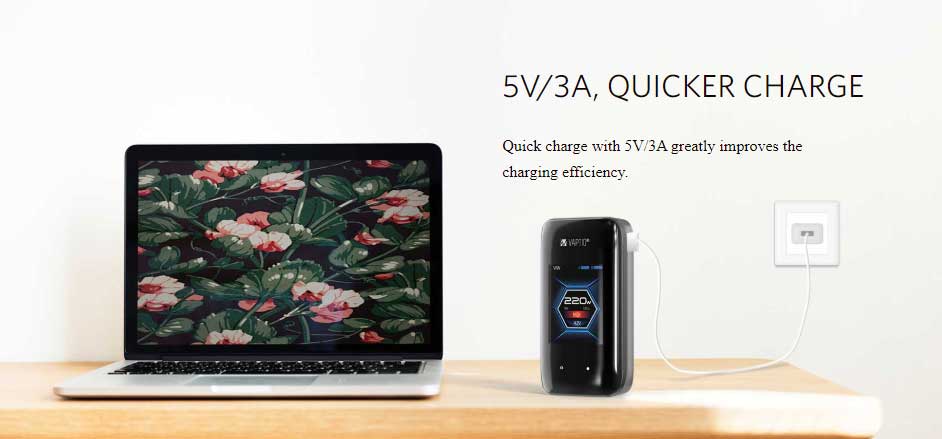 Finally, the available modes on the Vaptio X-Hubble make it one of the most versatile devices you could wish for. In addition to power mode, with high/soft/normal settings, you may operate in variable temperature mode (Ni200, Ti, SS), TCR mode (2 memory slots), CCW curve mode, CCT curve mode, bypass mode, and passthrough mode.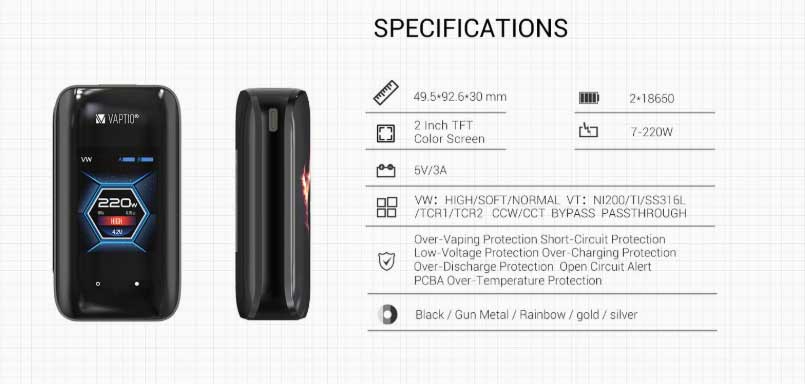 Vaptio X-Hubble Kit
If you purchase the Vaptio X-Hubble Kit, you will also get the Apolo Tank.  The available options are rainbow, black, gunmetal, champagne gold, and silver, depending on the mod's color.  To heat up fast, this atomizer is equipped with Apolo coils, all of which utilize mesh heating elements. With purchase, you will receive the A1 single mesh coil that is best used in the range of 60 to 65 watts or you may prefer the included A3 triple mesh coil that is recommended in the range of 80 to 85 watts. Each coil is made with porous linen cotton for proper saturation.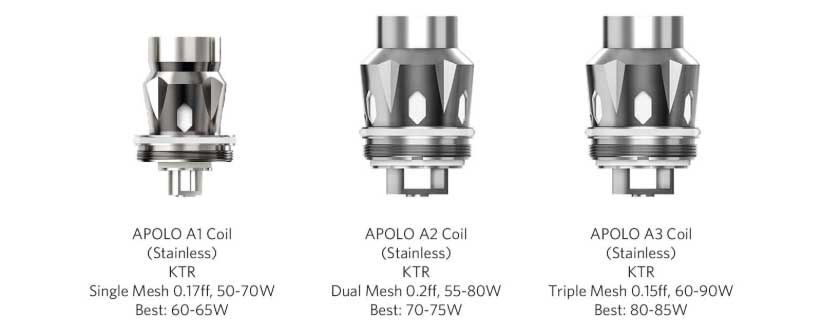 Moreover, the tank in the X-Hubble Starter Kit can store up to 5mL of e-liquid and is designed with a top-fill system that slides the top cap to unmask a large juice filling port.  And, airflow is adjustable at the bottom via 2 large air intakes that can be fully attuned to your liking.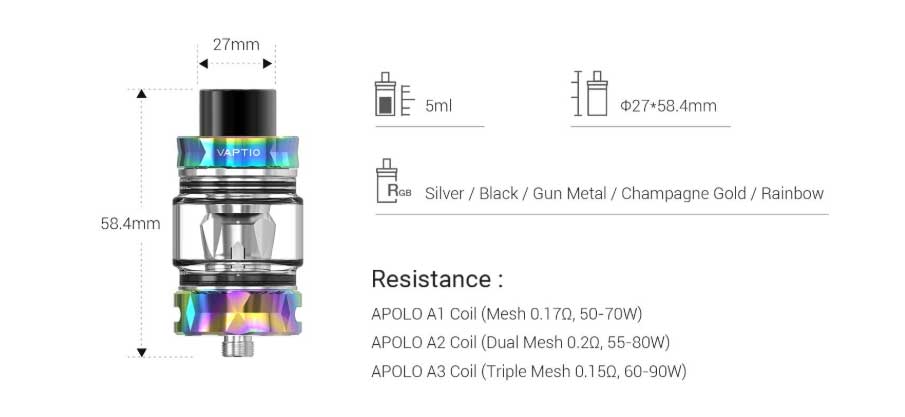 Related Deals
Total Views Today: 1 Total Views: 455