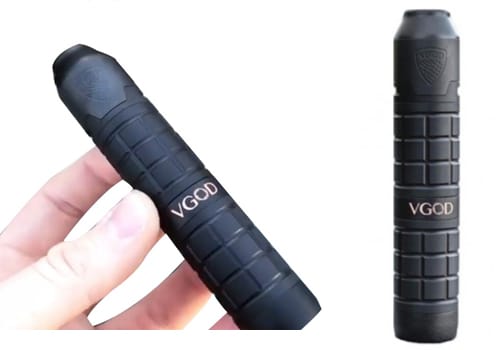 Here's a cheap deal on the VGod Pro Mech 2 Mod Kit With Elite RDA.  This is a very popular setup so many of the USA stores are sold out.
Video
Overview
The VGod Pro Mech 2 Mod Kit With Elite RDA is said to be the perfect setup for advanced vapers who enjoy extreme flavors and vapae tricks.
The Pro Mech 2 Mod is a tube style  mechanical mod that is available in black only. Its removable Delrin grip has a grenade like appearance, won't slip  and is ergonomic thanks to multiple cutting edge technologies.  When firing via the Tri-Con carbon fiber switch, this device will instantly activate, without delays.  It utilizes a single 18650 battery that is inserted into an internal tube that features a protective material.  Triple prongs connect the fire button and battery to ensure best possible contact and a self adjusting ring ensures the battery stays in place.
In this kit, there's also the Elite RDA that measures 24mm x 33mm (without the pin), is made with high grade materials and features a beautiful VGOD engraving.  At the bottom, you will find a hybrid compatible protruding 510 pin that is also gold plated for best conductivity. The dual post deck has 2mm wide wire holes, finger tightening nuts (Phillips or flat head) and 11mm post hole spacing. Underneath, the juice well is 9.25mm deep and can hold 2ml of e-liquid.
Overall, if you are a hardcore vaper, you should really enjoy the VGod Pro Mech 2 Kit.
Features & Specifications
VGOD Pro Mech 2
Removable Delrin Grip

Looks like grenade
Anti-slip
Ergonomic

Tri-con carbon fiber switch

Instant firing
Triple prongs to battery for solid connection and conductivity

Utilizes a single 18650 cell

Internal tube to protect battery
Internal self-adjusting ring to keep battery in place
VGOD Elite RDA 
Dimensions: 24mm x 33mm
VGOD engraving
Hybrid compatible protruding 510 pin
Dual post deck

2mm post holes spaced 11mm apart
Finger tightening nuts for easy wire clamping

Juice well
Total Views Today: 1 Total Views: 44,735