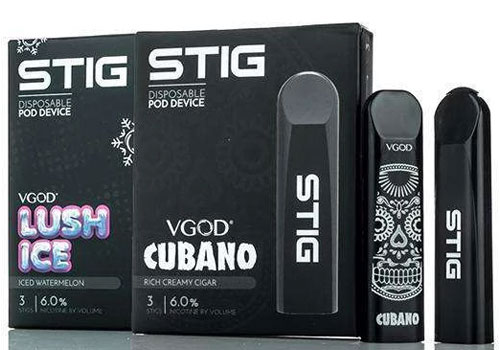 Here are cheap deals for the VGOD STIG Disposable Pod Device 3pcs.
Overview
The Vgod STIG is a disposable pod system that features mouth-to-lung style vaping, 1.2ml prefilled pods with 60mg salt nic e-liquid and a pre-charged battery.
Design-wise, the STIG all-in-one dipslosable pod dervice is black with a Vgod logo in large white font, as well as the SaltNic brand logo with the flavor it contains. Each piece consists of a pre-charged battery that is guaranteed to last until the internal juice pod is used up.
The pods contain 1.2ml of juice that has a 60mg nicotine strength with four flavor options. If you choose the Lushice flavor by VGOD, you will get a tasty burst of freshly grown watermelon on the inhale with a blast of menthol upon exhale. A very fruity flavored e-liquid. Cubano by VGOD tastes just like a Cuban cigar with hints of creamy vanilla for an amazing tobacco flavor experience. Tropical Mango by SaltNic is a fruity flavored juice that will have you vaping fresh mango all day long. Last but not least is Mighty Mint by Saltnic. If you like cool mint fused with menthol, you will surely love this e-liquid.
Vaping on the VGOD STIG is done by simply drawing on the mouthpiece for a mouth-to-lung type vaping. With purchase, you will receive a total of three VOGD STIG disposable pod devices.
STIG Features & Specifications
All-In-One disposable pod system
Internal pre-charged battery guaranteed to last until disposal
Measurements: unknown
Colors: black
E-Juice capacity: 1.2ml
E-Liquid flavors 60mg or 6%

Cubano
Lush Ice
Mighty Mint
Tropical Mango

Mouth-to-lung vape experience
Total Views Today: 1 Total Views: 406